Chainsaw Man Trailer: A New Demon-Hunting, Blood-Soaking Anime Enters The Ring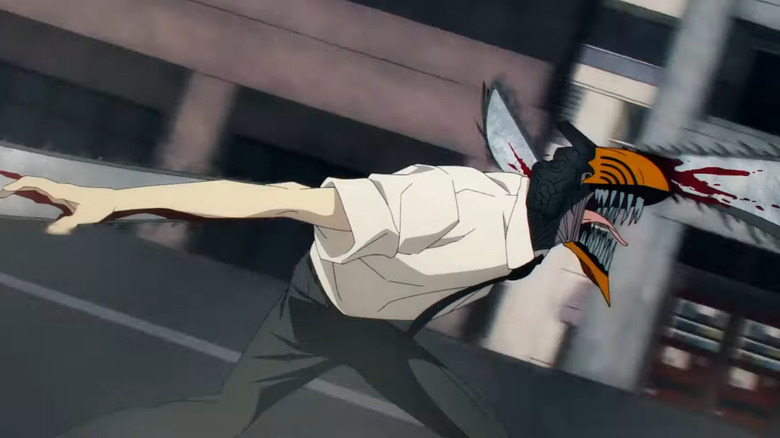 Crunchyroll
After a relatively quiet spring anime season, and a dull summer, it seems the upcoming fall anime season is going to be the hottest club. It's got everything: "Mob Psycho 100," "My Hero Academia," "Spy x Family," the triumphant return of "Bleach," "Blue Lock" delivering another soccer anime, the first "Gundam" show in seven years, "Mobile Suit Gundam: Witch From Mercury." Joining the season is arguably the most anticipated new anime of the year: "Chainsaw Man."
Now that "Attack on Titan" is finally, supposedly, probably, maybe daring to end once and for all, the search for the next big anime hit is underway — from super hits like "Demon Slayer" now getting one fewer competitor, to recent manga hits like "Spy x Family," "Kaiju No. 8" (which just announced an anime adaptation), to "Chainsaw Man." These manga have very little in common, but "Chainsaw Man" has one advantage in that its blood-soaking premise and spectacular fight scenes may attract fans of "Attack on Titan." Though the manga has a rather dark start and hints of a bleak story just like the absurdly nihilistic "Titan," the tale of the titular Chainsaw Man is also filled with absurdist humor that helps contrast its bloody action with tongue-in-cheek visual gags. After all, the protagonist is friends with the absolute cutest dog, who also happens to be a demon with a chainsaw coming out of his head.
"Chainsaw Man" follows Denji, a teenage boy with terrible luck who is forced to work as a devil hunter to pay off his late father's death. One day he is betrayed and in order to survive he makes a deal with a chainsaw devil, becoming the titular Chainsaw Man.
A very gory trailer
The trailer not only revealed an October release date, just in time for bloody Halloween, but also the cast. Newcomer Kikunosuke Toya will play Denji, while Fairouz Ai (who played Jolyne in "JoJo's Bizarre Adventure: Stone Ocean") is playing fan-favorite Power.
The show is being directed by Ryu Nakayama, who directed episode 19 of "Jujutsu Kaisen" (the episode that gave us this incredible fight scene of two best friends fighting together), and written by Hiroshi Seko, who wrote "Deca-Dence" and the "Jujutsu Kaisen 0" movie. Most excitedly, perhaps, is the fact that Kensuke Ushio (the excellent "Devilman Crybaby") is doing the soundtrack.
The trailer shows just enough about the premise to entice audiences, while making its popping and gory visuals do most of the talking. It is definitely an effective trailer that can whet our appetites until the show premieres.
"Chainsaw Man" premieres on Crunchyroll this October.
"Denji is a teenage boy living with a Chainsaw Devil named Pochita. Due to the debt his father left behind, he has been living a rock-bottom life while repaying his debt by harvesting devil corpses with Pochita.

One day, Denji is betrayed and killed. As his consciousness fades, he makes a contract with Pochita and gets revived as "Chainsaw Man"–a man with a devil's heart."