Prey's Amber Midthunder Says She Was Told To 'Go Do Disney' While Pursuing Acting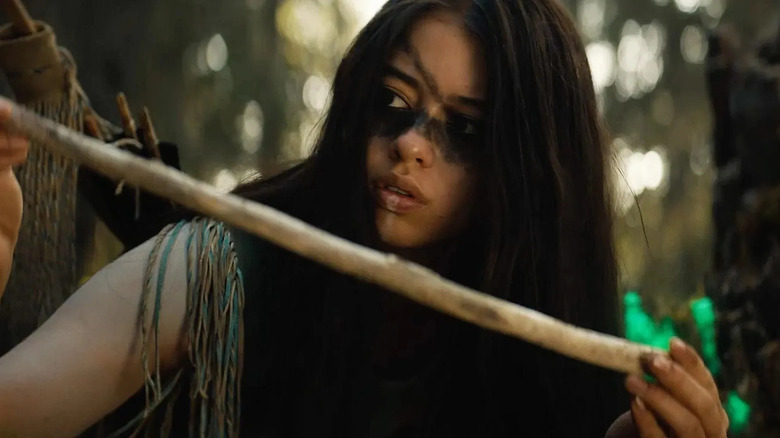 Hulu
Dan Trachtenberg's "Prey," set in 1719, stars indigenous actress Amber Midthunder as a young Comanche woman named Naru who is often rejected from her tribe's hunting excursions because of her sex. This, in spite of her acknowledged tracking skills and tremendous capability with a tomahawk. In the film's early scenes, Naru begins to find evidence that a strange, large animal — something larger than a bear — may be lurking in the woods, killing anyone who wanders too far out. The creature is, of course, a space alien (Dane DiLiegro) who has come to Earth to hunt the most sophisticated game it can find. "Prey" climaxes with a face-off between Naru and the alien wherein she manages to evade and outwit a creature three times her size. 
Midthunder gives a compelling performance in "Prey," imbuing Naru a richness and personality that extends beyond general action movie badassery. She has a complex relationship with her brother Taabe (Dakota Beavers), and her confidence is so palpable that it comes as no surprise when other characters decide to listen to her and believe her claims. The film's careful pace and Midthunder's performance are its greatest strengths. 
In a recent interview with The Hollywood Reporter, Midthunder said that finding a role like Naru wasn't the easiest thing in the world. The 25-year-old member of the Fort Peck Sioux Tribe was reportedly told by acting agencies that lightweight, kid-friendly performances should be more on her radar. Midthunder, aching to stretch as an actress, handily rejected the notion. 
'Go do Disney'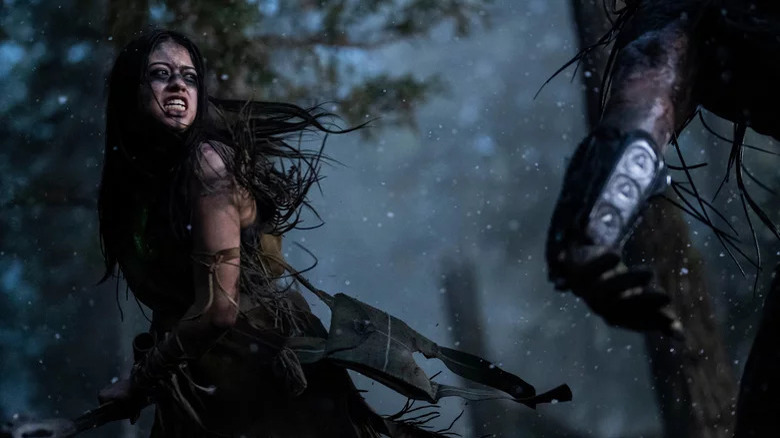 Hulu
While Disney owns a sizeable portion of the current media landscape (Disney, for instance, owns Hulu, the service distributing "Prey"), the instruction to "do Disney" has a clear connotation. To "do Disney" is to make thematically simple, non-threatening, commercially viable, not-at-all-challenging family entertainment that requires only a certain amount of affability from its actors. It's not a call to involve yourself in emotionally harrowing tales of suffering or gory monster movies. Midthunder wanted to do the latter. Acting agencies, to her annoyance, encouraged the former. Said Midthunder: 
"[Agencies] were like, 'Okay, you can go on the Disney Channel.' And I was like, 'No, no, no. That is a skill for a lot of people, but that's not a skill that I have. I want to cry. I want to feel horrible things through my art. I want to suffer!' And they were like, 'That's cute. Go do Disney.'"
"Prey," which belongs to the long-running "Predator" franchise that contains six previous chapters, is by no means "a Disney." Indeed, when Disney bought out the Fox library in 2019, there was some snickering that the famously family-friendly company now owned a string of popular, violent, R-rated movies. It's a relief that "Prey" is more in keeping with the spirit of the original 1987 "Predator" film than anything gentler, like what one might see out of their Marvel canon. Midthunder is able to depict desperation and fear, and commit acts of awesome violence. One cannot repeat the famous line "If it bleeds, we can kill it" unless one first makes the creature bleed. Which Midthunder does — a lot. 
New Mexico to Hollywood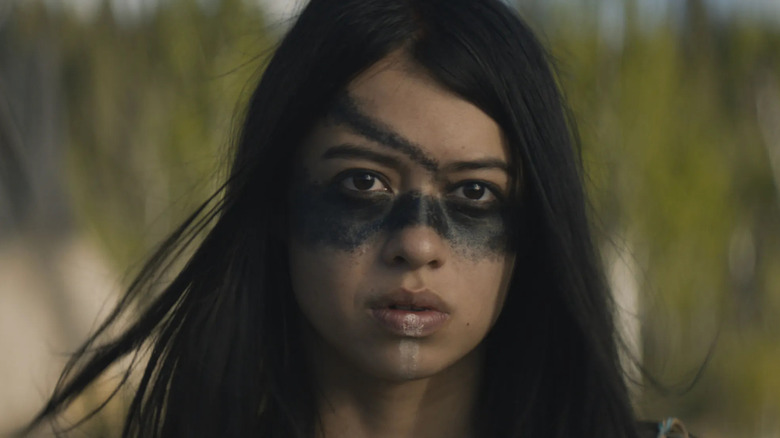 Hulu
Midthunder has been acting professionally since age 4, her first role being "Little Girl" in Paul Winters' 2001 film "The Homecoming of Jimmy Whitecloud." By the late 2000s, she could be seen in bit parts in notable indie and Hollywood productions. She appeared in "Hell or High Water," as well as the hit TV shows "Longmire" and "The Originals." In the Hollywood Reporter interview, Midthunder admits to feeling the shock of acting in her hometown of Santa Fe, and actually negotiating with Hollywood bigwigs, saying that "It felt like going from playing in your backyard to doing something in front of people for real, with real stakes and real consequences."
"Prey" was a great opportunity for her not just because of the visibility of appearing next to a Predator, but because of the film's respectful indigenous representation. She said of the script: 
"You very rarely get good representation — good being accurate, respectful or something to be proud about ... This is the first time you get to see an Indigenous female action hero at the center of a film. That in and of itself is a really incredible statement."
Midthunder's career has been a typical Hollywood upward swing. Her talent and intensity has been noticed enough to get her involved in higher and higher profile projects, leading to a film like "Prey." Her next project will be the live-action adaptation of the hit cartoon show "Avatar: The Last Airbender," in which she will play Princess Yue. 
If her career continues along the track it's been on, it won't be too much longer before Midthunder's is a household name. Given the caliber of her performance in "Prey," this is a fate the public could easily be at peace with.