Here's Why First Kill Was Canceled, According To The Showrunner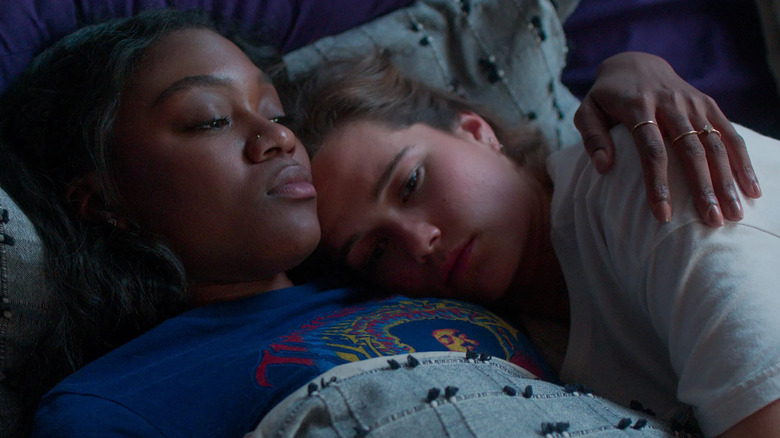 Netflix
A supernatural lesbian love story that marries "Romeo and Juliet" with the cheesy teen dramas of the 2010s was always too good to be true. But that doesn't make the recent cancellation of Netflix's "First Kill" any less painful for fans of the series. 
Adapted by V. E. Schwab from her short story of the same name, the series centered on the complicated story of vampire Juliette and monster hunter Calliope, whose star-crossed romance kicks off a war between the two rival factions. Despite debuting to mixed reviews from critics, "First Kill" quickly developed a dedicated and passionate fanbase, who frequently made their love for the series known on social media. But unfortunately, that wasn't enough to secure a second season renewal.
When it comes to renewals and cancellations, Netflix has always been a tricky beast; the streamer has a tendency to prioritize shows that viewers binge and complete right away. Anything that inspires different kinds of viewing habits often faces the ax once the higher-ups decide that it isn't worth the cost of making. Sure enough, sources told Variety that Netflix declined to renew "First Kill" because "its low viewership didn't warrant the price tag of making a second season." As for the reason behind the series' small audience, showrunner Felicia D. Henderson ("The Punisher," "Gossip Girl") had some thoughts to offer.
Did Netflix fail to market First Kill?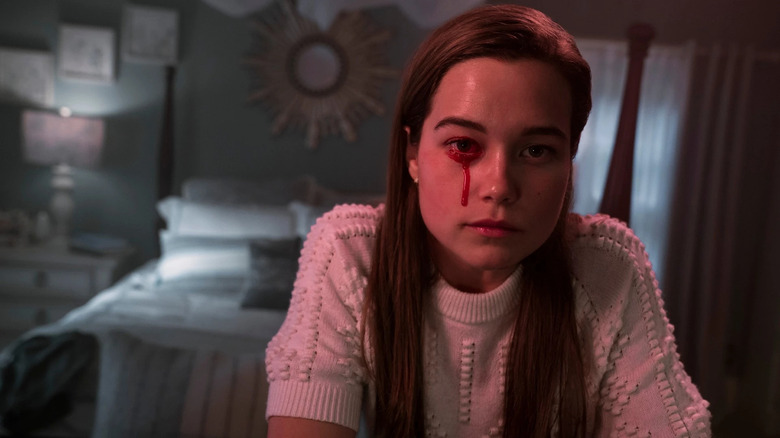 Netflix
During her chat with Variety, Felicia D. Henderson confirmed that the small completion rates were a major factor in the series cancelation. "When I got the call to tell me they weren't renewing the show because the completion rate wasn't high enough, of course, I was very disappointed," Henderson said. "What showrunner wouldn't be? I'd been told a couple of weeks ago that they were hoping completion would get higher. I guess it didn't."
Despite boasting a dedicated fanbase, "First Kill" didn't quite make the splash that the streamer hoped for. Henderson commented that this was likely a result of Netflix's marketing campaign for the show, which didn't holistically portray its appeal. She said:
"The art for the initial marketing was beautiful. I think I expected that to be the beginning and that the other equally compelling and important elements of the show — monsters vs. monster hunters, the battle between two powerful matriarchs, etc. — would eventually be promoted, and that didn't happen."
Just a cursory scroll through the Twitter tag for "First Kill" will bring you directly to that feisty fanbase I keep mentioning, which has been commenting since the very beginning on the lack of marketing for the series. While that might be part of the equation, Henderson's statement indicated that she expected a more thorough marking campaign to begin with.
The star-crossed love story comes to an end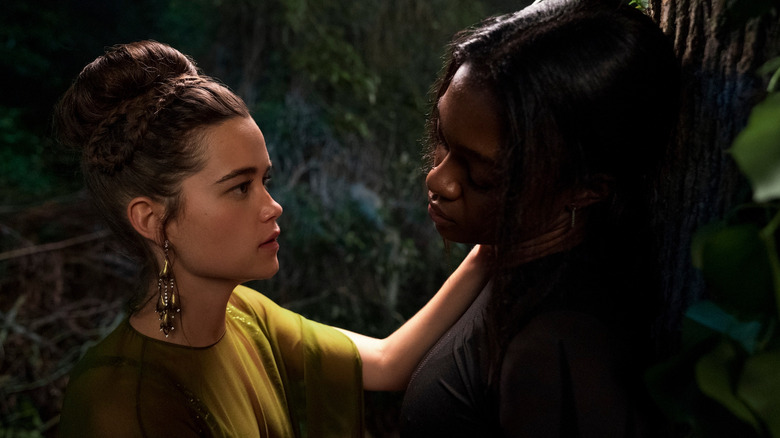 Netflix
While there's no denying that Calliope and Juliette's love story is a major facet of "First Kill," the series also spends plenty of time with its various characters, each embroiled in their own supernaturally rooted drama. Over the course of the season, plenty of time is spent unpacking the complicated Burns family dynamics, and elsewhere, the series introduces a matriarchal vampire society. But these aspects got much less attention in the lead-up to the show's release. Following the cancellation news, The Daily Beast spoke to a source close to the production who argued that "the few ads that were released downplayed the show's supernatural thrills in favor of photos of the two main characters making out, potentially kneecapping its reach."
When all is said and done, Henderson expressed her pride and passion for the one season that "First Kill" did get, saying:
"I so enthusiastically signed on to this show [because] it has something for everyone — strong women leads, supernatural intrigue, an epic, Shakespearean battle between warring families, and a prominently featured Black family in the genre space, something Black viewers crave and a general audience needs to be treated to."
I won't pretend that "First Kill" launched with a perfect first season (I outlined many of its flaws in my review for /Film). But I was still anticipating the series return and the possibility of delving further into the lore and characters that it spent eight episodes introducing. And in the wake of so many other lesbian-centered TV series getting canned — "The Wilds," "Gentleman Jack" and "Batwoman" to name a few — it's a shame to see Calliope and Juliette's story come to such an abrupt end.
The first and only season of "First Kill" is available to stream on Netflix.