Do Revenge Teaser: Maya Hawke And Camila Mendes Team Up To Get Even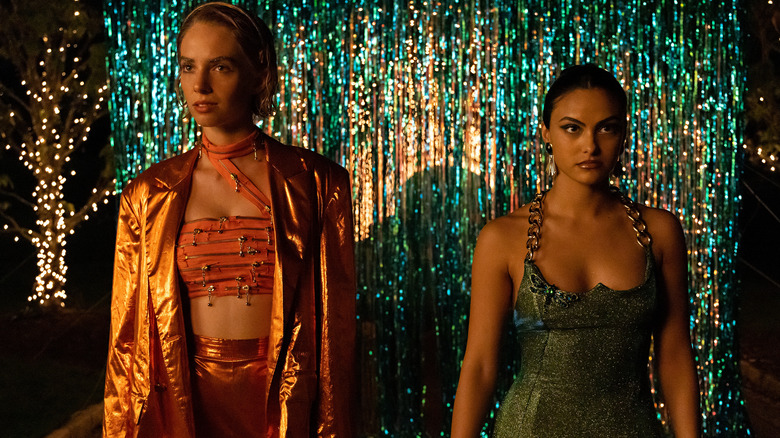 Netflix
What happens when a dethroned queen bee teams up with an unassuming alt-girl to exact revenge on their personal tormentors at a posh private high school? We'll have to wait until September 16 to actually find out, but I have to assume that our lives will get infinitesimally better. By now, the world should be well aware that nothing is more powerful than a scorned queen bee. Did society learn nothing from Regina George's reign of terror in "Mean Girls"? And yet, someone dares to cross Drea (Camila Mendes), a high school "it girl" at the height of her powers, which sparks her unlikely friendship with transfer student Eleanor (Maya Hawke), in the hopes of exacting revenge on all those who have wronged them.
All of this takes place in the upcoming Netflix film "Do Revenge," a dark comedy from writer/director Jennifer Kaytin Robinson and co-writer Celeste Ballard. This marks Robinson's second directorial feature, following the success of her Gina Rodriguez break-up romcom, "Someone Great." And speaking of success, Robinson recently co-wrote "Thor: Love and Thunder" with Taika Waititi and previously wrote the HBO Max original film, "UNPregnant."Another promising detail is the fact that Robinson is the creator of the fearless, fun, very well-received but canceled-too-soon "Sweet/Vicious," an MTV series about two young vigilantes delivering swift and painful justice on their college campus. Celeste Ballard was also a writer on the series, and recently penned the screenplay for "Space Jam: A New Legacy." 
This promising pair of creatives have now penned another story about angry teen girls who decide to create their own kind of justice. While it's not the same as "Sweet/Vicious" getting a much deserved second season, "Do Revenge" looks like an absolute blast. You can check out the first teaser trailer below!
Do Revenge teaser
Netflix describes "Do Revenge" as a "subverted Hitchcock-ian dark comedy featuring the scariest protagonists of all: teenage girls." That's an unexpected combination of ideas that really sells the hell out of this movie. It's everything we love about twisty, dark thrillers but shoved into the familiar halls of high school! Another exciting prospect is the film's leading ladies, "Stranger Things" breakout Maya Hawke and longtime "Riverdale" star Camila Mendes. After Drea (Mendes) has her sex tape leaked and Eleanor (Hawke) is outed by a vicious rumor, the duo join forces to take down each others' bullies. It sounds like a pretty straight-forward revenge thrilled — but unfortunately for them, not everything in "Do Revenge" is as it seems.
Pointing fingers at a single "bad guy" isn't as easy as it sounds, according to the film's writer/director. During a chat with Elle, Robinson promised a twist:
"I think there are different points where everyone's the villain and everyone's the hero in this story. And that is so much of what growing up is. I wanted to make something that paints with all the colors of adolescence."
A twist on the revenge thriller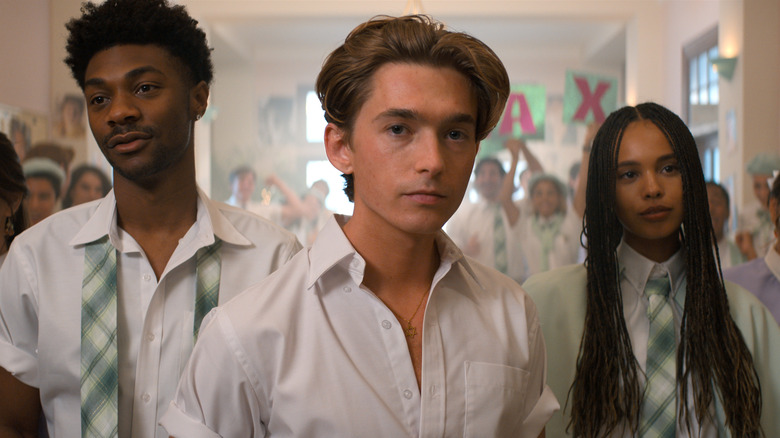 Netflix
The same way that Jennifer Kaytin Robinson deconstructed the rom-com with "Someone Great," now she's coming for revenge thrillers. Even the cast is part of this movie's meta-commentary, stacked with stars from the hottest teen hits. Along with Mendes and Hawke, the film features "Euphoria" star Austin Abrams as high school golden boy Max, Drea's ex and a try-hard woke ally. Alisha Boe of "13 Reasons Why" fame is Drea's BFF Tara and "Outer Banks" star Jonathan Daviss is Max's friend Elliot. Other cast members include Rish Shah ("Ms. Marvel"), Ava Capri ("Love Victor"), Maia Reficco ("Pretty Little Liars: Original Sin"), Paris Berelc ("Alexa & Katie"), and Talia Ryder ("Never, Rarely, Sometimes, Always").
"Do Revenge" hits Netflix on September 16, 2022. Here's the official synopsis:
Drea (Camila Mendes) is at the peak of her high school powers as the Alpha it girl on campus when her entire life goes up in flames after her sex tape gets leaked to the whole school, seemingly by her boyfriend and king of the school, Max (Austin Abrams). Eleanor (Maya Hawke) is an awkward new transfer student who is angered to find out that she now has to go to school with her old bully, Carissa (Ava Capri) who started a nasty rumor about her in summer camp when they were 13. After a clandestine run-in at tennis camp, Drea and Eleanor form an unlikely and secret friendship to get revenge on each other's tormentors.