Do Revenge: Release Date, Cast, And More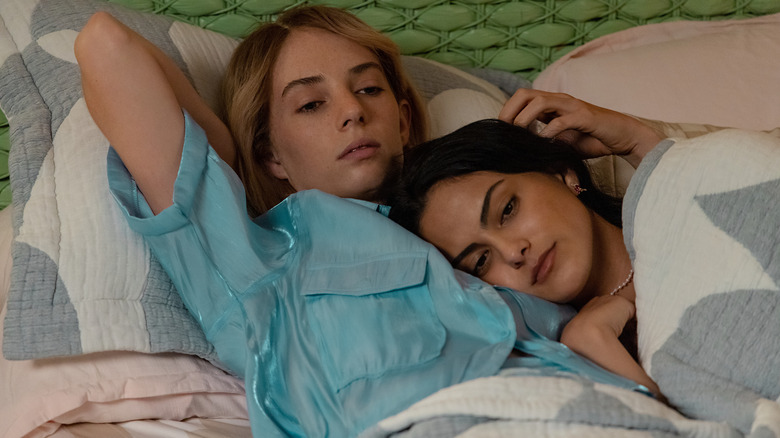 Netflix
The year was 1999. Seminal teen movies like "She's All That," "10 Things I Hate About You," "Drive Me Crazy," and "Never Been Kissed," were all hitting theaters, painting an idealized fantasy world of brightly colored high school stories with earworm filled soundtracks and impressive set pieces. Similarly, 1999 was the high-point of alternative teen melodrama with haughty additions like "Jawbreaker," "The Virgin Suicides," "Cruel Intentions," "The Virgin Suicides," "Election," and "But I'm A Cheerleader" terrifying parents and confusing critics. Nearly a quarter of a century later, we've still been chasing that high of 1999, and the upcoming Netflix film "Do Revenge" looks to be paying homage to this influential era.
"Do Revenge" is an original high school dark comedy with Hitchcockian vibes presented through the kaleidoscope of edgy teen thrillers of the late '80s and '90s. It's a coming-of-age story about two unlikely women joining forces to take down each other's bitter enemies, featuring what the logline correctly defines as "the scariest protagonists of all: teenage girls." The film will arrive just in time for the start of the fall semester, so here's everything you need to know about "Do Revenge" and more.
Do Revenge release date and where you can watch it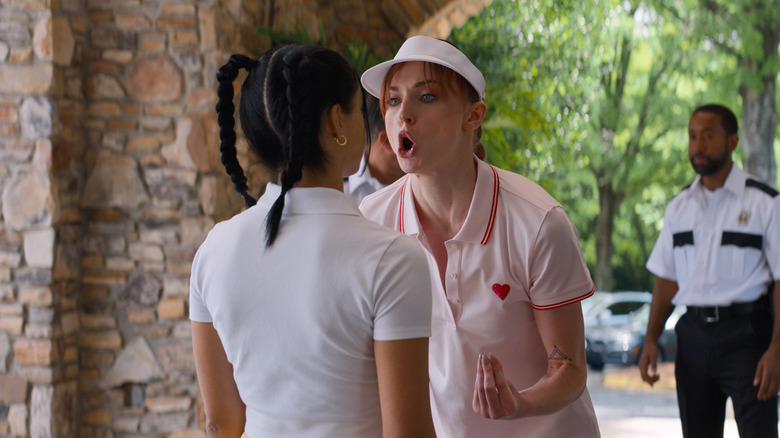 Netflix
Clocking in at just under two hours, "Do Revenge" arrives on Netflix on Friday, September 16, 2022. Will I be staying up until midnight the Thursday before to watch the film? You betcha! We haven't had a solid comedic thriller about teens-behaving-badly since 2017's "Thoroughbreds," and we're long overdue. Granted, "Euphoria" exists, but "Do Revenge" feels like it exists less in reality and more in the over-the-top fantasy land of 1999 teen movies. I'd say "shut up and take my money," but Netflix already gets my monthly automatic payment.
What to expect from Do Revenge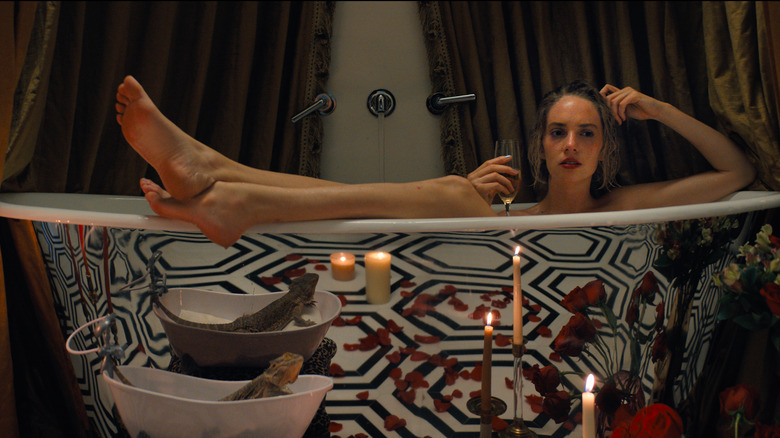 Netflix
"Do Revenge" starts out like a surreptitious meet-cute in Miami, with the former queen bee and very much dominant personality Drea crosses paths with Eleanor, a new alt-girl willing to submit to the object of her affection. Drea's boyfriend leaks a private sex tape of her around the same time that a girl starts a horrible rumor about Eleanor that outs her queerness to the entire school, and the two decide to join up and take them both down. Now, this isn't "Mean Girls" where it's cartoonishly obvious who is the hero and who is the villain, as the director mentioned in an interview with Elle magazine. "I think there are different points where everyone's the villain and everyone's the hero in this story," Jennifer Kaytin Robinson said. "And that is so much of what growing up is. I wanted to make something that paints with all the colors of adolescence."
The film takes a semi-camp approach to the material, but Robinson wasn't afraid to tackle the very real severity of teenage vigilante justice. "There is the comment on, not necessarily cancel culture, but accountability versus the way that we tear people down without the right information potentially, and the way that we lift people up without the right information potentially," she said. "And then on the other side of that, it's also [about] the way in which we deal with trauma, so, focusing on what happens and how it happens and why it happens and then how we deal with it."
The cast of Do Revenge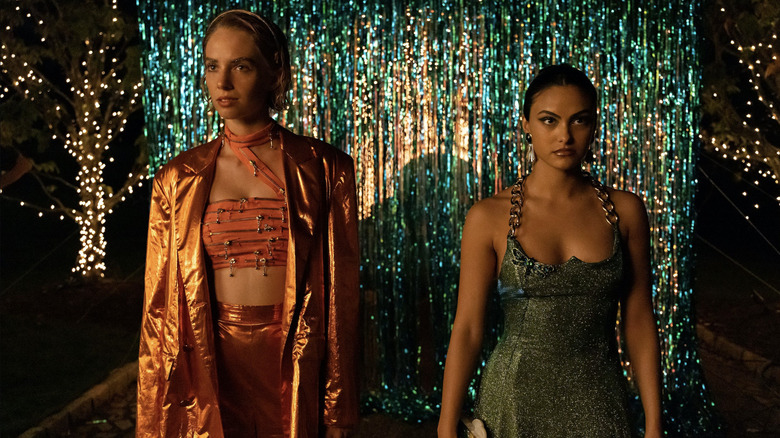 Netflix
"Do Revenge" is a certifiable "who's who" of teen stars, with the cast jokingly calling themselves "The Revengers." Riverdale's own Veronica Lodge, Camila Mendes plays Drea, while "Stranger Things" actor and musician Maya Hawke co-stars as Eleanor. The duo are joined by Austin Abrams ("Euphoria"), Talia Ryder ("Never Rarely Sometimes Always"), Alisha Boe ("Yes, God, Yes"), Rish Shah ("Ms. Marvel"), Maia Reficco ("Pretty Little Liars: Original Sin"), Paris Berelc ("Alexa & Katie"), Jonathan Daviss ("Outer Banks"), Ava Capri ("Love, Victor"), and Sophie Turner ("Game of Thrones").
Robinson knew she wanted Mendes and Hawke so deeply, that they moved the entire production to Atlanta to accommodate Hawke's "Stranger Things" season 4 shooting schedule. "They were so perfect that we legit moved the production, because if we waited for Maya after 'Stranger Things,' we would've lost Cami, and if we had Cami in L.A., we wouldn't have Maya," she said. "I was like, 'Nope, it has to be both of them.' So we moved the whole movie six weeks before production."
Do Revenge writer, director, and more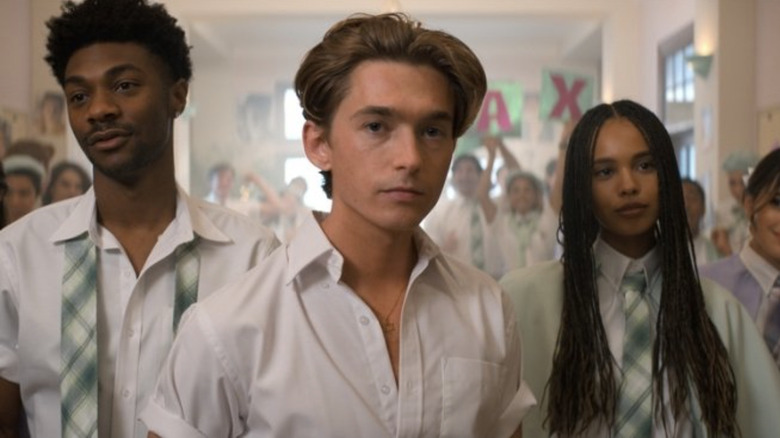 Netflix
The film is directed by Jennifer Kaytin Robinson ("Sweet/Vicious," "Unpregnant," "Thor: Love and Thunder"), from a script written by Robinson and Celeste Ballard ("Sweet/Vicious," "Above Average Presents," "Wrecked"). "Do Revenge" is executive produced by Josh Bachove with Anthony Bregman, Peter Cron, and Robinson serving as producers. Music for the film comes from Amanda Yamate ("Gossip Girl") and Este Haim, yes, the bass player from HAIM and composer for "Cha Cha Real Smooth."