'Thoroughbreds' Trailer: Two Teenage Psychopaths Enlist Anton Yelchin In One Of His Final Films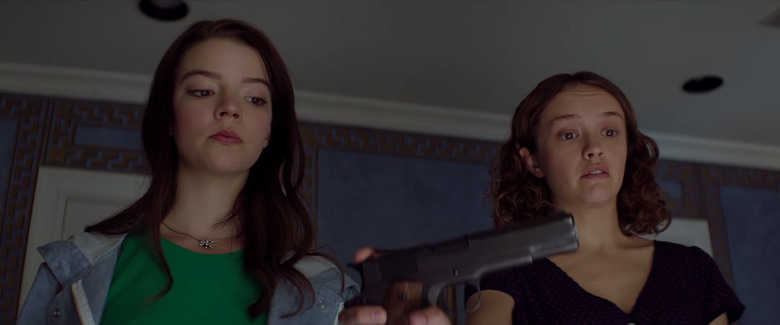 Nothing can bring together two teenage psychopaths like plotting to murder step-daddy dearest, as stars Anya Taylor-Joy and Olivia Cooke show in the new darkly comic Thoroughbreds trailer.
The second trailer for the festival favorite, which has garnered interest partially because it features the late Anton Yelchin in one of his final roles, doubles down on its Heathers-meets-American Psycho trappings, featuring the two former childhood friends go from exchanging razor-sharp witticisms to delivering cold-blooded threats at the drop of a penny.
Thoroughbreds Trailer
Taylor-Joy and Cooke are two of the most promising young actresses in the industry today, carving out niches for themselves in horror, independent comedies, and science-fiction. So the Thoroughbreds trailer feels like lightning in a bottle, with the two of them showcasing their talents in an unsettling and hedonistic film about two friends who decide to plot a murder.
The sardonic tone of the first teaser trailer is amplified ten-fold in this one, which highlights Amanda's lack of emotion and Lily's abundance of emotion. Together they make a perfect sociopathic pair, teaming up to kill Lily's oppressive stepfather (Paul Sparks).
Along the way, they rope in Anton Yelchin's hot-headed drug dealer, who finds that he's in over his head when dealing with the two rich and idle teenage girls.
Here's the official synopsis for Thoroughbreds:
Childhood friends Lily and Amanda reconnect in suburban Connecticut after years of growing apart. Lily has turned into a polished, upper-class teenager, with a fancy boarding school on her transcript and a coveted internship on her resume; Amanda has developed a sharp wit and her own particular attitude, but all in the process of becoming a social outcast. Though they initially seem completely at odds, the pair bond over Lily's contempt for her oppressive stepfather, Mark, and as their friendship grows, they begin to bring out one another's most destructive tendencies. Their ambitions lead them to hire a local hustler, Tim, and take matters into their own hands to set their lives straight.
Helmed by first-time writer-director Cory Finley, Thoroughbreds made its world premiere at the Sundance Film Festival in January this year, and has built up some buzz at the festival circuit. Thoroughbreds will be one of the last three post-humous releases for Anton Yelchin, who died in the summer of last year.
Thoroughbreds is set to open in theaters on March 9, 2018.