TV, Interrupted: Sweet/Vicious Was Like Batman For Sexual Assault Survivors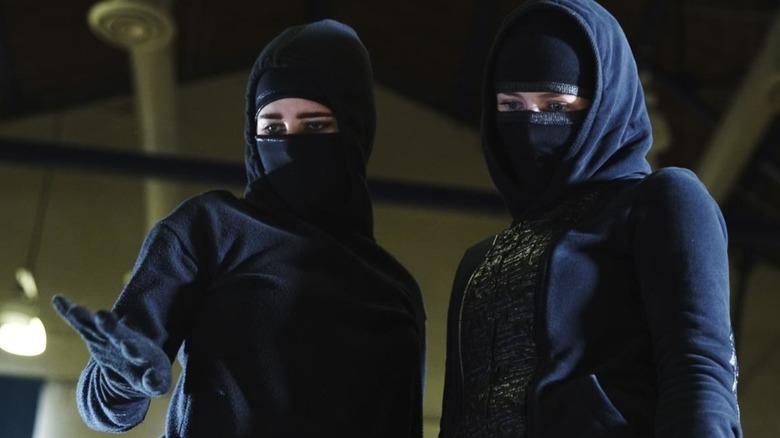 MTV
Jennifer Kaytin Robinson's "Sweet/Vicious" arrived a year before the world was ready for it. The MTV series about two young vigilantes delivering swift and painful justice to the rapists on their college campus debuted in 2016, and was unfortunately already canceled by spring 2017. It ended just months before the arrest of Harvey Weinstein would lead to a national reckoning about the topics it dealt with head-on.
In its first and only season, the comedic drama delivered a roundhouse kick to the crotch of the flawed American justice system and other institutions that protect abusers. It also grappled with the realistic, messy aftermath of surviving an assault, a path to healing that's not always straightforward. The show starred Eliza Bennett as Jules, a preppy college student by day and masked vigilante by night. In the series' pilot, she meets and accidentally teams up with Ophelia (Taylor Deardon), a turquoise-haired slacker who's drawn into her Batman-esque escapades.
Why Sweet/Vicious was great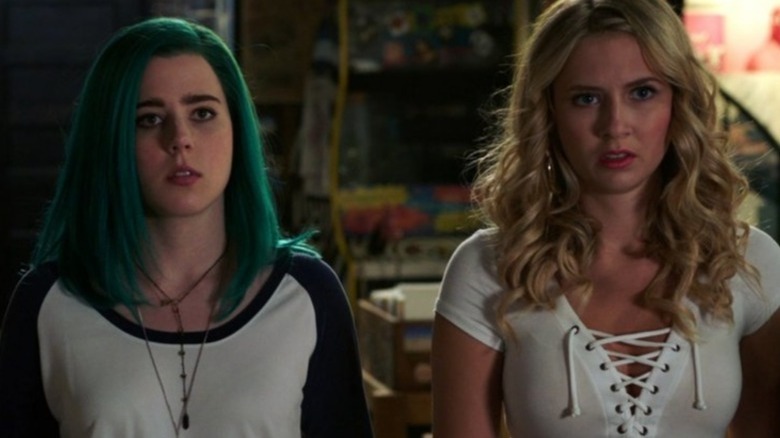 MTV
Long before the #MeToo movement pushed the whole world into action, TV shows were wrestling with the real and ubiquitous issue of sexual assault. Shows like "Law & Order: SVU" made cases about sexual violence their disturbing bread and butter, while series like "Veronica Mars" (the show that probably shares the most DNA with "Sweet/Vicious") attempted to grapple with it from multiple teen perspectives. 
"Sweet/Vicious" wasn't the first of its kind, but it's fueled by righteous rage reaching a boiling point, informed by decades of rampant, unchecked abuse. The series about two campus vigilantes — both ass-kicking young women — tapped into some rarely-examined truths about sexual violence and consent issues in the 21st century.
The series features plotlines that reflect real life, with Jules and Ophelia squaring off against skeevy rideshare drivers, dating app predators, and frat bro line-crossers. Though its unapologetic (but still nuanced) rape-revenge plotlines make up the series' elevator pitch, it also includes several season-long arcs, including one about Jules gaining the courage to speak up about surviving acquaintance rape.
"Sweet/Vicious" also delivers one hell of a pilot episode. "The Blueprint" introduces us to perfectionist Jules and stoner Ophelia, but it also culminates in a shocker of an ending that propels the plot forward for the rest of the season. Despite its status as an MTV teen drama, "Sweet/Vicious" isn't afraid to get gnarly when it needs to. The show is funny, dark, stylish, has a killer soundtrack, and above all else, it's always truthful in its attempts to shed light on a problem that impacts one in four college-age women.
Why Sweet/Vicious was canceled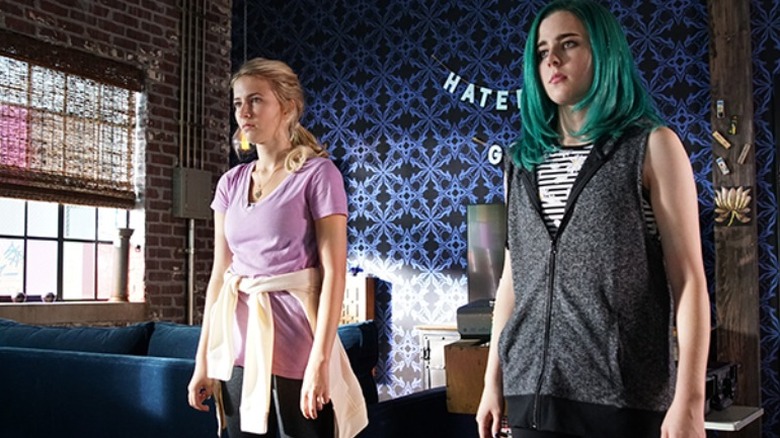 MTV
Let's start with the obvious but unspoken fact that a show about women basically curb-stomping men was bound to generate some controversy no matter the context of its violence, the important discussions it inspires, or the argument (which we apply to action and superhero films every day, by the way) that depiction doesn't equal endorsement. No one has explicitly said these factors went into the series' cancelation, but coverage of the show frequently framed it as "controversial," and no doubt, some people didn't like what it was laying down.
"Sweet/Vicious" also debuted at an era that would mark the end of MTV's attempts to take on scripted television. In fact, 2016 marks the last time the network premiered a new scripted series. A new network president, Chris McCarthy, took over in October 2016 after "Sweet/Vicious" and other new scripted shows like "Scream" and "The Shannara Chronicles" had already debuted. While the latter two briefly moved to different networks, "Sweet/Vicious" had no such luck.
"Sweet/Vicious" never had a chance to reach a major audience. At the time of its cancelation, Deadline estimated its viewership at around 180,000 people — lower than but comparable to other shows in the MTV lineup around that time. Still, the people who loved the show loved it fiercely, as Robinson made clear with her heartfelt response to the cancelation. In a statement on Twitter, the show's creator expressed her devastation at "Sweet/Vicious" being canceled and thanked the fans and critics who supported the show. Part of her statement is excerpted below, and you can read the full statement here. 
"To the survivors who have supported and loved our show, who have found comfort in the stories we told, you mean everything to me and the entire cast and crew. Jules and Ophelia will live on forever inside each and every person who fights for this cause ... In a time where it feels like everything is an uphill battle to achieve what is just and right I am ready to put on my hiking boots and continue to climb. I hope that you will all climb with me."
Unfinished business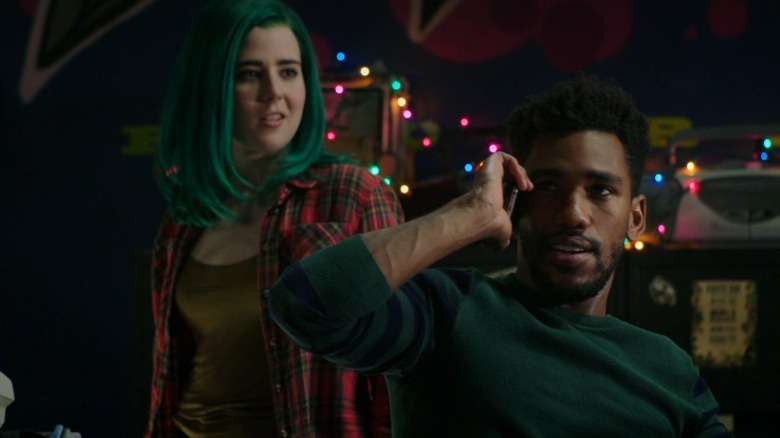 MTV
To say that "Sweet/Vicious" concludes with some loose ends would be an understatement. If you haven't seen the series yet, this is your opportunity to scroll past this section's major spoilers.
Much of the series' first season involves Jules' internal struggle and shame over her own rape. We learn early on that she was assaulted by Nate (Dylan McTee), who is her best friend Kennedy's (Aisha Dee) boyfriend. She finally comes clean to Kennedy and reports the assault to her school's Title IX office. He's found guilty, but he's a star athlete, and the school's president soon overturns his conviction. The girls end up getting even with Nate in an epic public takedown, releasing footage of him ranting about his crimes and snorting coke. Also, they take on seven angry frat guys in a fight and win.
Meanwhile, Ophelia's best friend Harris (Brandon Mychal Smith), a law student who's been tasked with unmasking the vigilantes, uncovers the truth about Ophelia and Jules' late night avenging. After getting over his initial hesitation, he ends up teaming up with the pair as their inside man at the DA's office. By season's end, he's found 26 mishandled or ignored sexual assault cases. The series finale is purposely bittersweet: well aware that when business is booming for the vigilantes, that means bad things are still happening to women.
"Sweet/Vicious" isn't afraid to lean into these complications, as when Kennedy admits she misses the Nate she thought she knew despite his horrible actions, and when Ophelia learns a girl was discouraged from reporting her assault because of the vigilantes themselves. There's also the fact that Jules is dating a guy whose brother she helped kill, and that her and Ophelia's cover-up of the crime still managed to leave evidence behind.
By season's end, the girls have gone viral on campus as anonymous avengers, and have officially been dubbed #SweetVicious. The series ends with the pair setting up an anonymous reporting system where survivors can share details about their experiences. Just before the credits roll, we see that the forum is starting to fill up with responses — a prescient plot point that now calls to mind the #MeToo movement.
Will Sweet/Vicious ever return?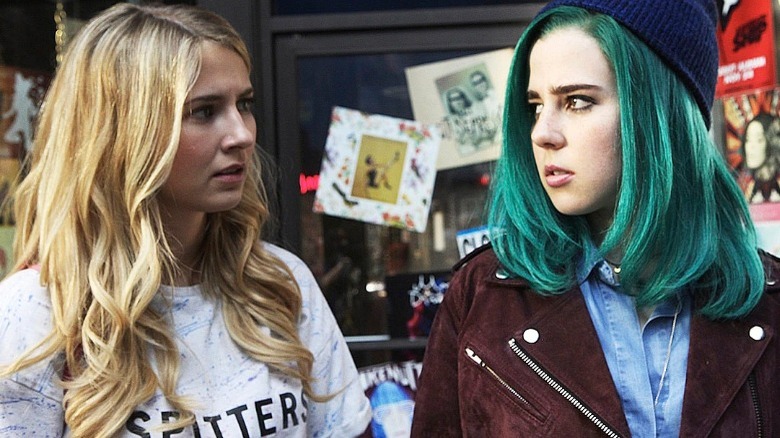 MTV
Although there aren't any current plans for "Sweet/Vicious" to return, Robinson has always been up front about her continued love for the story and hope to see it return in some other form. In 2018, she revealed plans via Twitter for a "Sweet/Vicious" continuation in comic book form, complete with an extremely cool piece of cover art featuring Jules clad in black and Ophelia, standing by a comically giant bong and wearing a shirt that says "Believe Survivors." 
The comic book plans have not yet come to fruition, in part because Robinson was hired to co-write "Thor: Love and Thunder." As of November 2020, the comic was still in the works, with Robinson tweeting in honor of the show's pilot episode anniversary, then adding, "(The comic is still coming, I have been busy with a different superhero this year)."
In terms of shows whose runs have been tragically cut short, "Sweet/Vicious" definitely seems to be on the more revival-friendly side of the spectrum. There's plenty of story left to tell, not to mention an obvious market for stories handling the tough but pervasive issue of sexual violence from complex angles. Just look at "Promising Young Women," for example. The show, which is currently available on VOD but not streaming, seems like it's one Netflix drop away from gaining a horde of late-comer fans who can spread the word and help get it back in the conversation.
Series lead Eliza Bennett, now appearing on "Dynasty," also still seems invested in the series; she tweeted "I'm still Jules Thomas forever" in response to a fan last year. Robinson has even mentioned her idea for a "Sweet/Vicious" movie with a plot she calls "'9 To 5' meets 'Ocean's 8.'" Tell us when and where, and we'll be there to watch.