How Euphoria Pulled Off That 'Holding Out For A Hero' Musical Number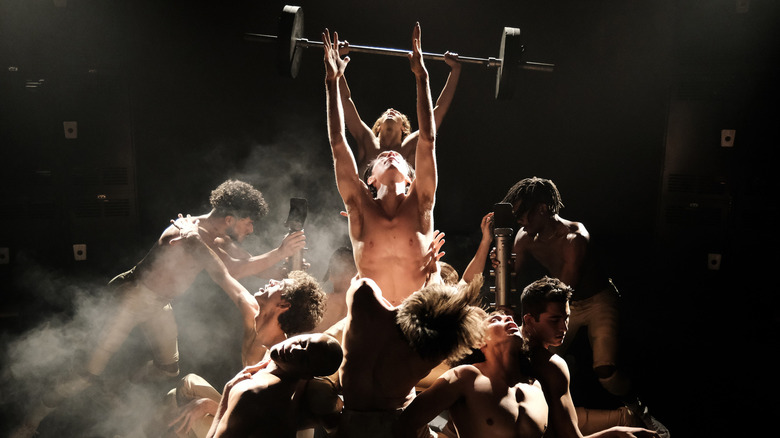 HBO
This week "Euphoria" took a break from its usual drug-induced high-wire walk to celebrate theatre! And in true theatre fashion, this became an opportunity to embrace some very deserving underdogs, shining a spotlight on a previously underutilized duo that easily stole the show, Lexi (Maude Apatow) and Ethan (Austin Abrams). In the show's first season, these two largely lived in the shadows — Lexi primarily known as beauty queen Cassie's (Sydney Sweeney) younger sister and a former best friend to Rue (Zendaya). Meanwhile, Ethan was just some nice guy with cheesy lines, attempting to get close to the very prickly Kat (Barbie Ferreira). In the chaotic world of "Euphoria," these two seemed wildly out of place — just two normal teens in preppy dresses and jeans, who were never quite on the same glitter-infused wavelength as everyone else. But any doubts we had about Ethan and Lexi fitting in with their messy peers have since been resolved because in "The Theater and Its Double," in which our once normal teens made some drastically unhinged moves.
The rest of this post contains spoilers through Euphoria season 2 episode 7.
Inside Ethan's big moment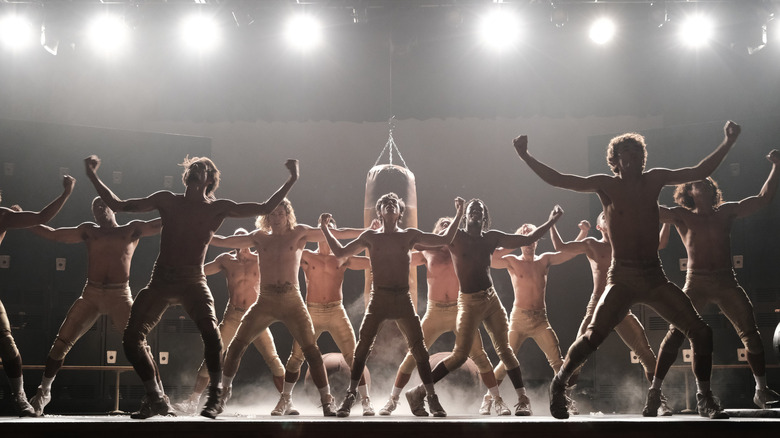 HBO
Whether or not you've seen the latest episode of "Euphoria," you may have heard tell of Lexi Howard's theatrical debut. The second season has spent many episodes building up to her school production of a very autobiographical play that retells the story of her friend group and threatens to alienate the entirety of East Highland. Because beyond just reenacting some of the most personal moments of her friend's lives, Lexi has also opted to expose the deep dark secret of budding sociopath Nate Jacobs (Jacob Elordi) via a suggestive, high-energy dance number set to the tune of Bonnie Tyler's "Holding Out for a Hero."
As Ethan, Abrams stars as a bizzaro-world Nate, who wears golden spandex, and gyrates alongside his fellow footballers in the most overdramatic fashion possible. It doesn't take a genius to read between the lines of what Lexi is implying — Nate's sexuality isn't so much subtext as it is the entire point of this glorious sequence. The locker room scene sees the football players dancing in sync, all shirtless, and even features Ethan's Nate embracing a, um, suggestively shaped sculpture. As you can imagine, this elaborate sequence took days of work but Abrams told Variety that he had a blast pulling it off. He said:
We filmed that over a three-day span, and it was a lot of work. It took a lot of physical exertion. I was doing that dance a million times over those days. But, I loved the dance, I loved the guys that I was dancing with and it felt very real. I loved the energy exchanged between the performers and the actors and the audience because there was a crowd there. It's one of those songs that makes me so happy. It puts everyone in a great mood, honestly.
Holding Out For A Hero like Lexi Howard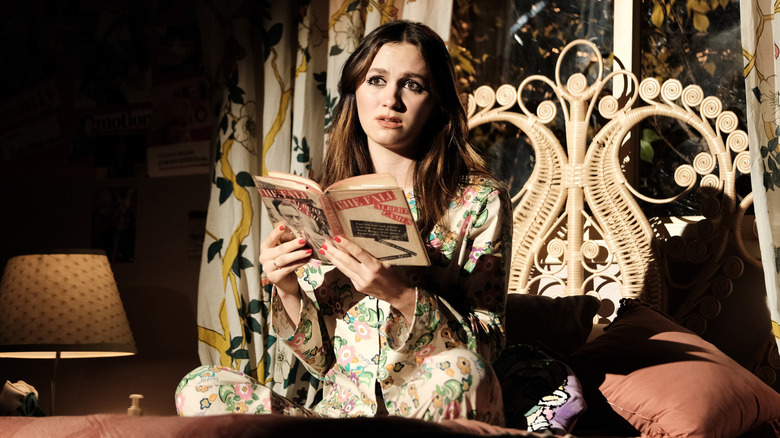 HBO
While the play put cast members in a great mood, it didn't quite do the same for the actual characters of the show. Upon realizing that the play depicts their lives, many of our "Euphoria" faves looked unsettled and even annoyed. In the end, many of Lexi's friends began to come around, but given the episode ends with an ominous "to be continued" and Cassie breathing into a mirror with the intensity of a person about to go a murder spree, it's safe to say that the young playwright has a storm coming her way. Not to mention Nate himself, who didn't take well to being laughed at. He basically white-knuckled the performance before finally storming out.
All things considered, that's a pretty low-key response from a guy known to beat people half to death or point guns in their faces, but he'll no doubt have more to say in next week's season finale. As for Lexi, her play is bound to be the talk of the town for many years to come. Maude Apatow seemed pretty sure of the incoming reaction because, as it turns out, Lexi's very divisive theater career is partially based on her own. Apatow shared:
"It was loosely inspired by my high school play that I produced. Everyone in the theater department hated me, but I really wanted to do a good job. It took a long time to film that sequence because it was so complicated. There were a lot of audience shots to consider... Sam had to make sure that the shots in the play connected to real memories and they had to be perfectly timed and interwoven. We felt really good about it in the moment."
According to the actress, the storyline was a "semi-collaboration" with Sam Levinson. As the series creator, showrunner, writer, and director, Levinson is well known for being the sole arbiter of creative decisions on "Euphoria," but occasionally collaborates with the young cast. Allowing them such input has made way for some of the most complex, interesting, and authentic moments in the show, such as the in-between-seasons special "F*** Anyone Who's Not a Sea Blob," co-written with star Hunter Schafer. If the latest episode is yet another example of what can be accomplished when Levinson gives his performers more input, this should definitely become a regular approach going forward — especially in light of recent reports from the second season's drama-filled production.