Euphoria Review: Season 2 Is Bolder, Deeper, And More Relentless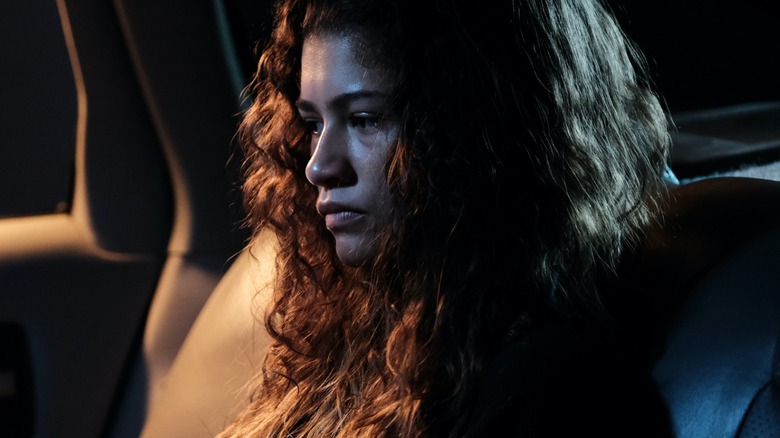 Eddy Chen/HBO
"Euphoria" is, in essence, two shows in one. It's a glam teen melodrama, like an amped-up "Skins," whose leads inexplicably wear runway fashion to high school and sometimes threaten to kill each other. It's also an unflinching look at addiction and depression — a raw nerve of vulnerability expressed through high caliber acting and filmmaking. The series has always grappled with these two seemingly irreconcilable halves, but two powerful bridge episodes between the first season and the second made the contrast even more apparent.
Now, "Euphoria" is finally back for its sophomore season run, and it has integrated these two halves into a full-throttle whole that will bowl you over if you're not careful. The last time we saw Rue (Zendaya), she had just relapsed after deciding not to run away with Jules (Hunter Schafer). In the new season, Rue gives us a warning early on as she pretends to lecture the audience during a particularly meta moment. "Now, as a beloved character that a lot of people are rooting for, I feel a certain responsibility to make good decisions," Rue says, before admitting that her relapse put a damper on that plan.
Series creator Sam Levinson, who also writes and directs the show, may as well be talking about his own sense of responsibility to fans here. Despite the frank way "Euphoria" tackles Rue's issues, the series has still spawned a legion of young fans who would like nothing more than to see her and Jules ride off into the sunset together, clean, sober, and problem-free. Well, that's too bad.
It's Anchored By Unflinching Performances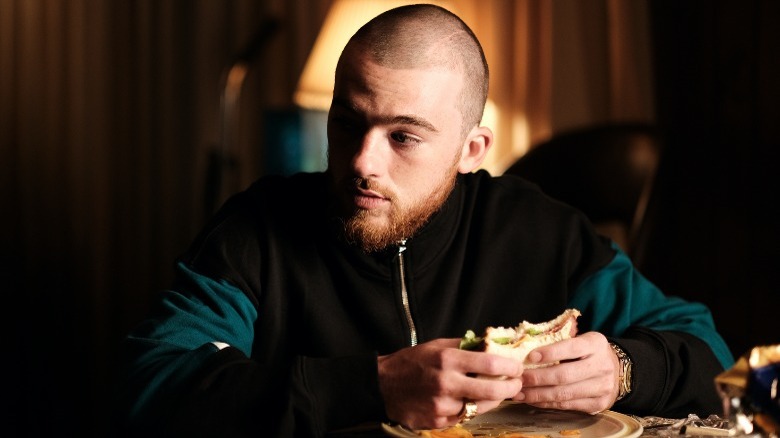 Eddy Chen/HBO
"Euphoria" season 2 is emotionally relentless. It commits to every bold narrative maneuver it makes, but to a warts-and-all portrayal of addiction most of all. As someone whose loved ones suffer from addiction, I've often felt disappointed by stale and hollow takes on the topic, but "Euphoria" cuts to the quick. I've never seen a show so willing to transform its hero into the worst person you've ever met in the name of accurately communicating how the often-misunderstood disease looks and feels. That's a good thing, as Rue's rock bottom might be the show's finest hour. But for anyone with some level of attachment to these characters, it also undoubtedly feels really, really bad.
Zendaya anchors this tightrope walk of a performance beautifully. As non-sober Rue, she's all slouched laziness, eyes half-closed as the character smiles and shrugs her way through her adolescence. And when she does fall off that tightrope, fully and resoundingly with no soft place to land, Zendaya also takes on that gutsy task with seeming ease. The series has a widely talented cast, but aside from Zendaya, this season asks the most of those who see Rue at her worst, including sister Gia (Storm Reid), drug dealer Fezco (Angus Cloud), and newcomer Elliott (Dominic Fike). Each of these actors matches Zendaya's energy, elevating the show far beyond typical teen drama territory. 
"Euphoria" used to rely on stylized, character-specific cold opens, but as the second season unfolds, these mostly fall away. A lot of the series' artifice falls away, leaving only the ugliness of the situations these lonely, angry, depressed teens find themselves in.
A Stylistic Swing For The Fences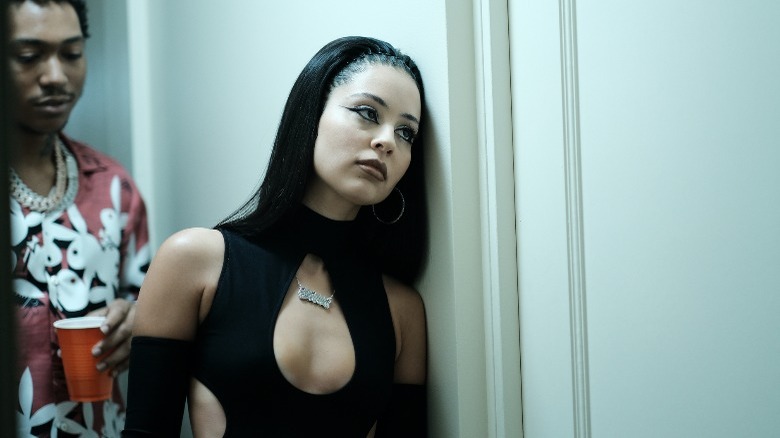 Eddy Chen/HBO
This isn't to say the second season of "Euphoria" totally forgoes its penchant for provocative, messy entertainment. Not at all. Season 2 opens with a ten-minute backstory that's a whirlwind of crime and childhood trauma. It's a sequence that beggars belief — but looks extremely cool as it does so. "Euphoria" generally takes bigger stylistic swings in its second season. When ultra-online Kat (Barbie Ferreira) feels the pressure to perform womanhood the way influencers tell her to, those influencers appear in person, comically oversized sun hats and all. Levinson utilizes every single formal technique he can to make this story personal to these characters, from celestial rays of light shining down to an entire episode that splits its time between the show's reality and the staging of a play. At one point, the series even goes full "Tree of Life," playing back Rue's life in abstract flashes that mingle birth, death, and the love in between.
If any other actor gives Zendaya a run for her money this season, it's Sydney Sweeney as the tormented Cassie. As the trailers show, Cassie becomes the target of sadistic jock Nate's (Jacob Elordi) attention, despite the fact that he just split with her best friend, Maddy (Alexa Demie). This plot blossoms at the intersection between the show's two tonal halves. On the one hand, it'd be easy to laugh about Cassie's more over-the-top moments, as when she breaks down in the school bathroom after her friends say she's dressed like a country music star. On the other, Sweeney puts her all into a slyly heartbreaking performance as a girl whose every waking moment becomes dominated by the tractor-beam pull of a manipulative man's attention. This season, Cassie's a deer in the headlights, and Nate isn't hitting the brakes.
In its second season, "Euphoria" doesn't feel like a different show, but it does feel like it's matured a little along with its characters. Season 1's humming score is pointedly replaced by retro needle drops, and the few times we do get character cold opens, they focus on the parents whose decisions made these kids the messes they are. Levinson constructed a singular world with "Euphoria," and in its second season, it's clear he wants to deepen it without losing any of its sense of extremity. The result is a visually stunning powerhouse drama, one that will grab you from its first scene and never let go.