Euphoria Season 2 Trailer: The Hit Series Returns In January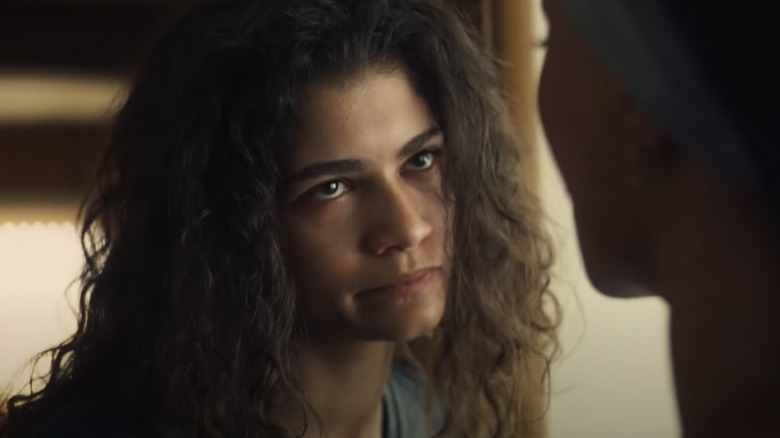 HBO
The full trailer for "Euphoria" season 2 has just premiered, and it has us feeling anything but euphoric. The drama-filled sneak peek sees the return of teen drug addict Rue (Zendaya), along with classmates Kat (Barbie Ferreira), Maddy (Alexa Demie), Cassie (Sydney Sweeney), Nate (Jacob Elordi), and, of course, Jules (Hunter Shafer).
The series' January return marks the first full season since 2019, when Season 1 ended with Rue's music-filled relapse accompanied by Zendaya and Labrinth's soulful song "All For Us." Since then, series creator Sam Levinson has released two stripped-down and emotional special episodes, both set around Christmastime. The episodes showed the aftermath of Rue and Jules' apparent breakup, and the new trailer indicates the new season picks up soon after, around New Year's Eve.
Rue And Jules Are On The Rocks
The trailer opens with Rue at a Narcotics Anonymous meeting with her sponsor, Ali (Colman Domingo). In narration, she talks about how she was "immediately in love" with Jules, and Jules herself shakes Rue out of this reverie, asking Rue how she is and when she relapsed. They're at a campfire, and Jules is sporting thick eyeliner and a new, shorter hairstyle. Rue looks strung out.
Fans of the couples' impressionistic, star-crossed season 1 romance might be in for more heartache. The only shot of the couple together in the trailer shows them dancing close under a spotlight, but it's impossible to tell if it's a daydream or reality. From here on out, the trailer hints that Rue is on a collision course with destruction.
New cast member Dominic Fike is also front and center in the trailer. It's unclear exactly how his character meets Rue, but she quickly calls him her "new favorite person" and the two are seen dancing together soon after. It's not necessarily a romantic dance, but it parallels some of the free-wheeling choreography we've seen from Rue before — specifically when she's under the influence. In a later shot, we see a glimpse of him driving a car when its window is suddenly shattered. We don't know much about Fike's character yet, but in these brief clips, the singer-songwriter seems to fit right in with the "Euphoria" cast.
The Vibe Is Dangerous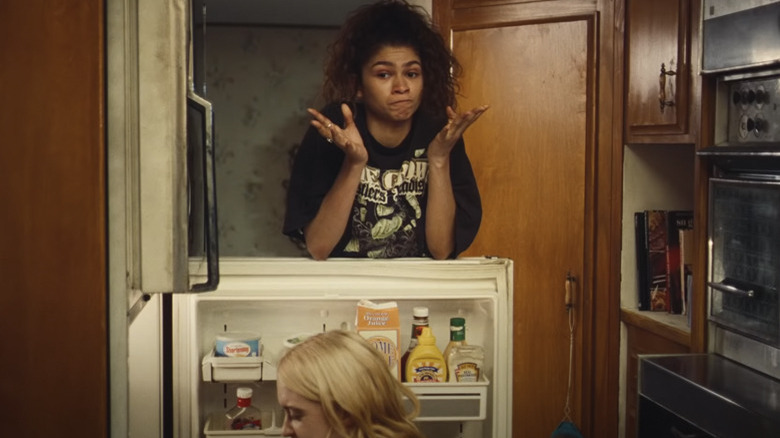 HBO
The biggest surprise in this trailer may be how high the stakes in "Euphoria" season 2 seem to be. The first season of the series might have felt life-or-death thanks to its highly stylized look at teen life, but outside of Rue's self-destruction and the dangerous exploits of drug dealer Fez (Angus Cloud), we never really had to worry about anyone dying. That's no longer the case. This trailer reveals that Rue has a suitcase full of drugs and "an amazing plan" involving Fez. Subsequent shots linger on shiny guns, a sea of cop cars, and Rue running through a busy street. "I've always been with you," Rue says to someone in voiceover as a New Year's Eve countdown accompanies increasingly stressful quick cuts. "From before you were born until after you're gone."
Luckily, the largely fatalistic trailer has a couple of brief moments of comedic relief. Cassie is, for some reason, dressed as what Maddy calls "a country music star." Maddy herself also muses about how sexy she would look if she got pregnant, to Kat's annoyance. Plus, sadistic jock Nate seems to be deeply unhappy, which in itself is pretty entertaining.
"Euphoria" returns January 9, 2022 on HBO and HBO Max.