Euphoria Season 1 Ending Explained: Into That Good Night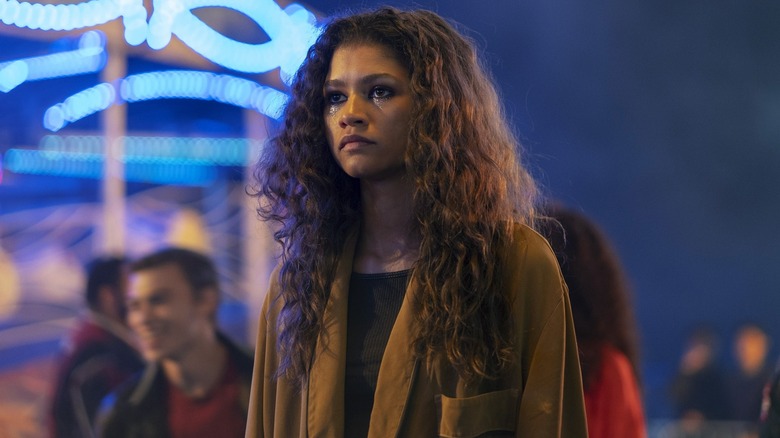 HBO
"I put up a good fight, but I lost. For the first time, but not the last." This is how Rue Bennett describes her journey into this world from her mother's womb. As the audience watches with bated breath over the course of eight episodes and two specials, Rue does a whole lot of fighting, and also, a whole lot of losing. After all, it's easier to fight than it is to surrender, or at least it seems that way when the fight is all you've ever known.
Loosely based the Israeli series of the same name, "Euphoria" isn't easy to classify. The show's staggering visuals belie the soul-crushing pain at its core, but it's hardly a case of style over substance. I'll be honest, that was my initial reaction upon watching the first couple episodes. I thought the show looked amazing, but beyond that, I wasn't sure "Euphoria" knew exactly what it was trying to say. However, it only took a few more installments for me to realize just how wrong I was.
"Euphoria" follows several teens doing their best to navigate the hazardous waters of adolescence, but at the center of it all is always Rue, our ever-unreliable narrator. Zendaya's Emmy award-winning performance (as well as the rest of the fantastic cast) is one of the most effective aspects of the series. The actress imbues Rue with such a magnetic mixture of vulnerability and charm that it's impossible to take your eyes off her. Rue has struggled with addiction throughout her short life and "Euphoria" creator Sam Levinson (who wrote all the episodes and directed most of them) is in recovery himself. His experience is obvious in all the care and depth he gives not only to Rue, but to his other characters as well. Regardless of their actions, Levinson never feels like he's judging them, making them all that much easier to relate to.
"Euphoria" may be aimed at Gen Z, but like the best teen dramas, it appeals to a much wider audience. Many of us are happy to leave high school in our rearview mirror, having barely survived. Even still, we can't help but inevitably be shaped by those experiences, which is why "Euphoria" resonates with pretty much anyone who remembers how difficult it is to be a teenager. The series can sometimes be hard to watch, and yet, I found myself unable to look away.
"Euphoria" wrapped season 1 back in 2019 and has since released two special episodes. It was recently revealed that the show's sophomore outing will begin airing weekly January 9, 2022. While we wait, let's dive into that bananas (in the best possible way) season finale and discuss what it all means. So, how does Euphoria season 1 end?
Do Rue And Jules Wind Up Together?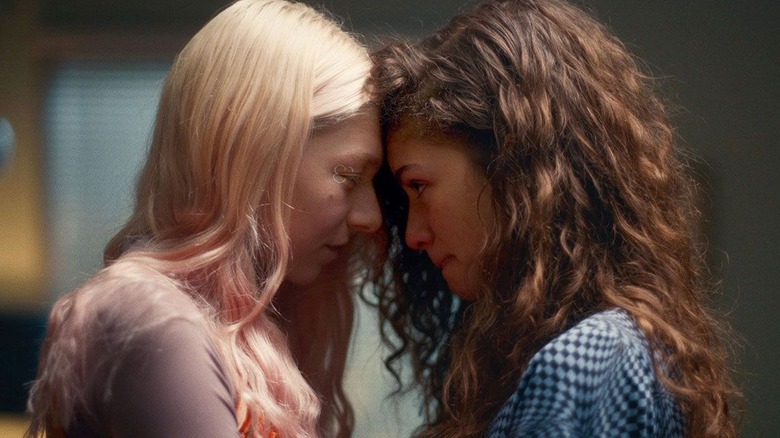 HBO
Rue and Jules had quite a tumultuous season-long romance, with the lines of love and friendship constantly blurred between them. It wasn't always healthy. Rue's sponsor Ali made parallels between their relationship and her addiction, and it's not like he was wrong. Jules found herself crushed under the weight of Rue's expectations, while Rue came to see Jules as the only thing in her life worth staying clean for. It was unsustainable for both of them.
Much of the season finale, "And Salt the Earth Behind You" takes place at the Winter Formal. Jules had recently returned from a weekend away during which she had begun to fall for someone else. Terrified of losing her, Rue suggests the two of them run away to the city. However, Rue quickly loses her nerve, realizing she can't bear to put her family through any more pain. Jules follows through, getting on the train, and leaving a completely destroyed Rue standing alone on the platform.
What Happened To Everyone Else?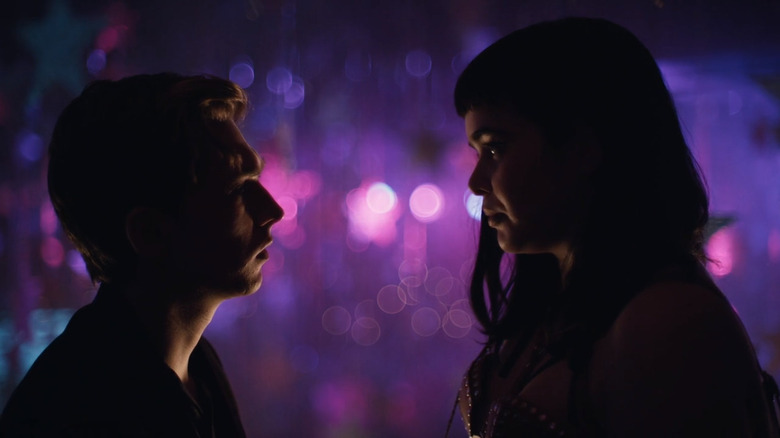 HBO
"Euphoria" may share some DNA with other teen dramas, but only one couple got anything resembling a sweet rom-com ending: Ethan (Austin Abrams) and Kat (Barbie Ferreira). After expending a lot of energy to hurt Ethan, Kat finally gains the confidence to tell him the truth, leading to what is probably the most hopeful moment of the entire finale. They share a sweet kiss and it's implied they are actually going to try having a real relationship.
Cassie (Sydney Sweeney) spends the dance with her sister, Lexi (Maude Apatow), as opposed to McKay (Algee Smith). She also undergoes an abortion in the finale in a heartbreaking scene set to Arcade Fire's "My Body is a Cage." We also see Fez (Angus Cloud) stealing money from a crooked doctor — and almost beating him to death — in order to pay off his supplier, Mouse, after he had to flush his entire stash thanks to a raid, courtesy of Nate (Jacob Elordi, as the show's most one-dimensional character). Fez's fate is unknown, but Mouse didn't look happy when he accepted the bloodstained cash.
Speaking of Nate, he brings another date to the dance, but still ends the night with Maddy (Alexa Demie), who, try as she might, cannot seem to extricate herself from their toxic relationship. They both know it needs to end, but whether or not either is capable of walking away is anyone's guess. Maddy also made a pretty disturbing discovery when she stole one of Cal's (Nate's dad) DVDs and watched it. We'll have to see what she does with that info.
Is Rue Alive?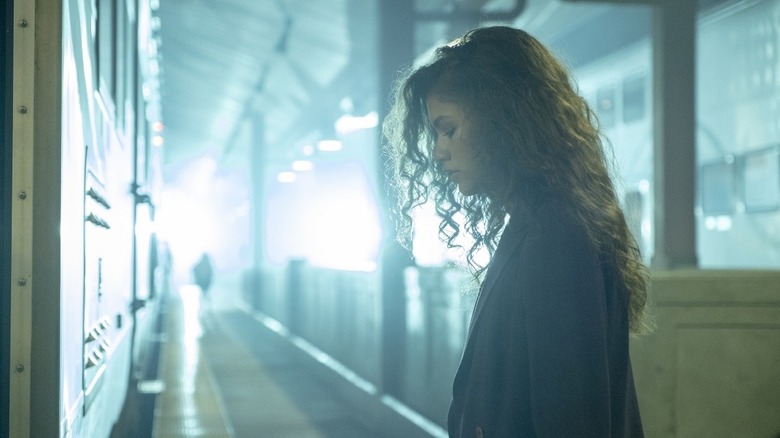 HBO
After a haunting trip down memory lane, the last time we see Rue, she relapses. It's a heartbreaking moment, as she's just chosen her mom and sister over her own interests, but in the end, it's all just too much. Rue's mother was asked to write a letter about the effects of Rue's addiction (likely either for rehab or a twelve-step fellowship), which she reads throughout the episode. Though both of her daughters were listening as she read it aloud, some theorized Rue wasn't really there at all and that it was actually a eulogy. A popular fan theory was that Rue was dead and had been narrating the series from the grave.
Levinson debunked this idea when speaking with THR, explaining that while he enjoyed reading about various theories, "I think Rue has a big journey ahead of her, and a tough one. It's not something I want to cut short because of who Rue means to me as someone who has battled with addiction and come out the other side, and because I think that there's a lot more to delve into and unpack in terms of the effects of addiction on Rue and on her family and those around her." Rue was also shown to be alive in both specials, which took place after the season 1 finale.
What Does That Musical Number Mean?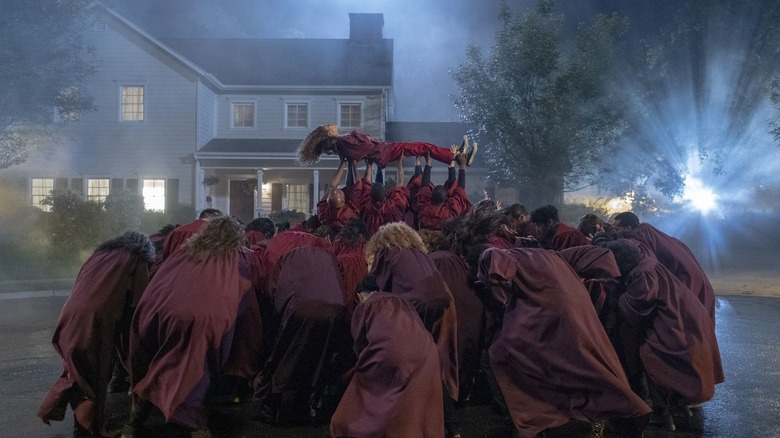 HBO
"Euphoria" has always been more about showing than telling, concerning itself with how something feels, more so than how it actually is. Levinson told Vulture that realism held "zero interest" for him, which is interesting because the show resonates so deeply with fans. While "Euphoria" may be unrealistic at times, the feelings it's rooted in are quite real. The near-constant presence of music only serves to add to this depth of emotion.
Music has been woven into the series' foundation since the pilot, with an incredible soundtrack featuring everyone from Bobby Womack to Megan Thee Stallion to Fiona Apple, and so many more. Let's also not forget about Labyrinth's amazing score, which I am listening to as I write this. With music being so vital to the show (not to mention Zendaya's unbelievable pipes), it makes perfect sense that "Euphoria" ended with a major musical number.
As the drugs hit Rue's system, she falls back onto her bed, until she is pulled up by an unseen force. She stumbles around her home, interacting with her mother and sister (who don't notice her) and her father (who does). Zendaya sings a reworked version of Labyrinth's "All for Us," backed by a choir wearing Rue's signature hoodie (which we learned belonged to her dad) and a marching band. The final shot is Rue climbing the choir, which has become a mountain of bodies, before jumping out of frame.
With this closing moment, it's easy to see why some thought Rue had suffered a fatal overdose. However, an examination of Labyrinth's lyrics might reveal something more encouraging: "I hope one of you come back to remind me of who I was / When I go disappearing / Into that good night." That last line echos Dylan Thomas' famous poem, "Do not go gentle into that good night." Yes, it's a poem about dying, but it's certainly not about submitting quietly to that inevitable fate. Rue may have stumbled, but her journey is far from over.