The Maltese Falcon Was Just The 'Miracle' Humphrey Bogart's Career Needed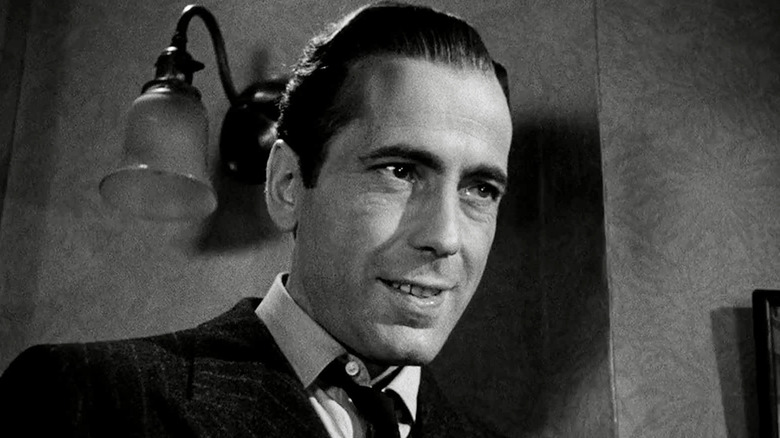 Warner Bros. Pictures
Far from a screen novice, Humphrey Bogart had already acted in some 40-odd movies prior to his role in John Huston's 1941 noir classic, "The Maltese Falcon." He spent most of the 1930s being typecast as villains in assembly-line gangster films or similar B-movies — a matter in which he had no real say thanks to his contract with Warner Bros. It's little wonder he had a knack for playing cynical, world-weary types in his later films. If Bogart the artist ever had any notions about creative integrity in Hollywood, he had long since abandoned them by the time he became an A-lister.
Speaking of Tinseltown, the business was in an odd place by the end of the '30s. With World War II raging overseas and the gangster genre dwindling in popularity (not to mention, the Great Depression had only just "ended"), studios had no idea what audiences were even in the mood for at that juncture. Screwball comedies like "His Girl Friday"? Gritty realism like "The Grapes of Wrath?" Nobody could agree and, as such, studios tried everything. As for Bogart, he was in a tight spot, having only just been suspended by Warner Bros. for refusing to star in the western "Bad Men of Missouri."
In Stefan Kanfer's 2011 book "Tough Without a Gun: The Life and Extraordinary Afterlife of Humphrey Bogart," Kanfer argues that Bogart "needed a miracle" to get his career back on-track. He would end up getting two of them, both of which led to him starring in "The Maltese Falcon."
A Raft emerges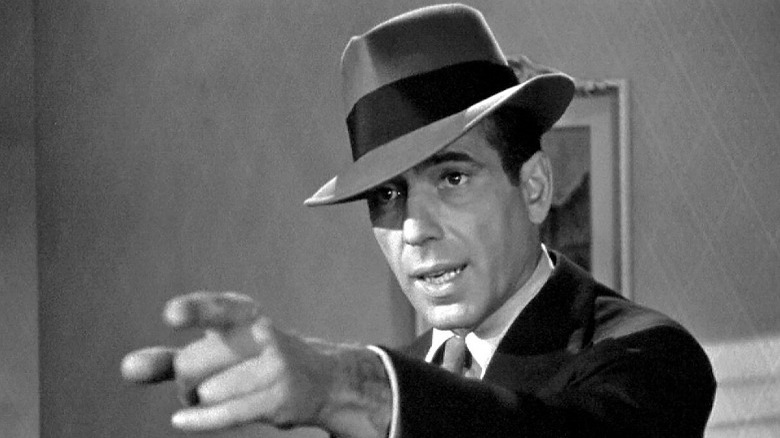 Warner Bros. Pictures
The tensions between Humphrey Bogart and Warner Bros. had finally come to a head partly thanks to George Raft. Ironically, it was Raft who had also been responsible for Bogart landing his first major lead role in Raoul Walsh's 1941 crime drama "High Sierra," a movie the "Scarface" actor was originally set to star in before Bogart talked him out of it and took his place.
After earning top marks from critics for his turn as the hardened, soulful gangster "Mad Dog" Roy Earle in Walsh's movie, Bogart was finally set to receive first billing by starring opposite Raft in "Manpower" (a 1941 dramedy likewise directed by Walsh). However, Bogart was later replaced by Edward G. Robinson at Raft's behest. Why? Well, Raft, you see, wasn't keen on sharing the spotlight with Bogart or, really, anyone else, as evidenced by his infamous fistfight with Robinson on the "Manpower" set (yes, there are photos). Not long after, Warner Bros. assigned Bogart to "Bad Men of Missouri," a move that led to him going AWOL aboard his yacht, "Sluggy," and subsequent suspension.
Raft would once again have a huge impact on the direction of Bogart's career when he declined to star in "The Maltese Falcon," a film he described in a memo to Warner Bros. co-founder Jack L. Warner as (gasp!) "unimportant." He wasn't alone in that attitude, either. Dashiell Hammett's 1930 novel of the same name had already been turned into a movie twice by that point, first in 1931 by Roy Del Ruth and then again by William Dieterle in 1936 (that time under the title "Satan Met a Lady"). Luckily, this new adaptation was set to mark the directing debut for seasoned writer John Huston, who was also friends with Bogart and had written "High Sierra."
With a little help from my 'friends'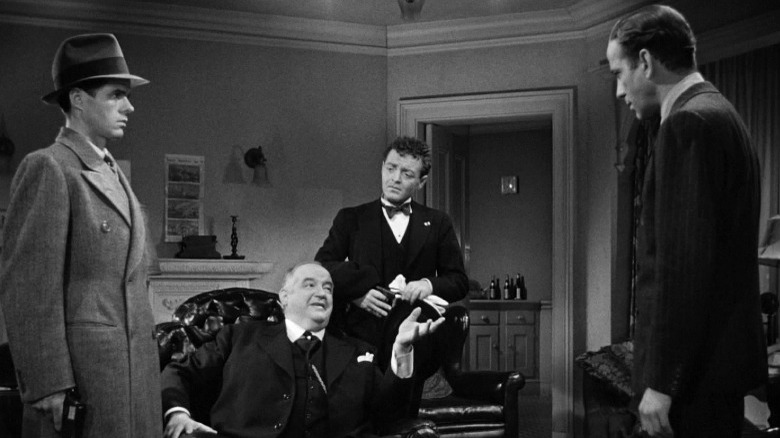 Warner Bros. Pictures
John Huston was, as he put it, "duly thankful" to work with Humphrey Bogart on "The Maltese Falcon," having never cared much for George Raft. But before he could, Warner Bros. needed to remove Bogart from suspension and place him back on its payroll. This is where that second "miracle" came in.
Bogart, you see, had caught the eye of one Louella Parsons. The notorious movie gossip columnist had none other than William Randolph Hearst — the so-called father of "yellow journalism" and direct inspiration for Charles Foster Kane in "Citizen Kane" — in her corner at the time, resulting in millions of people reading her columns in hundreds of newspapers across the U.S. What's more, Parsons had an equally popular radio show, Hollywood Hotel, that she wanted Bogart to appear on, knowing his colorful, outspoken personality would make him an ideal guest. As such, she successfully leaned on Warner Bros. to end Bogart's suspension (which, by that time, had already gone on for two months).
With that out of the way, Bogart was clear to work with Huston on "The Maltese Falcon." The result was pure big-screen magic, giving Bogart the hit he needed to establish himself as a bonafide star and birthing film noir, the genre that would succeed gangster movies as the dominant form of storytelling in Hollywood in the 1940s. Huston's picture is a crackling tale of lies, deceit, murder, and betrayal, much of it echoing the turmoil that transpired off-camera leading into the film's production (sans the murder part, thankfully).
Knowing all this, it certainly lends a whole new meaning to the way Bogart's character, disillusioned private investigator Sam Spade, famously describes the titular item at the end of the movie: "The stuff that dreams are made of."