11 Underrated Ryan Gosling Movies You Need To Check Out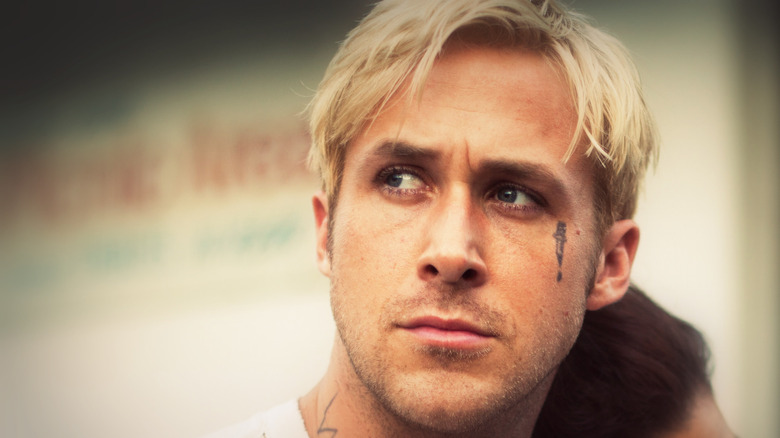 Focus Features
Ryan Gosling has had a long career that stretches back to 1993 when he was only 12 and joined the cast of "The Mickey Mouse Club" alongside Britney Spears, Christina Aguilera, and Justin Timberlake. From 1998 to1999, he starred in the television series "Young Hercules." After this, Gosling gradually started transitioning to Hollywood movies, but apart from the 2004 hit romance movie, "The Notebook," he mostly stuck to indies.
With the double whammies of the critically acclaimed hits "Drive" and Crazy Stupid Love," 2011 was Gosling's breakout year. He received his second best actor Oscar nomination for the charming musical "La La Land" in 2016. In 2018, after the release of "First Man," Gosling took a break from acting. He has now returned with the action movie "The Gray Man" for the Russo brothers, and will soon be seen playing Ken in "Barbie" directed by Greta Gerwig.
Gosling has two, equally successful, modes: He is a gifted comedian, as can be seen in "Crazy Stupid Love," "The Big Short," and "The Nice Guys," or he can play extremely minimalist and stoic in "Drive," "Only God Forgives," "Blade Runner 2049," and "First Man." Join us as we take you through 11 of his most underrated films.
Remember the Titans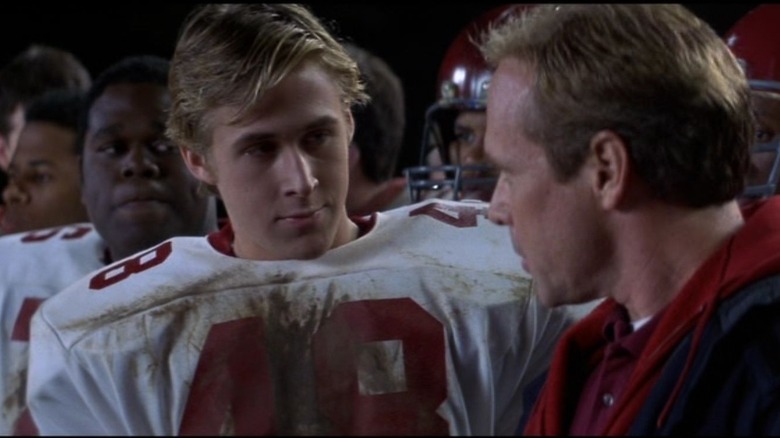 Buena Vista Pictures Distribution
Gosling's first post-"Young Hercules" movie role came with a formidable acting mentor. Who better than Denzel Washington to usher in a young actor's transition to (slightly) more grown-up movies? Still under the Disney umbrella, "Remember the Titans" is based on the true story of the first integrated football team at a high school in Virginia in 1971. Washington plays the new head coach, and initially, there are obvious tensions with the former coach, Bill Yoast (Will Patton), who eventually agrees to become his assistant.
Other actors who play members of the team include Wood Harris ("The Wire"), Donald Faison ("Scrubs"), and Ethan Suplee ("My Name is Earl"). A 10-year-old Hayden Panettiere plays Yoast's daughter, who is obsessed with football and is a pretty good coach herself. Gosling's role is small. He plays a joker who helps ease the fraught atmosphere at the training camp that the team attends near the start of the movie. He also gets a small moment of heroism in the climatic game when he tells the coach to put Faison's character in instead of him because he's better.
Considering how sentimental "Remember the Titans" could have been, it mostly stays refreshingly schmaltz-free, although the tragic ending may wring out a tear or two. The cocky charm and charisma that got Gosling through his Mickey Mouse Club days are still on display here.
Murder by Numbers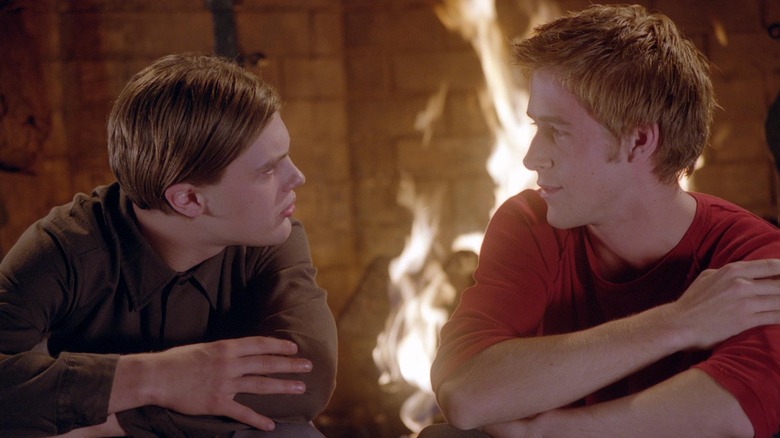 Warner Bros.
After "Remember the Titans," Ryan Gosling pivoted hard by playing a Jewish neo-Nazi in 2001's "The Believer." He then played a series of murderers in what seems like a clear attempt to shed his clean-cut Disney-era image. "Murder by Numbers" stars Gosling and Michael Pitt as a pair of high school students who believe they can commit the perfect murder. Sandra Bullock and Ben Chaplin costar as the detectives who pursue them. Pitt would go on to star in the similarly themed 2007 remake of "Funny Games," and both movies were influenced by the real-life case of Leopold and Loeb.
Gosling once again plays the more cocky and confident of the pair, his character, Richard, is wealthy and popular and appears to take the lead in wanting to carry out the murder. Pitt's Justin is the brains behind the operation and the one who plans the forensic evidence they will leave on the body to throw the detectives off their scent. Bullock's Cassie is given a tragic backstory that explains her motivations as a prickly loner who struggles to get along with her professional partners.
If you have an interest in crime procedurals, you'll be fascinated by how murder can be planned to perfection and the various ways in which the perpetrators can be caught. It's also interesting to see the dynamics between Richard and Justin, who are partners-in-crime, and between Cassie and Chaplin's Sam, who are police partners.
Stay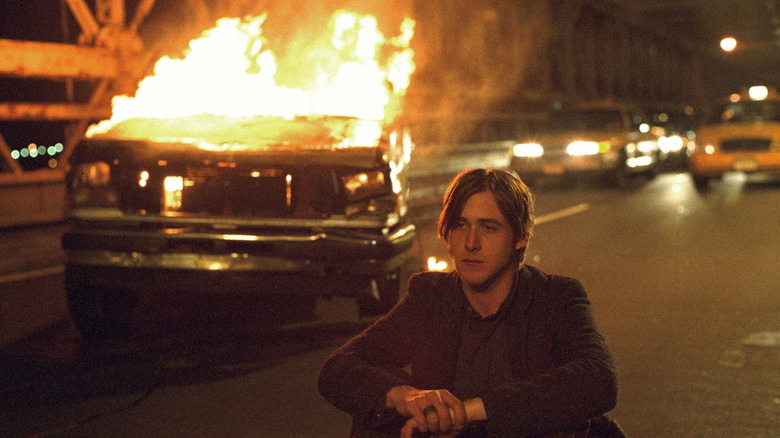 Twentieth Century Fox
After starring in the Nicholas Sparks romance "The Notebook," Gosling returned to the dark side with yet another murderer role. In "Stay," written by "Game of Thrones" co-creator David Benioff and directed by Marc Forster, it's not entirely clear what is happening at any point in the film. Gosling plays troubled college student Henry who visits psychiatrist Sam (Ewan McGregor) when his regular psychiatrist, Beth (Janeane Garofalo), is on leave. He hears voices and also seems to be able to predict the future.
Henry claims to have killed both his parents and has also planned his suicide. When he sees Sam playing chess with his mentor, Leon (Bob Hoskins), Henry is shocked and scared because he thinks Leon is his father. Sam later meets Henry's mother in an empty house, and she starts bleeding from the head. Although the phrase "Lynchian" is over-used, there are occasional glimpses that are reminiscent of David Lynch's surreal style, like when the narrative appears to reset itself and when characters repeat earlier phrases. Naomi Watts (who has her own experience with Lynch) plays Sam's girlfriend.
The film is well-directed by Forster, with interesting visual clues in the editing and structure designed to disorient the viewer and perhaps replicate some of the things Henry is experiencing. Despite the star-studded cast and a favorable Roger Ebert review, "Stay" was a box office failure. Still, it's an interesting experiment, and Gosling gives an impressive performance.
If you or anyone you know is having suicidal thoughts, please call the National Suicide Prevention Lifeline by dialing 988 or by calling 1-800-273-TALK (8255)​.
Half Nelson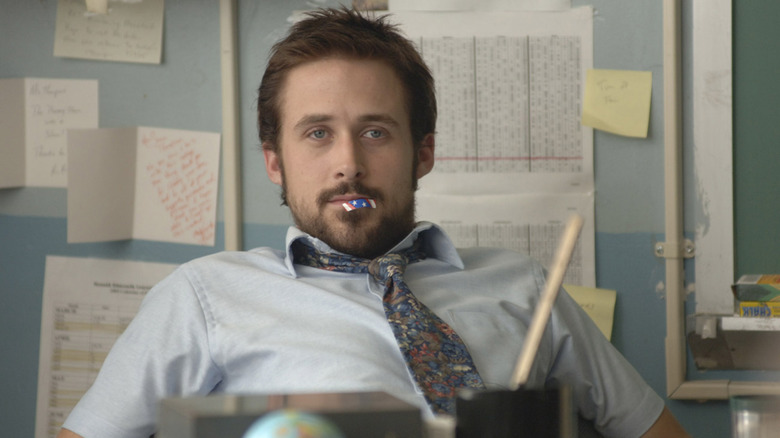 THINKFilm
Having played high school students as recently as 2003 and a college kid in 2005, Ryan Gosling graduated to a role as a teacher in 2006. This was a significant shift from teen to adult roles, and he gained his first nomination for best actor. At age 26, Ryan Gosling is among the 10 youngest Oscar nominees for best actor of all time.
In "Half Nelson," Gosling plays Dan, a young middle school history teacher who has a secret drug addiction. He becomes close with one of his students, Drey (an impressive Shareeka Epps), and he gives her rides to and from school. Drey's brother is in prison for dealing drugs, and she tries to avoid pressure from Frank (Anthony Mackie), the local dealer, to become embroiled in that world. Drey knows Dan's secret because she once caught him freebasing at school. A story about a white teacher who has mostly Black students could have gone down the "inspirational" route seen in "Dangerous Minds," but director Ryan Fleck mostly avoids clichés.
The film is pretty downbeat, and Gosling's performance is subtle. It's surprising that it caught the eye of the academy, as there are no histrionics or grand speeches. There's also no redemptive arc, with no evidence that Dan is really in a better place at the end of the movie.
Fracture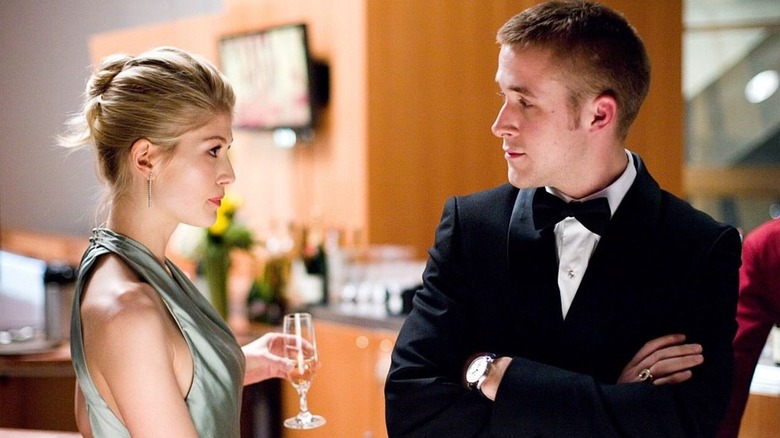 New Line Cinema
After "Half Nelson," Ryan Gosling found himself in a legal thriller, but he was on the right side of the law for once. "Fracture" sees him in a battle-of-wills with Ted Crawford (Anthony Hopkins), a wealthy man who shoots his adulterous wife and is caught red-handed by a cop named Nunally (Billy Burke). Nunally is the one who was having the affair with Crawford's wife, and his testimony is inadmissible. Gosling plays William Beachum, a young district attorney who is determined to bring Crawford to justice.
Hopkins deliciously chews the scenery as he goads Beachum by calling him "Willy" and generally outsmarts him in most of their interactions. Beachum believes it's an open-and-shut case, as Crawford confesses, but he stays one step ahead and keeps pulling the rug out from under Beachum. Courtroom thrillers are always entertaining and "Fracture" is no exception.
While the convoluted legal loopholes stretch plausibility, the real joy is seeing Gosling and Hopkins go head-to-head. Hopkins uses his eyes masterfully to hold court (literally) and wield the upper hand. Gosling has frequently emphasized arrogance in his performances, but the pleasure "Half Nelson" comes from knowing he's in the right — but he keeps getting thwarted anyway.
Lars and the Real Girl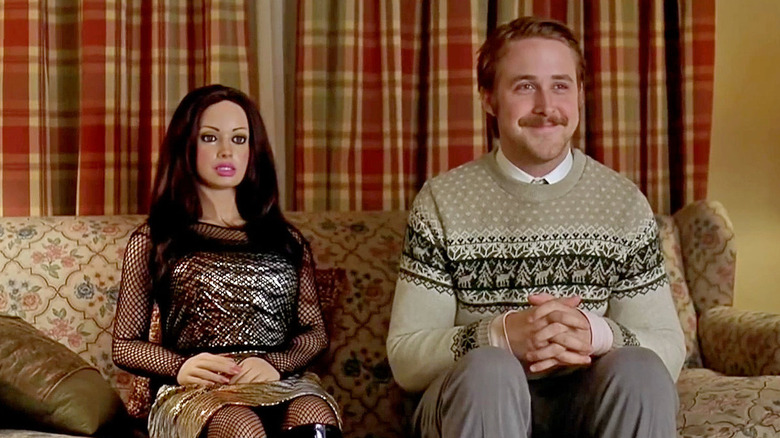 MGM Distribution Co.
Before "I, Tonya" and "Cruella," Craig Gillespie directed "Lars and the Real Girl, one of the best films about grief and loneliness. Gus (Paul Schneider) and Karin (Emily Mortimer) are a couple who live in Wisconsin, and Gus' brother, Lars (Ryan Gosling), lives in their garage. Lars prefers to be alone and doesn't like to be touched. He is still coming to terms with the fact that his mother died while giving birth to him. He is always seen wearing the baby blanket she knitted for him as a scarf.
One day, he brings his new girlfriend, a mail-order sex doll named Bianca, to dinner. Lars talks to her and believes she is real. Gus quickly takes Lars to their doctor, Dagmar (Patricia Clarkson). The relationship between Lars and Dagmar is one of the film's greatest strengths, as she subtly questions him without him realizing that he's in therapy. Bianca ends up being embraced by their small town.
Gosling gives one of his best performances as Lars. There is no winking or nodding — just utter sincerity and genuine emotion. Loneliness is not just explored via Lars but also through his co-workers in his depressing gray office, who have their own crutches such as teddy bears and action figures. The music is lovely, and the costumes and production design create a fully believable Midwestern small town.
Blue Valentine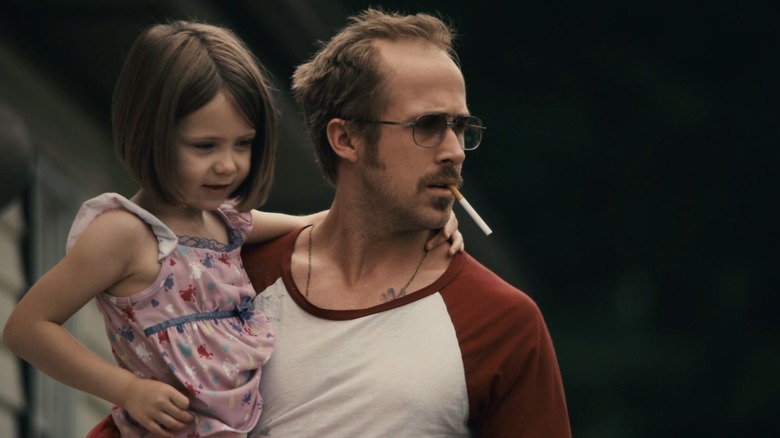 The Weinstein Company
One of the most romantic, sexy, and also utterly bleak and heartbreaking films of all time, "Blue Valentine" marked the first time Ryan Gosling collaborated with director Derek Cianfrance. An unusually structured love story, "Blue Valentine" is divided into two halves: the beginnings of a relationship between Gosling's Dean and Michelle Williams' Cindy, and then five years later, when their marriage is strained and crumbling.
The film is an acting showcase for both Gosling and Williams, who lived together for a month to prepare to play a convincing married couple. One of the best but hardest to watch sequences is when they go to a motel in a last-ditch attempt to resurrect their relationship. Cindy is at the point where she cannot bear to be touched by Dean. Both Gosling and Williams are extraordinary as they perform the dance of being drawn to one another and wanting to make the relationship work but are simultaneously repelled. 
Gosling plays a charming romantic (he even writes and performs a song for Cindy), which Dean very much is in the first section, but then he becomes bitter, dejected, angry, and even violent. "Blue Valentine" is an exceptional independent drama, and the acting elevates it to such a level of realism that it feels almost uncomfortable to be watching such intimate and emotionally raw moments between this couple.
The Place Beyond the Pines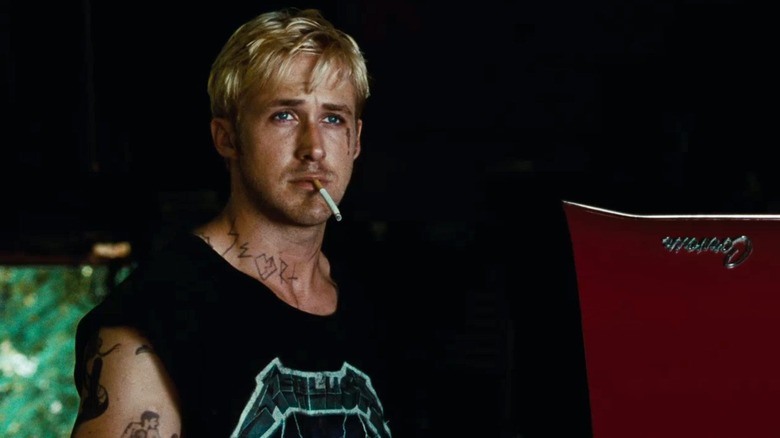 Focus Features
2011 was Ryan Gosling's breakthrough year. He had three movies come out very close together, and there was some concern about overexposure and backlash. He followed this up by reuniting with Derek Cianfrance on "The Place Beyond the Pines," another movie that is unusually structured and traverses time. In this case, a span of 15 years.
Gosling plays Luke, a motorcycle stuntman and bank robber, who wants to reconcile with Romina (Eva Mendes), the mother of his baby. The second half of the movie centers on Avery (Bradley Cooper), a cop whose life becomes entwined with Luke's, and their two sons Jason (Dane DeHaan) and AJ (Emory Cohen). Gosling has great chemistry with Mendes. The cast also includes Mahershala Ali as Romina's boyfriend, Ben Mendelsohn as Luke's boss, and Ray Liotta as a corrupt cop. Cinematographer Sean Bobbitt makes uses innovative hand-held camera techniques in thrilling scenes, including one in which a police car chases Ryan Gosling's motorcycle through a cemetery.
While Gosling's section of the movie is more successful than Cooper's, "The Place Beyond the Pines" is still an interesting examination of masculinity across generations, and however much we may want to escape our legacies, they inevitably catch up to us.
Only God Forgives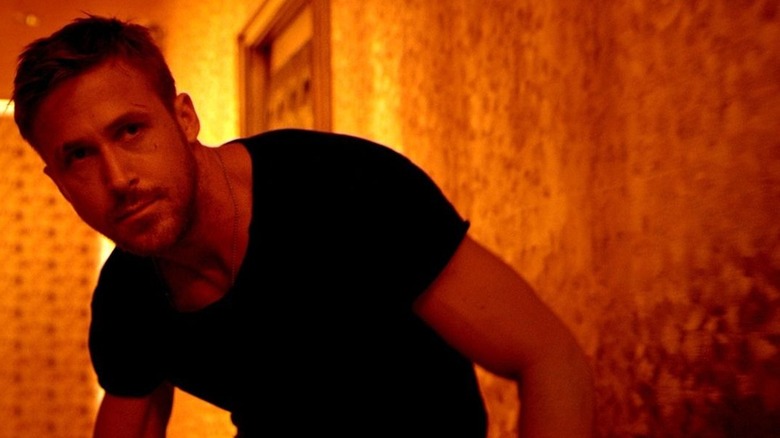 RADIUS-TWC
Of all the movies on this list, Ryan Gosling's second collaboration with Nicolas Winding Refn after "Drive" provokes the most extreme love-it-or-hate-it reactions. "Only God Forgives" takes "Drive" to the extreme. Gosling has even less dialogue, it's more violent, and it's even more soaked in neon. In this thriller, Gosling plays Julian, who with his brother Billy (Tom Burke), runs a boxing club in Bangkok that is a front for their real business of drug dealing.
The best aspect of "Only God Forgives" is Kristin Scott Thomas as the brothers' mother, Crystal, who arrives in Bangkok seeking vengeance after Billy is murdered (which itself was an act of revenge). She is in the mode of the unflinching Mafia matriarch, and there are highly Oedipal things going on, possibly with both of her sons. When Julian spares Billy's killer, she is disgusted and belittles him. As vengeance is meted out on both sides, things predictably escalate into ever more extreme violence. 
"Only God Forgives" is not for everyone, but the cinematography of Larry Smith (who worked on "Eyes Wide Shut") means it is stunning to look at with its atmospheric use of light and shadow. Almost every frame is drenched in color. Gosling's most still and silent role (and that's saying something) showcases his range and ability to emote while seemingly doing very little.
The Nice Guys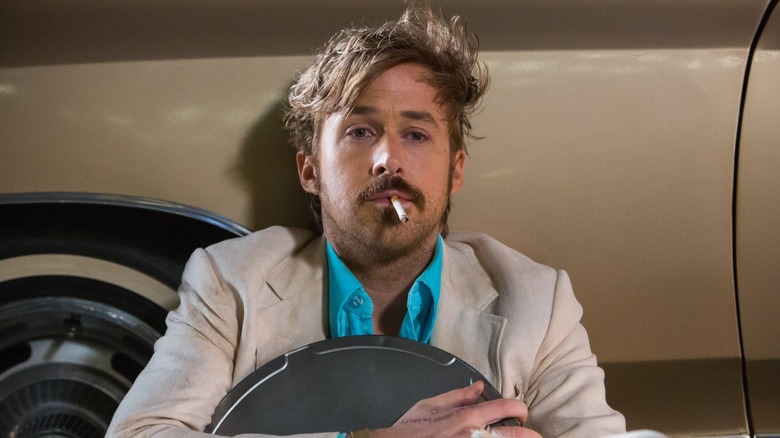 Warner Bros.
Shane Black's detective comedy may stretch the definition of underrated because everyone who has seen it, loves it. Still, "The Nice Guys" is certainly underseen and should have been a much bigger hit that could have launched a whole series of March and Healy movies. Ryan Gosling's gift for physical comedy has never been showcased better, and he has fantastic chemistry with both Russell Crowe and Angourie Rice, who plays his daughter.
Set in Los Angeles in the late 1970s, "The Nice Guys" has brilliantly atmospheric production and costume design. Kim Basinger gets another juicy LA neo-noir role as the puppet-master pulling the strings, and Margaret Qualley plays her tough and elusive daughter, Amelia, who is the target of March and Healy's manhunt. Gosling's facial expressions, line deliveries, and a very memorable scream make this probably the funniest comedy of the last decade. Even a still image can make you laugh.
Combining some hilarious slapstick with extremely witty dialogue and great performances, "The Nice Guys" is a worthy successor to Black's "Kiss Kiss Bang Bang." It's one of Gosling's best films, and like many of his movies, should have done much better at the box office.
First Man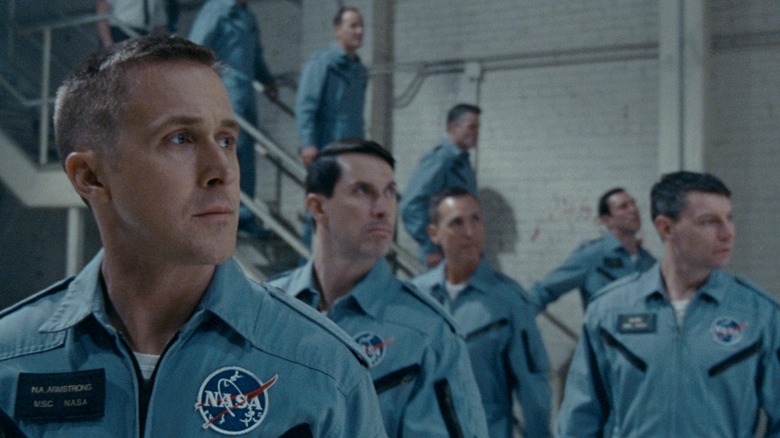 Universal
Ryan Gosling reunited with "La La Land" director Damien Chazelle for "First Man," a subdued take on the Apollo 11 moon landing. Gosling plays Neil Armstrong, and the film very much focuses on his grief after his two-year-old daughter, Karen, died in 1962. Claire Foy plays his wife, Janet Armstrong, and the movie combines domestic drama with thrilling sequences of dangerous test flights.
The score and sound design (and occasionally the total lack of both) are two of the strongest aspects of "First Man." The scenes that take place inside planes and spacecraft as they endure tremendous pressures are accompanied by the terrifying sounds of crunching metal. The moon landing is accompanied by Justin Hurwitz's majestic score, which makes the stunning view of the moon (especially if seen on a big screen) all the more wonderous.
Gosling and Foy both deliver restrained (and at times, strained) performances. Foy's Janet is in constant fear that she will lose her husband. Gosling's Armstrong cannot articulate his grief and will not allow himself to give in to any fear, even for a second, because then, he could not do his job. "First Man" deserved much more attention when it was released. It's an astonishing achievement and demonstrates what the big screen is made for.