The Bullet Train Stunt That Left Aaron Taylor-Johnson Hospitalized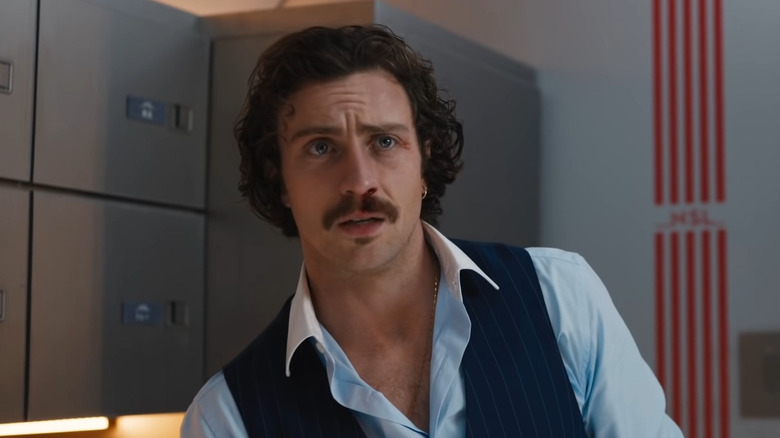 Sony Pictures Releasing
David Leitch's latest action film "Bullet Train" is about to hit theaters. It's the story of a hitman named Ladybug (Brad Pitt) who really wants to retire, but he ends up doing one last, supposedly non-violent job on a bullet train from Tokyo to Kyoto. However, joining him on that train are a slew of assassins played by Aaron Taylor-Johnson, Brian Tyree Henry, Bad Bunny, and Joey King, and they all want Ladybug dead.
Leitch is known for his wild fight scenes in films like "Atomic Blonde" and "Deadpool 2," and he even acted as Pitt's stuntman for many years before getting into directing. But it sounds like the action got a little out of hand, because one of the "Bullet Train" fight scenes actually put Aaron Taylor-Johnson in the hospital. 
The "Tenet" co-star spoke to Variety saying, "You know, when you sign up for a David Leitch movie, you know you gotta get a couple of battle scars, some war wounds." That doesn't begin to cover what actually happened to him on set though. 
'A chunk out of my hand'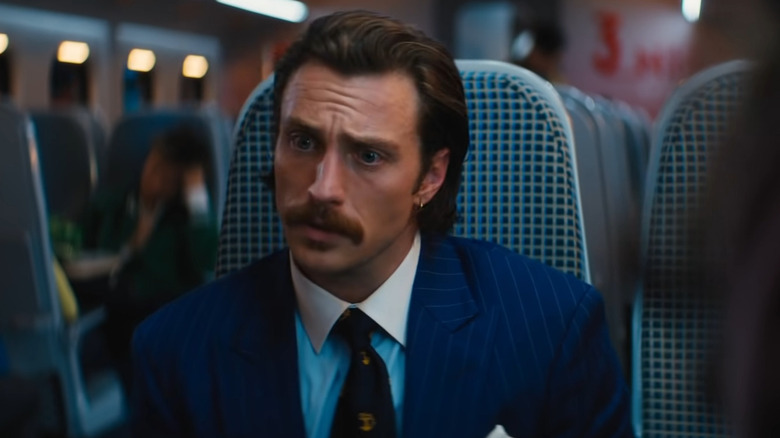 Sony Pictures Releasing
Taylor-Johnson revealed at the Los Angeles premiere for "Bullet Train" this week:
"I was on some crazy mad Keto diet. Because I got all scrawny and lean for this, so I basically had low blood sugar levels. We were in a fight sequence and I get drop-kicked across the room. And the one sharp bit of the corner where there wasn't any padding took a chunk out of my hand. And I literally went wham, passed out. And then I came back and was like, 'Should we go again?' And they were like 'No, no, no. You gotta go get stitches at the hospital.' So then I spent the night in the hospital."
Oof. Did no one have a trainer for this man who could tell him that intense physical action scenes and Keto don't mix? A little while back, I spoke to Alexander Skarsgård's "The Northman" trainer Magnus Lygdbäck, who said that you have to balance nutrition and workouts. He had Skarsgård eating balanced meals five times a day during the film shoot, and explained that it's a bad thing to restrict yourself too much. You can admire Taylor-Johnson's commitment to his process, but blood sugar drops are dangerous when you're doing fight scenes. At least he's okay now!
Here is the synopsis for "Bullet Train" from Sony Pictures:
An original movie event, Bullet Train is a fun, delirious action-thriller from the director of Deadpool 2, David Leitch. Brad Pitt headlines an ensemble cast of eclectic, diverse assassins – all with connected yet conflicting objectives – set against the backdrop of a non-stop ride through modern-day Japan.
"Bullet Train" premieres in theaters on August 5, 2022.