Bullet Train Director David Leitch Has A Unique History With Brad Pitt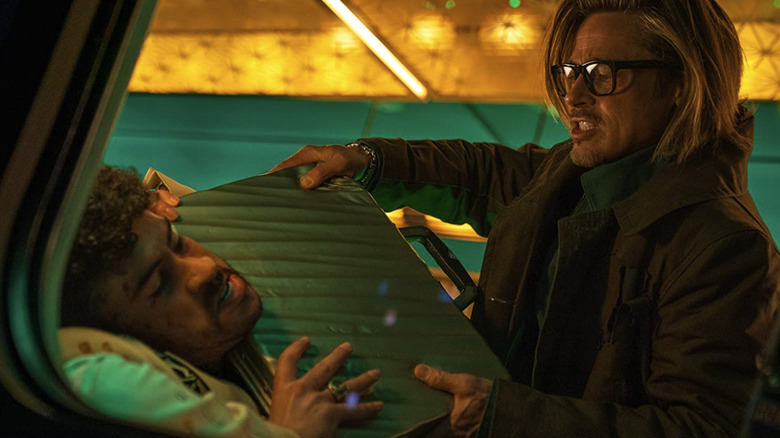 Sony Pictures
Next week, the Brad Pitt-led action comedy "Bullet Train" will power full steam ahead into theaters. If you've seen anything else in theaters lately, you've probably seen the ads for "Bullet Train" (they're practically inescapable). The film stars Pitt as an unlucky assassin who keeps accidentally killing people, even when he doesn't mean to. The killer, who goes by the code name Ladybug, takes a job aboard a high-speed bullet train headed from Tokyo to Kyoto, only to discover that several of his fellow passengers seem hell-bent on taking him down.
The movie looks plenty entertaining, but it's also a bit of a departure for Pitt, who, before this year's turn in "The Lost City," had been most recently seen in the introspective 2019 sci-fi drama "Ad Astra." Of course, Pitt can do humor as well as drama, but the performer typically takes supporting roles in more offbeat comedies like "Burn After Reading" or "Once Upon a Time in Hollywood." So how did the star end up playing a goofy, bumbling action hero in what seems poised to be a big summer movie? Well, he and the director go way back.
"Bullet Train" filmmaker David Leitch has been the man behind the camera for some of the past decade's most interesting action movies, helping craft "John Wick" before going on to direct movies like "Atomic Blonde" and "Deadpool 2." Yet he knew Pitt long before he helmed his first feature: He used to be the actor's stunt double.
The pair first worked together in 1999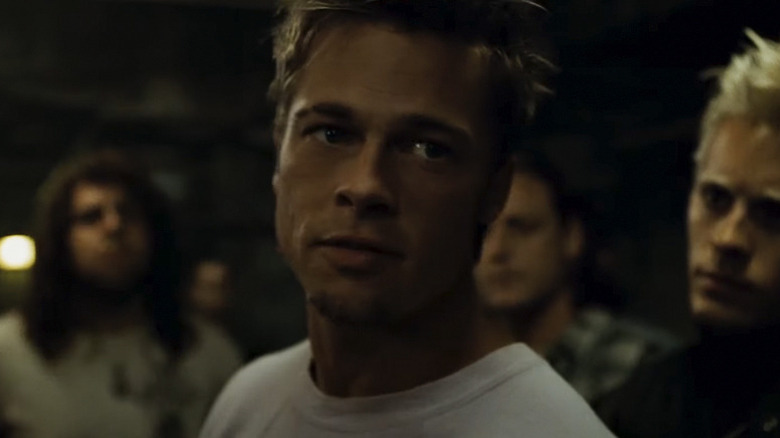 20th Century Fox
According to GQ, Leitch first met Pitt on "Fight Club," David Fincher's brutal, capitalism-skewering 1999 film. After presumably taking some punches for Pitt on that set, Leitch went on to perform as the actor's stunt double in several other movies, including "The Mexican," "Troy," "Spy Game," and "Mr. & Mrs. Smith."
Leitch spoke to Deadline about his early days working with Pitt, where he says the actor held his own in action sequences:
"We did a lot of movies together, and we trained a lot, and he did a lot of fight choreography. Brad's also one of those guys that does a lot of his own stuff. He's so supportive of the stunt community, as you saw last year [in 2020] at the Academy Awards, when he spoke briefly about their need for recognition, but he's also one of those guys who can get in there and do it."
For his part, Pitt has nothing but great things to say about stunt performers like Leitch. In an interview about "Bullet Train" with Joe, the actor called stunt work "such an integral part of this film and many other films," saying that the people who pull off the big action sequences behind the scenes are "completely underrated." Pitt also says he's been "pushing for" stunts to finally be given their own Oscar category, an addition that's gained vocal support among film fans and industry professionals for several years now.
Despite the level up that "Bullet Train" marks in the Pitt-Leitch partnership, the new film isn't actually the first time Pitt has appeared in one of Leitch's movies: He also had a hilarious, blink-and-you'll-miss-it appearance in "Deadpool 2" as the normally invisible character Vanisher. He'll be easier to spot in "Bullet Train," which hits theaters August 5, 2022.