Marvel's She-Hulk Shifts Which Day Of The Week It'll Air, So Prepare Accordingly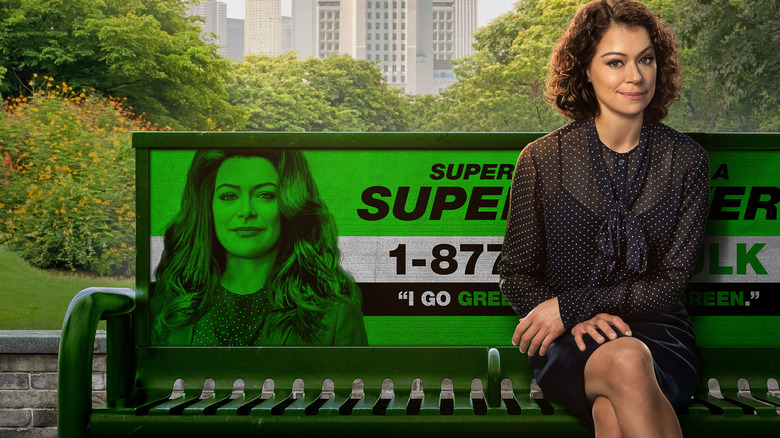 Marvel Studios
Under Disney, Marvel superhero shows and "Star Wars" have both gone away from the usual Netflix model of debuting a show's entire season all at once in one big, binge-watching haze. While that strategy tends to create scenarios where a hotly-anticipated series dominates the pop culture conversation throughout the "opening weekend" (looking at you, "Stranger Things"), the downside is usually that the property tends to fade away rather quickly in the subsequent days and weeks after release. Disney+ has proven resoundingly that shows like "The Mandalorian" and any number of Marvel stories can thrive and flourish when each episode only comes out on a weekly basis, fueling the ongoing discourse and keeping that almighty brand at the forefront of viewers' minds.
The upcoming "She-Hulk: Attorney at Law," which will tell the story of how attorney Jennifer Walters receives the Hulk-sized powers of her cousin Bruce Banner (Mark Ruffalo), will become the next production to put this theory to the test. To date, Marvel's Disney+ shows have largely debuted every Wednesday night (for those of us in the United States, at least), establishing a consistent pattern for viewers who otherwise might not know exactly when to expect new episodes. That tradition will be slightly changing with this new series, however, in a move that may cause some audience confusion while hordes of journalists and writers (guilty as charged!) celebrate.
Marvel has announced that "She-Hulk" will debut on Thursdays rather than Wednesdays, so mark that down in your calendars!
Spreading the goods around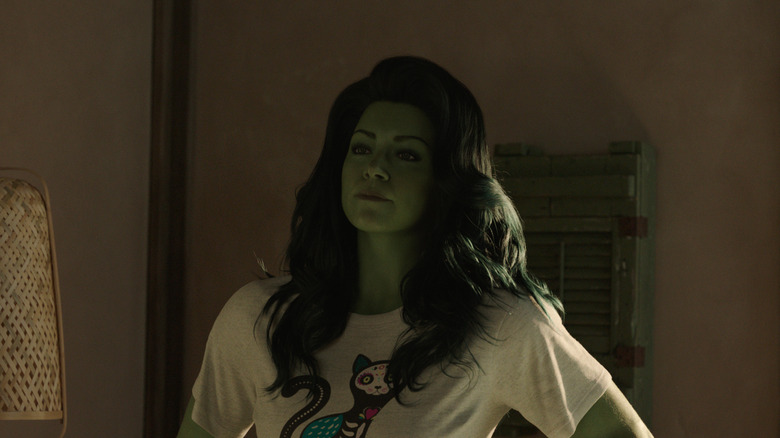 Marvel Studios
The next several weeks are about to become a feast for genre nerds. "She-Hulk" will only be one of several brand new shows debuting on streaming services at roughly the same time, putting the pressure on fans to keep up with everything to avoid spoilers and writers to do the same in order to provide the usual high-quality coverage familiar to /Film readers (yes, I might be a bit biased). While "She-Hulk" is now set to debut on Thursday, August 18, 2022 (as opposed to August 17, as previously announced), it can now avoid the same kind of intra-franchise competition that plagued "Ms. Marvel" and "Obi-Wan Kenobi," both of which intersected for several weeks and aired new episodes on the exact same day. "Andor" recently shifted its release from late August to September, presumably to get out of the way of "She-Hulk" — though the last four episodes of "She-Hulk" will still be airing the day after new "Andor" episodes drop.
Thankfully, this delay of even just a single day will help provide some breathing room for the two properties. Other shows set to arrive in roughly the same timeframe include "House of the Dragon" (debuting August 21, 2022 and airing on Sundays, as "Game of Thrones" did) and "The Lord of the Rings: The Rings of Power" (September 2).
Running for a total of nine episodes, "She-Hulk: Attorney at Law" stars Tatiana Maslany as Walters/She-Hulk, Mark Ruffalo as Banner/Smart Hulk, Tim Roth as Emil Blonsky/Abomination, Benedict Wong as Wong, and Jameela Jamil as Titania, along with Ginger Gonzaga, Josh Segarra, Jon Bass, and Renée Elise Goldsberry.
Jennifer Walters (Tatiana Maslany) — an attorney specializing in superhuman-oriented legal cases — must navigate the complicated life of a single, 30-something who also happens to be a green 6-foot-7-inch superpowered hulk.