Mayor Of Kingstown Was A Decade In The Making For Hugh Dillon And Taylor Sheridan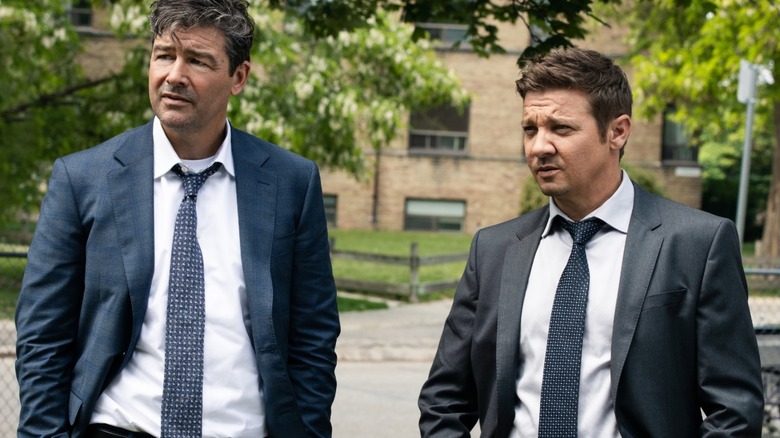 Paramount+
A show about the corruption rampant in the U.S. prison system is a potentially interesting premise, and "Mayor of Kingstown" taps into this aspect with varying degrees of success. Helmed by Hugh Dillon and Taylor Sheridan, this gritty crime drama is set in a small town in Michigan and focuses on the McCluskey family, who act as power brokers between prison inmates and corrupt bureaucratic systems. After the Paramount+ series premiered in 2021, it received mostly negative reviews from critics due to its relentlessly grim nature. Despite the show's many criticisms, it has been renewed for a second season by the streaming platform, with the principal cast set to return.
Dillon and Sheridan crafted the show based on their personal experiences of growing up in towns with corrupt prison systems. The fictional Kingstown is a rather apathetic environment to live in, and the McCluskeys are driven by their own motivations to subvert the established status quo in the prison business. There is a clear real-life mirroring going on, and the creators put a lot of care and effort into the show's world-building since they decided to make it.
As a result, "Mayor of Kingstown" was more than 10 years in the making, and Dillon sheds some light on the process of collaboration with Sheridan, who is known for his acclaimed neo-Western drama series, "Yellowstone." After the overwhelming success of "Yellowstone" (which is still ongoing), Sheridan and Dillon decided to finally proceed with their long-gestating project, which tackled serious themes like systemic racism and capitalist exploitation.
Deconstructing a bleak world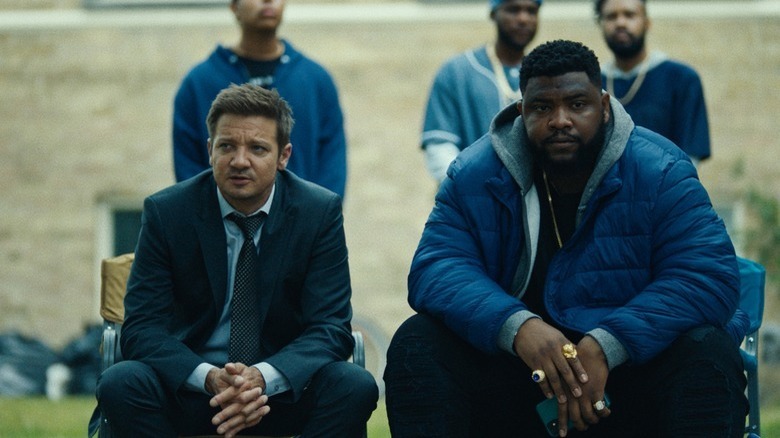 Paramount+
Apart from co-creating the show with Taylor Sheridan, Hugh Dillon also plays Ian Ferguson, a hard-nosed homicide detective in the Kingstown Police Department. Ian finds himself embroiled in the escalating tensions in Kingstown, and season 1 ends with him trapped inside a prison sewer, leaving his fate in the air. When asked about his collaborative process with Sheridan, Dillon told ScreenRant that the script for the show was penned 10 years ago, and it took some time for things to come together as the duo had envisioned:
"Taylor and I would just get really intense and lost in these conversations. He could literally deconstruct any world, characters ... then 10 years ago, we had the script, and then I thought we were going to go and he goes, 'Dude, I just sold "Sicario," and then I've got "Wind River." Come and be in that. Meet Jeremy Renner. Then I'm shooting "Yellowstone," and then let's finish this. It's a series and I'll sell it,' and then we were lucky to cast it with these killer actors."
Dillon also explained that Sheridan paid painstaking attention to the different facts of the show's overarching themes, urging in-depth discussions about how bleak environments would have a direct influence on the characters. Portraying such aspects that influence intersectional identities can be daunting, and it makes sense for Sheridan to take the lead on other projects and gradually work toward finessing "Mayor of Kingstown" over the years. Finding the perfect cast also took quite some time, delaying the project further.
The end result, while not perfect, is a bold undertaking by both Dillon and Sheridan. "Mayor of Kingstown" will continue its stark, grim tale in the upcoming second season, expanding its world in ways that might just end up being groundbreaking.