Tom Hardy Took An Unusual Approach To His Peaky Blinders Character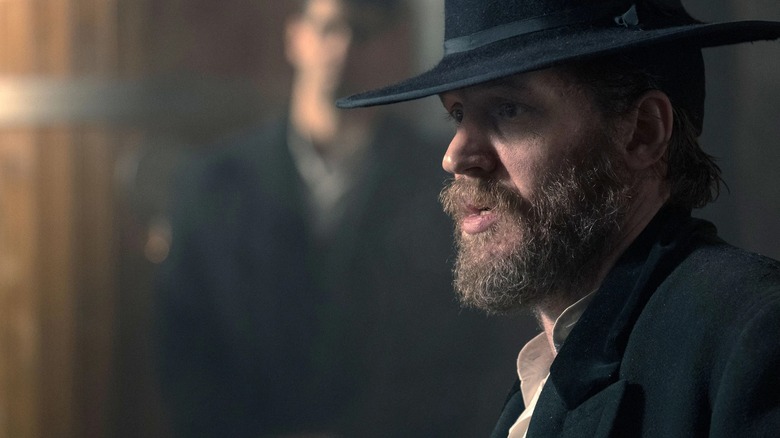 Netflix
Alfie Solomons may be Tom Hardy at his most Tom Hardy. The "Peaky Blinders" character arrives on the scene in season 2 of the gangster drama, sporting a Bane-adjacent accent and an unpredictable attitude, and he only gets wilder from there. By the end of the show's sixth season, Alfie is heavily scarred and missing an eye, a brawler who's made his way through the British crime world despite its best attempts to kill him and managed to come out on top. As with any great Hardy performance, it's impossible not to wonder how much of his always-watchable and often darkly funny character was the actor's own idea. And as with any great Hardy role, the answer is even stranger and more delightful than you might expect.
Director Colm McCarthy, who was behind the camera during Alfie's season 2 introduction, spoke about working with Hardy on the Obsessed With Peaky Blinders podcast (via DigitalSpy). McCarthy described a day in which Hardy visited the set ahead of shooting for his character, dropping in while the cast was scouting for the season premiere scene set at Communist Freddie Thorne's (Iddo Goldberg) funeral.
The making of Alfie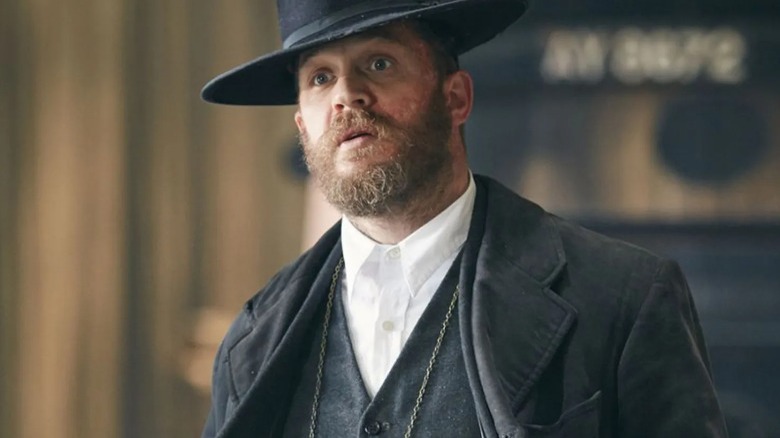 Netflix
"The Tom Hardy thing was mad," McCarthy shared in response to a question about getting the "Mad Max: Fury Road" actor on board. "I remember we were on the tech recces [pre-production tech scouting] and I was wandering around the graveyard...Tom was thinking about doing it and he'd had a look at it and he wanted to kind of chat to me about what he was thinking of doing." Apparently, Hardy had a rather specific idea in mind when it came to bringing Alfie to life.
"He had this whole conversation where he was talking about being a bear," McCarthy shared on the podcast. "He was like, 'I'm like good bear, but then I'm like bad bear, and if I get angry bear it's like scary bear.'" That's right, a bear. Like the animal. Or honestly, maybe like the type of hairy man. Like many of Hardy's more creative on-set choices, this story now lives on in anecdote form without the actor ever weighing in on exactly what he meant. Either way, it sounds like a surreal moment for McCarthy. He continued:
"It's raining and the crew are standing there looking at me like, 'What is he doing there in this graveyard, under a tree, having this conversation with Tom Hardy about being a bear?' And I was like, 'So you want a beard?' and he was like, 'Yeah.' And I was like, 'Cool, that sounds awesome, that sounds wicked.'"
Becoming the bear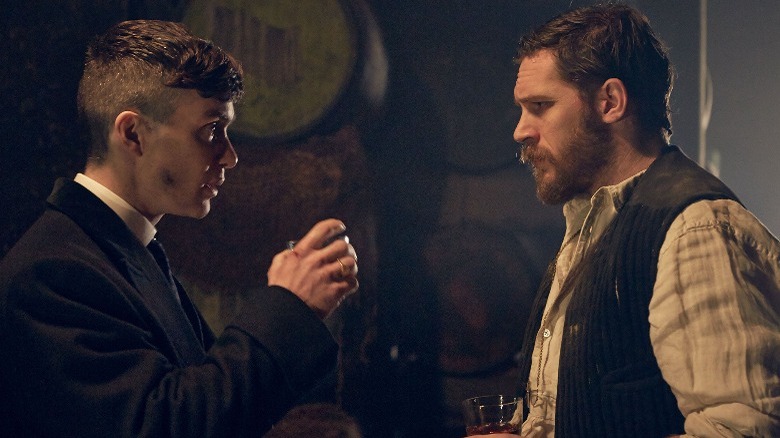 Netflix
Hardy got his beard, and also seems to have had a lot of say in developing the physicality of his character, from his physical appearance to that unique accent. "You never quite know what to expect with Tom," Murphy shared in an interview for BBC's Movies With Ali Plumb, "But he absolutely, I mean, that character came fully formed. He just absolutely knew what he was doing there." Series creator Steven Knight also shared that the actor is prone to ad libbing, telling Birmingham Live, "It's his style and that of the character, who flits all over the place."
Whatever the process, the result is undeniable: Alfie Solomons is one of the show's greatest characters, so beloved that he was essentially brought back from the dead after asking Tommy to shoot him at the end of season 4. And while "Peaky Blinders" seems to have ended its series run for good, there's also a movie continuation in the works, so it's possible we haven't seen the last of that bear just yet.