Harley Quinn Showrunners Will 'Never' Break Up Harley And Ivy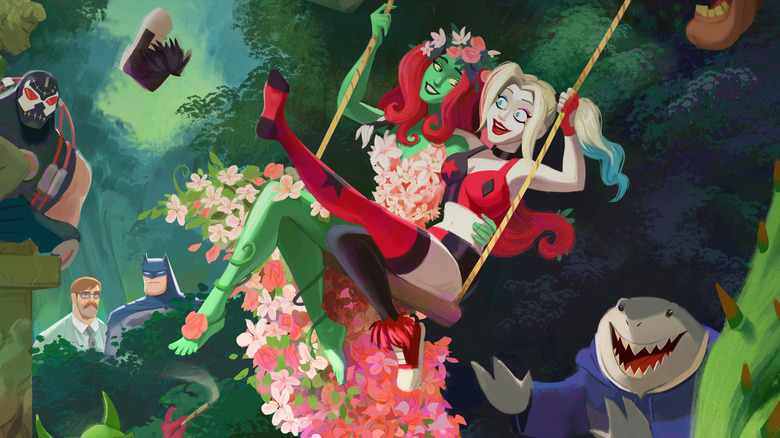 HBO Max
How has HBO Max's "Harley Quinn" arguably become one of the most popular and well-liked efforts that DC has produced in recent years? A talented voice cast led by Kaley Cuoco certainly helps. The show's irreverent (but oh-so-faithful) approach to the wackier corners of the superhero pantheon has proven to be a consistent delight, as well. Oh, and who could possibly forget when the show took direct aim at some of the worst online trolls in the funniest possible way? Perhaps more than all of these compelling reasons, however, "Harley Quinn" might deserve its place as a top-tier show — not just a superhero show, but any show — because of how the writing team has decided to handle its main character and the central romance.
Ever since her first appearance in "Batman: The Animated Series," fans have flocked to the fun-loving villain/anti-hero Harley Quinn. Fast forward nearly 30 years (her official milestone anniversary is actually coming up this September!), and her initial popularity has successfully translated to various comics, video games, and most recently the movies with Margot Robbie's pitch-perfect performance. Add "Harley Quinn" to the list of adaptations that have done right by the character, though its portrayal of both Quinn and her best friend-turned-love-interest Poison Ivy (voiced by Lake Bell) has rightfully earned the most amount of praise after last season.
Thankfully, the upcoming third season of "Harley Quinn" appears to have picked up right where that pairing left off. And as long as the showrunners have anything to say about, fans needn't worry that Harley and Ivy will ever be split up.
'Harley and Ivy will never break up in the series'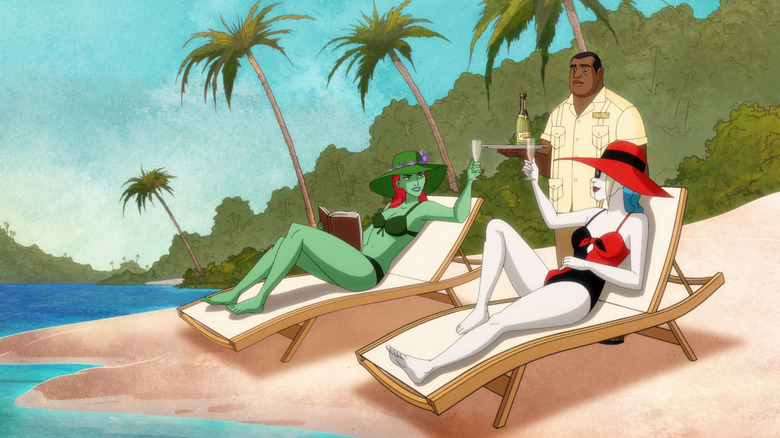 HBO Max
Given the dire state of representation in media these days, fans tend to be particularly protective of established relationships like Harley Quinn and Poison Ivy. Despite how many fans are in love with this particular ship, their romance has yet to translate to live-action on the biggest of screens. But perhaps there's something fitting and full-circle about animation becoming a safe space for these two villains to flourish together in "Harley Quinn." With the third season premiering today, showrunners Justin Halpern and Patrick Schumacker spoke to The AV Club (via Variety) to assuage any concerns that this relationship may be short-lived.
If any character could ever come between them (other than Kite Man, of course), it'd likely be the Joker himself. Fortunately, that's one dynamic that the "Harley Quinn" crew have had enough of by now. Without hesitating, Schumacker had this to say about which canon they don't even want to go near in the coming episodes and seasons of the show.
"For me, we still have the occasional fan reaction of 'I don't like Harley and Ivy together. She should get back with the Joker,' which we're never going to do. Harley and Ivy will never break up in the series as long as we have a say. That's something that we never want to touch again."
Honestly, even the most stubborn fan would have to admit that the volatile Joker/Harley entanglement has been sorely overdone at this point. Similar to the "Birds of Prey" film, "Harley Quinn" smartly dealt with this in its initial stages and quickly moved on to far more interesting territory.
Chalk this up as yet another reason to tune into the first 3 episodes of "Harley Quinn" season 3, currently streaming on HBO Max.