Me Time Trailer: Kevin Hart And Mark Wahlberg Have A Wingsuit Bestie Fest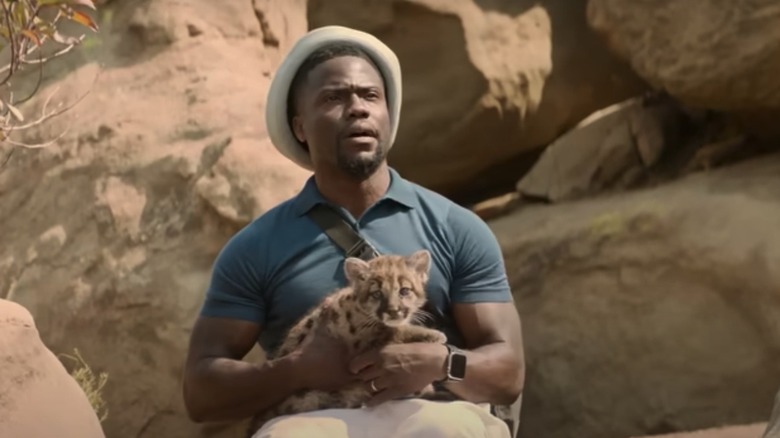 Netflix
Netflix has released a new trailer for the comedy film "Me Time," starring Kevin Hart and Mark Wahlberg. This is part of Hart and his HartBeat Productions' four film first-look deal with the streamer, and it has him reteaming with "Night School" writer/director Jon Hamberg. 
"Me Time" is the story of Sonny (Hart) a stay-at-home dad who has what he thinks is a good system with his wife Maya, played by Regina Hall. She works, he takes care of the house and kids. His former best friend Huck (Wahlberg) has been trying to get him to hang out again for years, but Sonny thinks he's too grown up for such things. 
When Maya decides to take their kids on a trip without him, Sonny tries to enjoy some of that titular "me time," but ends up in the middle of shenanigans with Huck, who it appears likes to be very naked, go on mini Burning Man-style camping trips, and generally create mayhem. Apparently this film involves peeing into a pool, smashing fingers with a hammer, and a cougar attack. 
Me Time trailer
This looks like some seriously broad buddy comedy, with birds flying into Hart's face as he accidentally flies off a cliff in a wingsuit. Silly as it all sounds, it looks like it could be a good time. I don't always love stuff like this, when it ventures too far into the goofy side of things, but I've been mistaken before. Sometimes a silly film just works. This feels like it has "Vacation Friends" vibes, and I liked that film, despite thinking it was going to be stupid going in. It was a little stupid, but it was the sort of light, fun entertainment that I find soothing right now. No homework required, no Easter eggs to hunt for, no decades of lore you need to know before you watch. 
It's nice to see Hart team up for a buddy comedy with someone other than Dwayne Johnson, though they do have wonderful chemistry. Wahlberg is a veteran of buddy comedies like "Pain and Gain" and "The Other Guys," so this could be a lot of fun.
"Me Time" also stars Jimmy O. Yang ("Crazy Rich Asians," "Space Force") as Stan and Luis Gerardo Méndez ("Narcos: Mexico," "Murder Mystery") as Armando.
When a stay-at-home dad finds himself with some "me time" for the first time in years while his wife and kids are away, he reconnects with his former best friend for a wild weekend that nearly upends his life.
"Me Time" will premiere on Netflix on August 26, 2022.