Black Adam's Noah Centineo Says Atom Smasher Is Still Learning How To Be A Superhero [Comic-Con]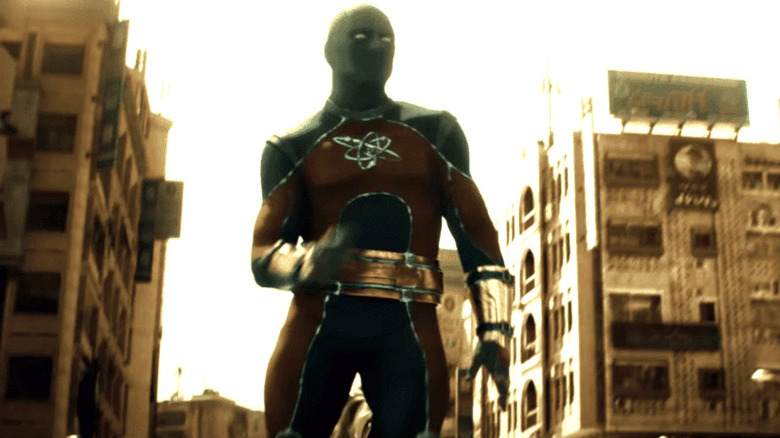 Warner Bros.
To everyone's delight, the Warner Bros. presentation at this year's San Diego Comic-Con had lots of DC Extended Universe content, including a new trailer for the upcoming DC film "Black Adam." The movie is highly anticipated for a number of reasons: for one, it's clearly a passion project for star Dwayne Johnson, who is an endlessly likeable human being; two, the trailers looks awesome; and three, the movie will be bringing the Justice Society of America to the big screen — including newcomer Atom Smasher, played by Noah Centineo.
DC's Justice Society of America might not be as recognizable a name as the Justice League, but the group has a long history in DC Comics, going all the way back to the Golden Age. And if you watch DC TV adaptations, you're probably at least passingly familiar with the name: the JSA has appeared in "Smallville," the Arrowverse show "Legends of Tomorrow," and the DC Universe teen drama "Stargirl." 
Now the Justice Society of America — including team member Albert Rothstein, aka Atom Smasher — are set to make their cinematic debut in the DCEU film "Black Adam." Based on the trailers, Al looks to be the newcomer of the JSA, and is still finding his footing as a metahuman hero. This actually matches his history in the comics, so it makes sense. It's also a tried-and-true superhero movie trope: from "Shazam!" to "Spider-Man," there are a ton of comic-book movies with the basic conceit "young guy tries to figure out this whole superhero thing."
So how does Centineo feel about taking on this character arc in "Black Adam"?
'It feels special, it feels unique'
/Film's own Ryan Scott was in attendance at this year's Comic-Con, where he asked Noah Centineo what it's like to play the fresh, doe-eyed member of a superhero group:
"So awesome, man, and so fun. In the comic books and in the films, too, that have come out, you get to see fully formed, fully functioning superheroes in their adult forms for the most part. Not all the time, obviously. But to be able to step into this as a young meta-human learning what it means to be a superhero, it feels special, it feels unique, and it certainly is a bit of a different story."
Centineo is completely right. Part of the charm that's made Fox's "X-Men" movie series so successful (there are 10 films in just the main series, not including "Deadpool" or the spin-off "The New Mutants" — you don't invest in that many movies unless they're lucrative) is that it's the ideal setup for coming-of-age stories told through the lens of developing powers. Puberty is a pretty universal experience, making it relatable to basically everyone. And "learning what it means to be a superhero" is the perfect allegory for growing up, dealing with your body's changes, and trying to figure out how you fit into this crazy world. 
Centineo continued, "And being able to have fun and explore that and grow into the person he is in the comics and maybe beyond that, and show how he got there? F****** sick."
"Black Adam" arrives in theaters on October 21, 2022.