Ant-Man And The Wasp: Quantumania First Look: Cassie Suits Up As Kang Looms Ominously [Comic-Con]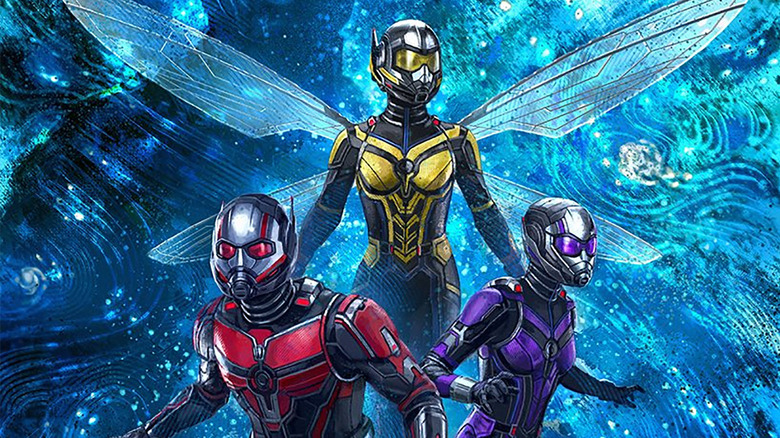 Marvel Studios
As part of Marvel's big panel at San Diego Comic-Con, the studio has released a first look at "Ant-Man and The Wasp: Quantumania" in the form of the movie's first poster, created by their own Director of Visual Development, Andy Park. It's not exactly a theatrical one sheet, but more of an illustrated piece of art, a tradition that Marvel Studios has held for their projects at every convention. 
The image not only has our titular superheroes in their usual superhero suits, but it provides or first look at the superhero version of Cassie Lang (Kathryn Newton), who has also been given her own purple suit alongside Scott Lang's Ant-Man (Paul Rudd) and Hope van Dyne's Wasp (Evangeline Lilly). The color takes a cue from Cassie's purple suit worn when she goes by the alias Stinger in Marvel Comics. You'll also notice that her suit incorporates some teenage style into it by giving her stylized sneakers instead of boots.
It's not all heroes though, as we finally have our first proper glimpse of Jonathan Majors as this new iteration of Kang the Conqueror, looming in the background with a look that emulates his appearance in the pages of Marvel Comics rather than the version seen at the end of the first season of "Loki."
Back to the Quantum Realm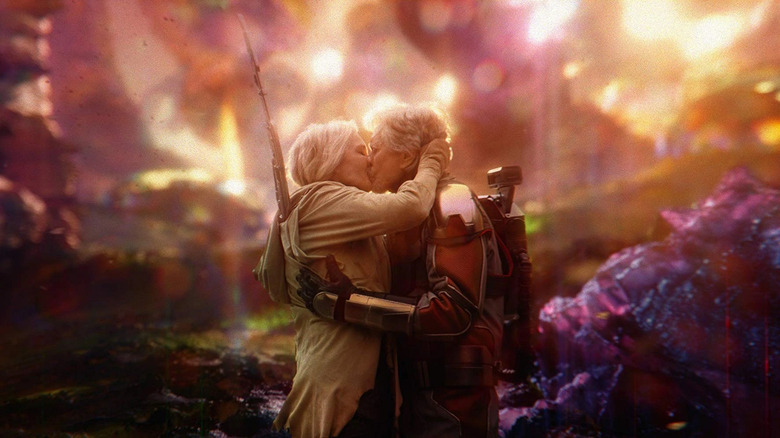 Marvel Studios
If the title (and this new artwork) is any indicator, "Ant-Man and The Wasp: Quantumania" will prominently feature the Quantum Realm. After all, there were glimpses of some kind of quantum city when Hank Pym (Michael Douglas) picked up Janet van Dyne (Michelle Pfeiffer) from the Quantum Realm, where she spent 30 years trapped. Both will also be returning for the sequel, and it'll be interesting to see how they're incorporated into the story, especially with the addition of Cassie among the size-shifting superhero team.
As for Kang, the alternate version of the character seen at the end of "Loki" under the guise of "He Who Remains" has been pegged as the next big cross-movie villain. Will he finally be set up as the next Thanos-level villain, or is he merely a stepping stone to a bigger baddie who has yet to be revealed? We're not even sure what his villainous plan is yet, but hopefully we'll find out more soon, perhaps from Marvel's Comic-Con panel.
"Ant-Man and The Wasp: Quantumania" is slated to hit theaters on February 17, 2023.