'Ant-Man And The Wasp' Deleted Scenes Reveal More About The Quantum Realm, Walton Goggins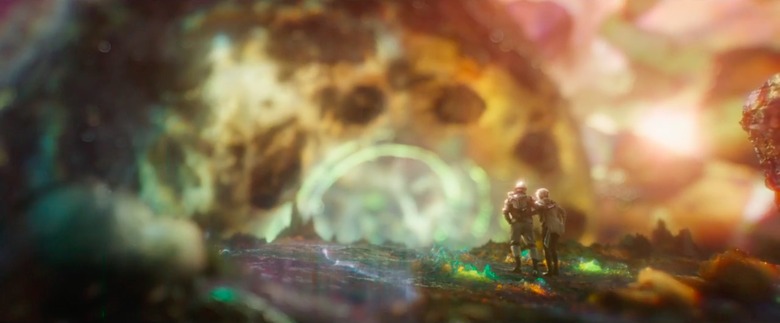 Two new Ant-Man and the Wasp deleted scenes have been released ahead of the Marvel film's Blu-ray release next month. While both have tiny running times, one offers a larger glimpse into the grander world of the Marvel Cinematic Universe. The other gives us a more Walton Goggins, which is, well, just as good.
USA Today released two new deleted scenes from the Ant-Man and the Wasp Blu-ray and home video release, which is set to hit shelves on October 16. While the wait-time until the film's digital release is shorter (October 2), we can bide our times with these two brief scenes and some commentary that Rudd shared to the outlet about the scenes' revelations.
Ant-Man and the Wasp Deleted Scenes
The first scene centers on one of the film's antagonists, Sonny Burch (Goggins), a black-market tech dealer after Hank Pym's (Michael Douglas) quantum technology. But after Hank and Hope van Dyne evade him in a deal gone wrong, he searches the city for their mysterious lab, only to find his efforts foiled by a remarkable amount of ants. But one CCTV camera was untouched by ants and gave Sonny the perfect view of Hank's size-changing tech, as Hank shrinks his lab building to the size of a suitcase. "That, my friend, is how I stay in the picture," he tells his goons after they watch the tape.
The second scene (which starts approximately 39 seconds in), follows Hank and Janet van Dyne (Michelle Pfeiffer) as they trudge through the Quantum Realm. But unlike what we thought before, Janet reveals that whole civilizations and species live in the realm, addressing one such civilization as they pass through peacefully. This is a seismic revelation that was never explored in the movie, but was hinted at in the concept art for Janet's costume — which initially was developed by some of these civilizations that she stumbled on. The concept of Quantum Realm civilizations suggests bigger ramifications for the MCU, and could possibly provide us a hint at what takes place in Avengers 4 and beyond. Rudd said of this scene:
"This idea that there are other things down there that you could interact with is interesting, and God knows there are tardigrades and all kinds of microscopic things. Treating it almost like outer space made sense."
Ant-Man and the Wasp hits Digital HD and 4K Ultra HD on October 2, 2018, and then bring it home few weeks later with the Blu-ray and Blu-ray 4K Ultra HD hitting shelves on October 16, 2018. It will be available digitally on platforms like iTunes, Vudu, and more before it hits Blu-ray shelves.