The Major Reason GRRM Was Nervous About House Of The Dragon [Comic-Con]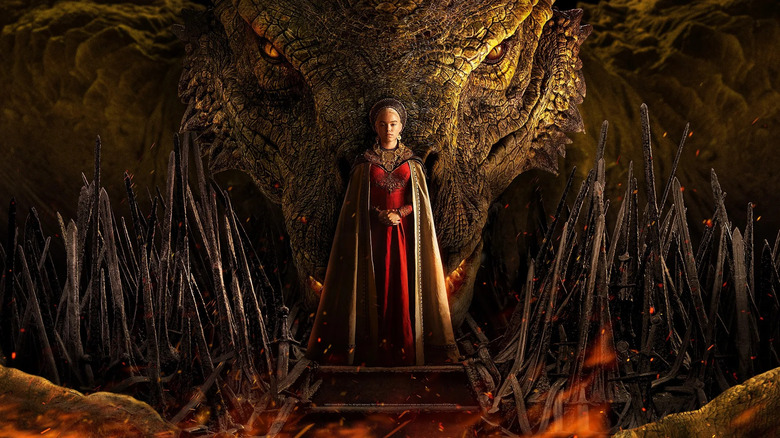 HBO
Three years after the end of "Game of Thrones," HBO is bringing fans back to Westeros with an all-new series set in George R.R. Martin's fantastical world. Ahead of the show's premiere next month, "House of the Dragon" made a stop at Hall H for this year's San Diego Comic-Con to give fans a special sneak peek. The author himself was on hand to discuss the next adaption to spin out of his "A Song of Fire and Ice" series. Although, he did share that he was a bit nervous when the ball started rolling on this Targaryen tale.
Set hundreds of years before the Seven Kingdoms met the likes of Daenerys Targaryen, Tyrion Lannister, or Jon Snow, "House of the Dragon" follows the ancestors of Emilia Clarke's Khaleesi as they engage in a generational civil war. Members of the cast including Paddy Considine, Matt Smith, Olivia Cooke, Emma D'Arcy, Steve Toussaint, Eve Best, Fabien Frankel, Graham McTavish, Milly Alcock, and Emily Carey took the stage at SDCC alongside Martin and series creators Ryan Condal and Miguel Sapochnik to field questions about the highly anticipated show.
Dragon age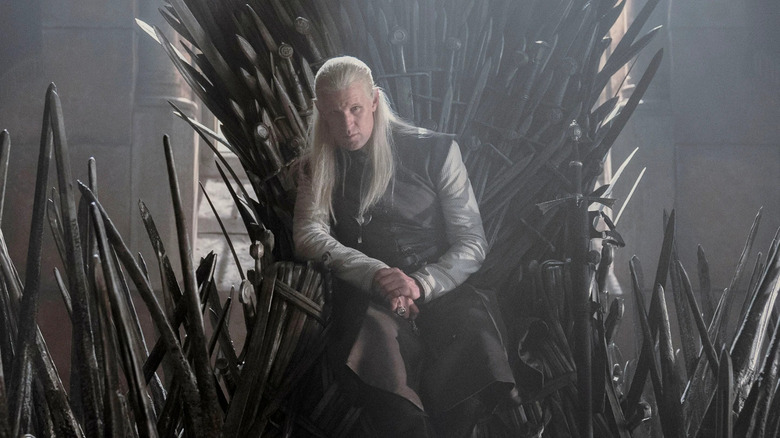 HBO
When asked what it was like to see these characters from this part of Westeros' history come to life, Martin shared his excitement for this era of his extensive lore to be explored on television. But revealed that at first he was hesitant:
"For sure I was nervous at the beginning. These books, these characters are like my kids. When you give your kid to people for adoption, you wonder how they will be treated. Will you recognize them when they come back to you and all that? I've been very fortunate here. [Condal and Sapochnik have] done a great job of adapting the books so far. The cast here is amazing. I haven't had a chance to meet them [until now]. Unfortunately with COVID, I didn't get to visit the set and hang around like I did on a certain other show in the past. I've seen nine of the ten episodes and it's pretty amazing. I'm really very happy."
Having reservations about adaptions of one's work is perfectly normal, especially during the early stages of a project. After all, you never know when somebody or a pair of somebodies might come along, create an acclaimed series based on your work that builds a passionate fan base, and fumble the ending with writing so bad that those once-devoted fans have turned their backs completely on the franchise moving forward. Hypothetically, of course. But since that is known to happen from time to time, it's completely understandable that Martin was nervous about "House of the Dragon." 
So far, it sounds like his nerves have been calmed. We'll see if they stay that way as the series progresses. "House of the Dragon" premieres on HBO on August 21, 2022.