How Aldis Hodge Nearly Lost His Role As Hawkman In Black Adam [Comic-Con]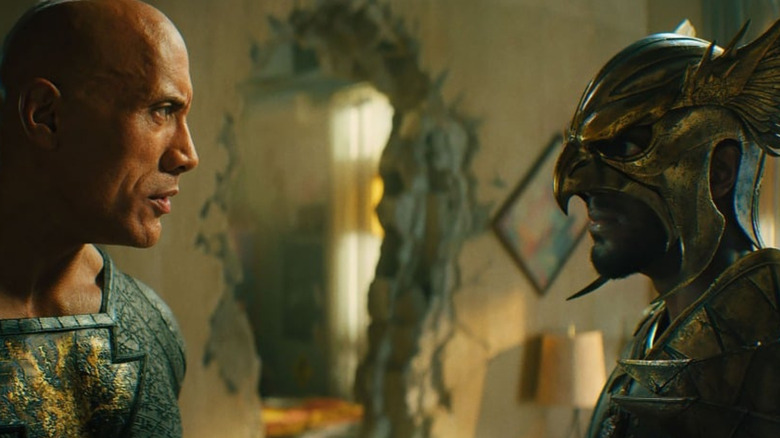 Warner Bros.
Hawkman, an iconic DC character and frequent member of the Justice League of America, is about to have his first live-action film appearance in the upcoming "Black Adam" film. Portrayed by Aldis Hodge, he's expected to play a major role in the film as he tries to convince the titular antihero — played by Dwayne Johnson — to use his god-like abilities for good. This dynamic was highlighted in the "Black Adam" footage showed during this year's San Diego Comic-Con, which suggests there will be an interesting back-and-forth morality conflict throughout the story.
However, Hodge was very close to not receiving the role of a lifetime. According to the actor, who appeared onstage during the Warner Bros. presentation at SDCC, he did not believe that Dwayne Johnson was actually calling him.
"DJ called me to let me know that have a job," the "Leverage" actor recalled at the panel. "I did not believe it was him, so I almost hung up."
Johnson backed up this claim, adding that Hodge said something less-than-friendly to him in his skepticism.
"He told me to F-off," laughed Johnson. "True story."
This story has a happy ending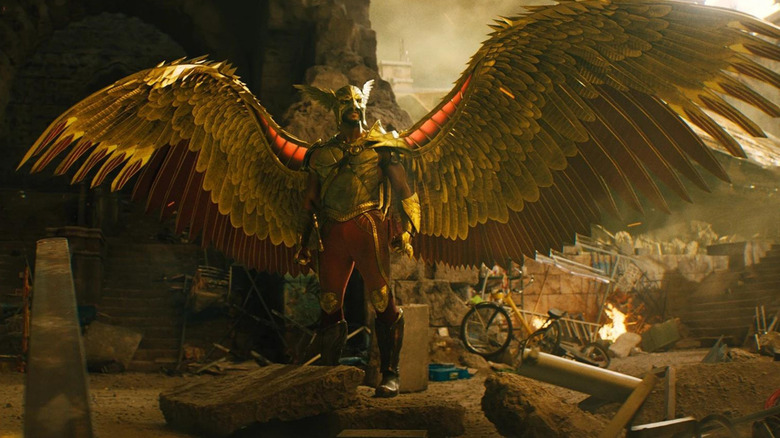 Warner Bros.
Obviously, the call went successfully; after all, Hodge was on stage at the prestigious Hall H to tell the tale. When the apparent case of mistaken identity was solved, he claimed that he was just veering on the side of caution because of recent hacks of his phone, something that co-star Quintessa Swindell joked about. After a chorus of laughs from the audience, Hodge said that he was under the impression that the call would go very differently.
"When I realized it was him, I thought he was calling me to tell me that I didn't get the job," he said. "I was like, 'ah, I know what this is.' I thought he would tell me, 'I saw your tape, it was great, but, man, you know, next time.'"
However, that wasn't anywhere near what Johnson ended up telling him on that fateful phone call. Needless to say, he had the appropriate reaction to hearing this news.
"But, no. He said, 'welcome to Black Adam,'" Hodge recalled. "My brain exploded, so brother, that was one of the best moments in my entire career."
Brain-exploding stuff seems to be a common theme with "Black Adam," especially since the movie has been touted as the reason the hierarchy of power in the DC universe will change. If you want to see this for yourself, the film will release in theaters on October 21.