Filming The Patriot With Mel Gibson Taught Heath Ledger A Valuable Lesson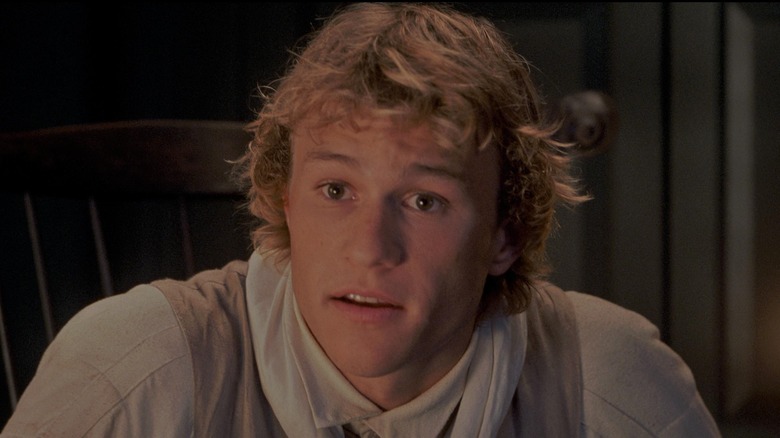 Columbia Pictures/Sony Pictures Releasing
Before his fall from grace, Mel Gibson was an action hero for the ages. Heath Ledger knew he was working with a star when he arrived on the set of "The Patriot," and he didn't let the experience go to waste. Working with Gibson was incredibly formative for the young actor, and the experience would help to guide the next few years of his career. The two eventually suffered a rift, but Gibson started as a mentor.
The two actors formed a bond on the set of the historical epic "The Patriot," released in 2000. Ledger plays Gibson's son, so there was automatically a paternal dynamic between the two. Gibson's character is a single father from the Colonial age raising his kids on a remote farm. His oldest son, played by Ledger, insists on fighting in the Revolutionary War against his father's wishes. When his son is taken prisoner by British soldiers, the farmer joins the fight himself.
Still early in his career, Leder was able to glean many important lessons from a seasoned professional like Gibson. The young actor "learned a lot about just relaxing and relaxing on set, and not over-preparing, not overthinking," he told Cinema.com in a 2001 interview. He also learned how Gibson "tackles" the entertainment industry. Still, it wasn't just Gibson's performance and professionalism that impressed Ledger — it was his character.
Relax and stay humble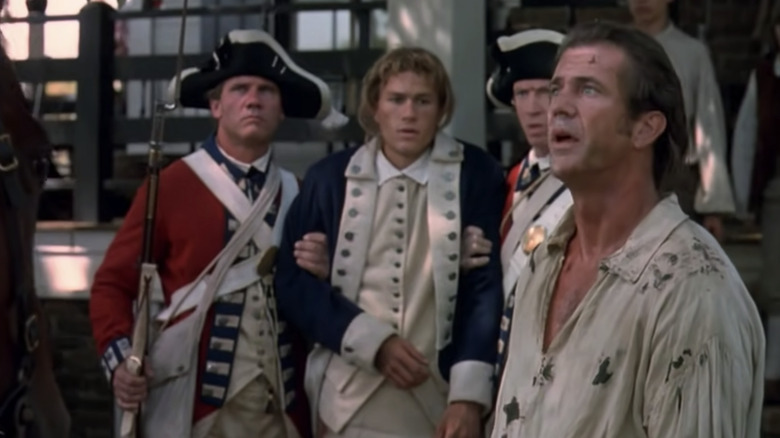 Columbia Pictures/Sony Pictures Releasing
Gibson and Ledger got along instantly. "God, when I first turned up on set I was literally shaking in my boots, but he just put me at ease straight away," Ledger recalled. The young actor had a lot of nervous energy, and the "Braveheart" star taught him how to relax. "He's really just levelheaded, truly," Ledger insisted.
Ledger's co-star was "such a gentleman," which left him "pleasantly surprised." Ledger explained that "not everyone in his position is as friendly as he is." While shooting "The Patriot," Ledger was fresh from his breakout role in "10 Things I Hate About You." Working with Gibson "was a big step in my life and my career professionally," Ledger admitted in a TV interview (via Midsummernina). Still, he found that Gibson was "completely normal" despite his "superstar status."
Sadly, the two actors would suffer a rift in their relationship several years later. When Ledger was offered the part of Ennis del Mar in "Brokeback Mountain," Gibson encouraged him to turn it down, the New York Daily News reported in 2008. Gibson apparently thought the part would ruin Ledger's career. Ledger went against Gibson's advice and took the part anyway, costing him his friendship with his former co-star. He even said the role was "kind of a reaction against the comparison that I'm the new Mel Gibson." Their relationship never recovered after that, but Gibson issued a regretful statement after Ledger's death, lamenting that he "should have called him years before."
Their relationship may have gone sour in the end, but Ledger still learned a lot of valuable lessons from his on-screen father. Without Gibson's guidance, Ledger may not have turned into the Academy Award-winning actor that he inevitably became.