Those Walking Dead Movies Will Now Be A Six-Episode Series On AMC+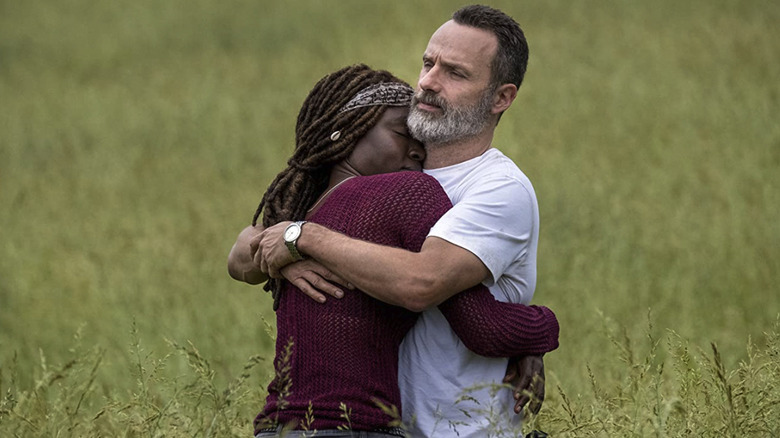 AMC
Back in 2018, as "The Walking Dead" star Andrew Lincoln left the long-running zombie series, word came out that the actor would be reprising his role in a trilogy of big-budget, feature-length made-for-TV movies. "The story of Rick will go on in films," creative overlord Scott Gimple said at the time. "Right now we're working on three, but there's flexibility in that."
Now, years later, that flexibility has resulted in those movies finding a new form. Instead of a trilogy of movies, Andrew Lincoln and Danai Gurira will reunite in a new series in the expanded "Walking Dead" universe that will "continue the journey and love story of the Rick Grimes and Michonne characters." Both Lincoln and Gurira had a hand in shaping their characters' stories here, and the two of them made the surprise announcement at the end of a panel presentation at this year's San Diego Comic-Con. Get more details below.
A quick recap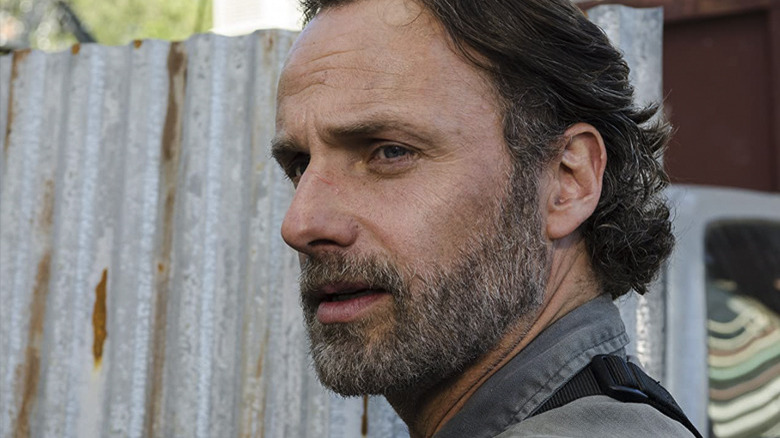 AMC
We all like to joke that everyone stopped watching "The Walking Dead" a few years in, but for those who actually stuck with the series, Rick's exit did not go over well. In the ninth season, a seriously injured Rick blew up a bridge to help save his friends, seemingly killing himself in the process. But a character named Anne found him washed up on a riverbank and gets her pals to take Rick away on a helicopter to treat his wounds and take him to a safe place, leaving Michonne behind and thinking that her lover has perished. Many years later, though, in season 10 of the series, Michonne finds a pair of Rick's boots and an old phone of his, realizes he's still alive, and heads out to track him down.
Same story, new format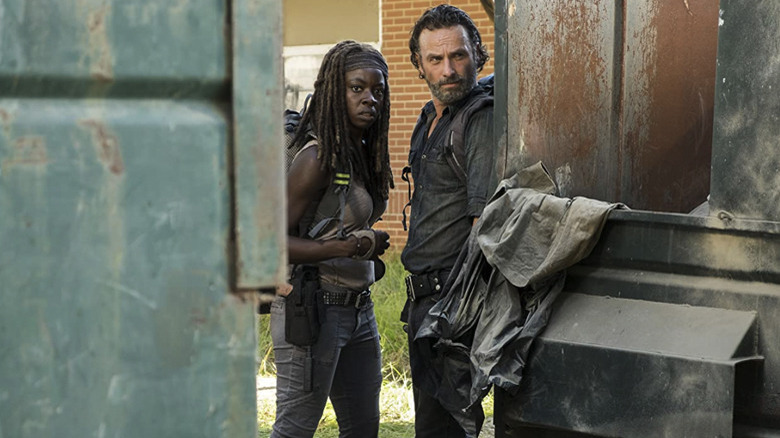 AMC
"We owe you the conclusion of this story of Rick and Michonne," Gurira told screaming fans in Hall H at today's Comic-Con presentation.
"So next year," Lincoln revealed, "there's going to be six episodes on AMC+ airing in 2023. This time next year, there's going to be a whole lot more to talk about ... I personally can't wait to get my cowboy boots back on."
So the story that was originally going to be spooled out in movie form will now be told as part of a series, which has Lincoln and Gurira as executive producers. Gimple referred to this series as "an insane love epic worth the long, long wait."
"This is a moment fans of 'The Walking Dead' have been waiting for since Rick disappeared in the helicopter early in season nine, and Michonne journeyed away on a quest to find him the following season," AMC Networks' Dan McDermott said in a press release. "What a great surprise for the fans at this final Comic-Con for the series that launched this universe and made television history. We couldn't be more excited for a truly epic series finale later this year and to see Andy and Danai return in a new series they helped create, one of three new series coming in 2023 that continue the stories of so many iconic and fan-favorite TWD characters."