Three 'The Walking Dead' Movies On The Way, Andrew Lincoln Set To Star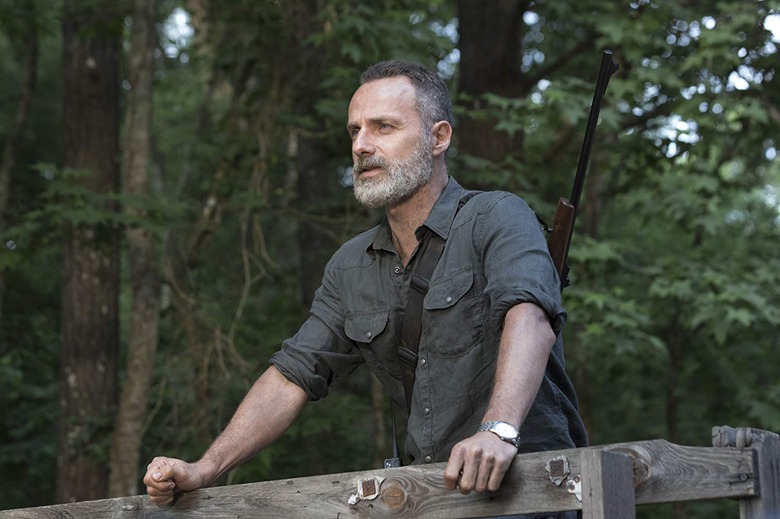 This Sunday's episode of The Walking Dead bid goodbye to its grizzled lead of nine seasons — or did it? Andrew Lincoln made a highly publicized exit from the AMC zombie show Sunday night, but it seems like that won't be the last we'll see of former Sheriff Rick Grimes.
AMC is expanding the Walking Dead franchise into multiple The Walking Dead movies, set to be headlined by Lincoln. Which answers the question to Sunday night's episode, titled "What Comes After", pretty clearly.
Spoilers for Sunday's episode of The Walking Dead below.
Did anyone ask for a Walking Dead cinematic universe? Because you're getting one, lead by none other than Rick Grimes himself. The Walking Dead chief content officer Scott M. Gimple confirmed to
that Lincoln will reprise his role as Rick Grimes in three big-budget, feature-length The Walking Dead made-for-TV movies that will start AMC's planned expansion of its multibillion-dollar zombie franchise. Yes, this is just the beginning of more The Walking Dead:
"The story of Rick will go on in films. Right now, we're working on three but there's flexibility in that. ... Over the next several years, we're going to be doing specials, new series are quite a possibility, high-quality digital content and then some content that defies description at the moment. We're going to dig into the past and see old characters. We're going to introduce new characters and new situations."
This plan for three Rick Grimes-led The Walking Dead movies seems to fly in the face of Lincoln's final episode this past Sunday, which saw him nobly sacrificing himself for the camp by leading a group of walkers onto a bridge decked with dynamite. It would have been a fitting death for Rick, coupled with some badass last words, "I got 'em." But The Walking Dead is no stranger to the fake-out death, and a fake-out death this one is, Gimple confirms:
"Rick Grimes is an amazing character and Andy has done an amazing performance. There were story ideas brewing that, as the years went on, seemed very compatible with continuing to tell the Rick story in another format that would allow him time with his family.
Gimple is referring to Lincoln's reason to depart The Walking Dead series: to spend more time with his family in England. But with AMC nabbing the actor for three The Walking Dead movies, both (apparently) get the best of both worlds: Lincoln gets more family time (the movies will only require him to be on set for two months in the year as opposed to the show's nine months), while AMC gets to keep milking its cash cow.
The multiple The Walking Dead movies are just the first part of AMC's long-term plan to expand the zombie franchise, which will include "multiple new scripted ventures," according to THR. Gimple is currently writing the first of the three untitled movies, with production set to begin in 2019.