5 Things We Learned From The Musical Anatomy Of A Superhero: Film And TV Composer Comic-Con Panel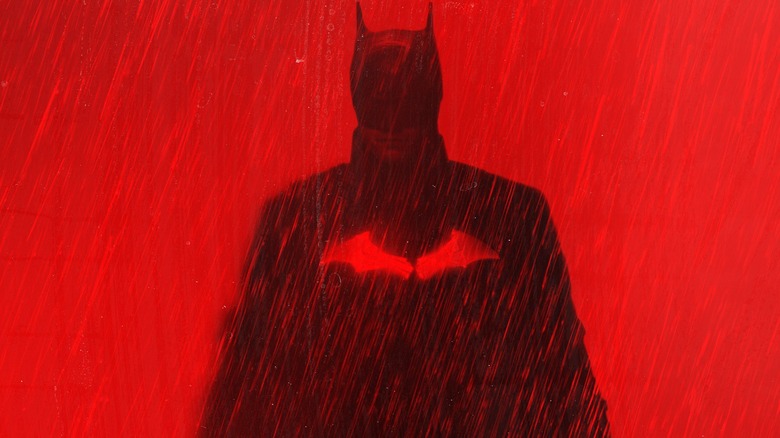 Warner Bros.
It might not seem like it to the uninitiated, but composers would maintain that they're just as much storytellers as any writer, director, or actor on a television series or movie. The only difference is that their medium of choice is purely auditory and, unless their name happens to be Hans Zimmer, their tireless efforts may not seem as readily apparent. Thankfully, a handful of some of the most talented and distinctive composers in the business gathered together at this year's San Diego Comic-Con for the eighth installment of The Musical Anatomy Of A Superhero: Film And TV Composer Panel, hard on the heels of their current super-secret upcoming projects that, well, they mostly weren't able to talk about yet.
But that's not to say that this panel was lacking in fascinating insights imparted upon us eager attendees, mind you. Moderated by none other than prolific musical artist Michael Giacchino, the panel featured the likes of Amie Doherty ("Battle at Big Rock," "She-Hulk"), Christophe Beck ("The Hangover" trilogy, the "Ant-Man" movies, "WandaVision," "Shazam! Fury of the Gods"), Christopher Lennertz ("Supernatural," "Agent Carter," "The Boys"), Nami Melumad ("Thor: Love and Thunder," "Star Trek: Prodigy," "Star Trek: Strange New Worlds"), and Natalie Holt ("Loki," "Obi-Wan Kenobi").
During the course of the hour-long panel, the composers answered several wide-ranging questions about the nitty-gritty specifics of their own unique compositional processes, repeatedly collaborating with specific filmmakers, hiding Easter eggs in their scores, and much, much more.
When incorporating previous Spider-Man scores into No Way Home, less was more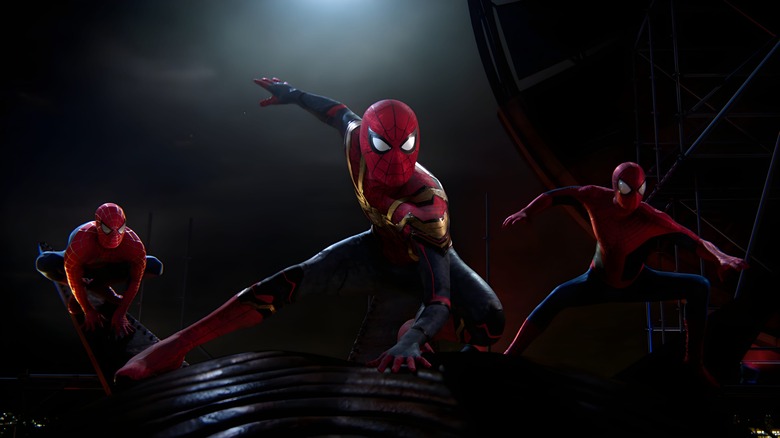 Sony Pictures
Marvel and Sony's "Spider-Man" trilogy has quickly become one of the most well-liked and successful movies in the entire Marvel Cinematic Universe, with last year's "Spider-Man: No Way Home" taking this particular franchise to even greater heights. The added value of Tobey Maguire and Andrew Garfield reprising their roles as their respective versions of Peter Parker — essentially the industry's most obvious open secret for months upon months — played like gangbusters among eager audiences worldwide.
One of the more nostalgia-driven pleasures of their extended cameos stemmed from Michael Giacchino's decision to incorporate Danny Elfman and James Horner's memorable themes from Sam Raimi's "Spider-Man" trilogy and Marc Webb's "The Amazing Spider-Man" movies, respectively. As you can imagine, it wasn't as easy as simply plugging in those motifs during certain moments and calling it a day. When asked about the decision-making process of how and when to push our buttons with those themes, Giacchino immediately pointed to the story.
"The story will tell you what it needs. Those things were connected to very specific characters. So it wouldn't have been right to use those themes anywhere else in that movie. But with those characters, it felt right, especially with them coming together. And you also don't hear it too many times, either. If you do it too many times, its like telling the same joke over and over again. It just loses its power. So it's about finding the right moment, particularly with those themes ... you just have to use your judgment. But again, what I don't like is when it's just used over and over again, because then it loses its power."
The original intention for certain motifs can evolve over the course of a series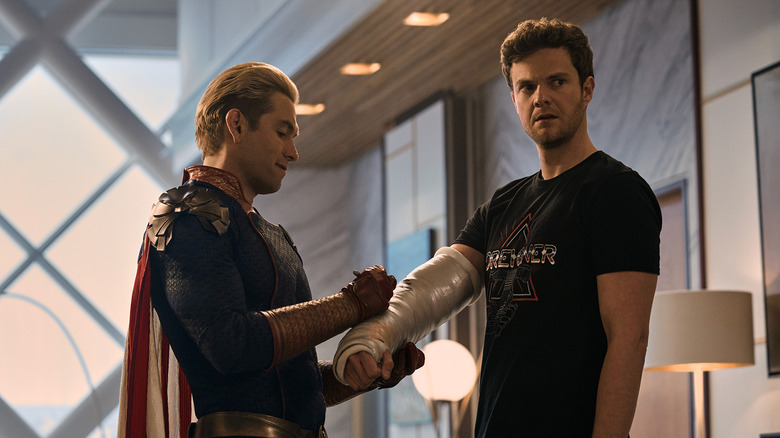 Prime Video
Of all the reasons that Prime Video's superhero satire "The Boys" has exploded in popularity in recent years, Christopher Lennertz's composing has perhaps flown under the radar the most. Crafting a great score for a movie is one thing, but doing so for multiple seasons on a series provides a singular opportunity for composers — not to mention a unique challenge, as well. Original plans and intentions for certain motifs may end up changing in unanticipated ways over the course of a series ... though, sometimes, it's for the best.
That certainly was the case with Lennertz's work on "The Boys." Back in season 1, he crafted a specific theme for protagonist Hughie Campbell (Jack Quaid) during a pivotal and highly emotionally-charged moment of crisis — a meltdown, basically. Lo and behold, when season 2 came around and the much more unhinged character of Homelander (Antony Starr) experienced a similar moment where he, too, went "off the rails," that theme found itself reused once more. According to Lennertz, though it came somewhat as a surprise, it proved to be an eye-opening moment.
"I remember saying something to Eric Kripke, who runs the show, and he's like, 'It's not the Hughie going off the rails theme, it's the going off the rails theme.' [Laughs] It works and so it actually ends up being the story, like, everything is going wrong and falling apart theme. So it's no longer tied to the character ... it seemed to work."
It goes to show that even for composers who have worked for years and years in the industry, it's not always a bad thing to zig when they expected to zag.
Why Natalie Holt brought The Ride of the Valkyries into the Loki theme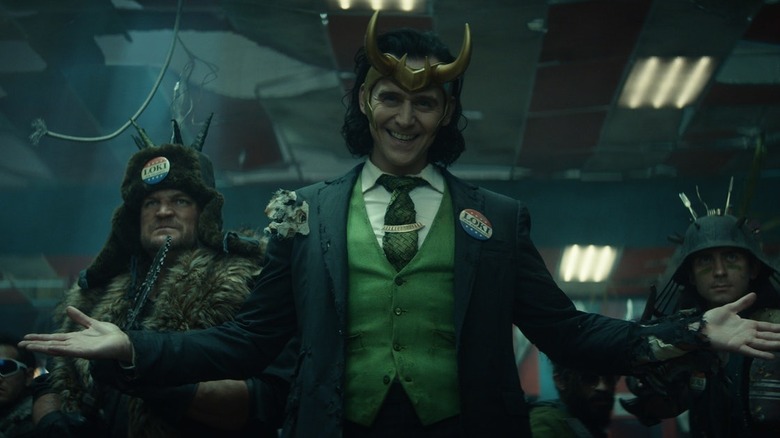 Marvel Studios
Few characters in the MCU could ever hope to compare to the over-the-top theatrics that fans have come to love and expect from the sometimes-villain, sometimes-antihero Loki (Tom Hiddleston). Even in "death," Loki has managed to live up to his "God of Mischief" title and maintain more than his fair share of grandiosity that director Kenneth Branagh brought to the original "Thor" in 2011. After all, what else would you call it when our main Loki variant ended up falling in love with the female version of, well, himself during the events of "Loki"?
When it came time to bring over that operatic heft into the streaming series, composer Natalie Holt looked to perhaps the very definition of epic: Wagner's classic composition of Ride of the Valkyries. She explained the process of arriving at such an inspiration:
"The 'Loki' theme, I kind of came up with the baseline on the piano and I wanted something over the top, like a flourish that was Shakespearean and classical. I tried a little Mozart and then I just thought, 'There's room for Ride of the Valkyries.' And it seemed to go together, so that was in Loki's theme but quite subtly. And then when I was watching episode 5 in a spotting session and I saw the richly-drawn character, I'm like, 'This is classic Loki.' And I just thought, 'Should I try?" The whole Ride of the Valkyries seems appropriate and he's fighting this giant monster. So yeah, it just kind of evolved organically. It wasn't my plan at the beginning to put that in there."
Michael Giacchino's favorite part of composing is collaborating with directors like Matt Reeves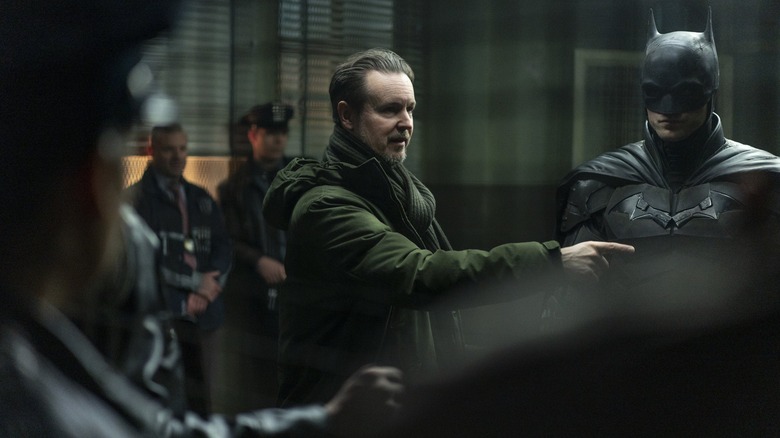 Warner Bros.
It's no secret that Michael Giacchino and Matt Reeves have formed something of a tightknit dynamic over the years: from "Cloverfield" to "Let Me In" to the "Planet of the Apes" movies to, of course, "The Batman." Many would claim that their most recent work represents their high-water mark together, resulting in one of the most unforgettable main themes in recent memory.
Naturally, it didn't take long for the topic of conversation to shift towards why Giacchino's favorite part of the composing process involves that back-and-forth, give-and-take "symbiotic relationship" at the heart of his work with Reeves:
"One of my favorite parts of the process is, once I've written everything, Matt comes over and we sit and we watch it all back, we listen to it together, we watch it against picture. And I feel that's when the whole thing comes to life in a whole new way. Because he'll have an idea for something, he'll say, 'Well, what if you just didn't change it and just keep doing this instead.' Great suggestions and great ideas and he always knows where he wants to go emotionally with something.
So that's really fun for me, to get into that level of collaboration with somebody. And I think that at its best, when you're collaborating with a director, that's what you're able to do. There's that great, cinematic relationship that is happening right there in front of you ... and there's something wonderful about that, that shorthand that comes with it."
It's almost a cliché to note that film is inherently a collaborative medium, but few have proven the truth of that saying more than Giacchino and Reeves.
Does music work best when you're not noticing it?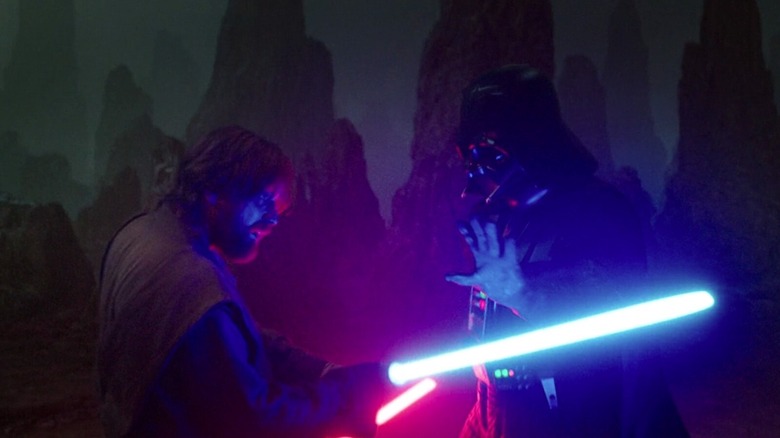 Lucasfilm
The nature of making movies and television means that the more noticeable a certain aspect feels, the more praise (or criticism!) that element will receive. Remember, it's rarely the best edited film that wins the Academy Award every year in that category, but the most edited film. It's easy to see how that would apply to music as well, with the loudest and most bombastic scores (why, hello again, Mr. Zimmer) receiving all the credit. To Natalie Holt, there's room for both extremes to exist. When Giacchino posed the question of what laypeople should try to listen for in a particular score, Holt's response was particularly fascinating.
"I always feel like music's working on different levels and sometimes it works when you're not noticing it. And then sometimes it just puts itself out and you walk away from a movie with the theme ringing in your ears. Which is kind of why I got into it, because of John Williams and coming away from "E.T." So yeah, I love it when that happens and it adds to the movie."
To her credit, there's ample evidence of both of these seemingly incompatible approaches coexisting in Holt's own work. Her "Loki" compositions rely on quieter mood pieces and epic, all-expansive motifs while her contributions to "Obi-Wan Kenobi" operate on very much the same wavelength. As much as film or television scores can get graded on how noticeable they are or not, composers like Holt continue to show that subtlety and maximalist tendencies — and everything in between — all have a place.