How Spider-Man Homecoming Led To Dungeons & Dragons: Honor Among Thieves [Comic-Con]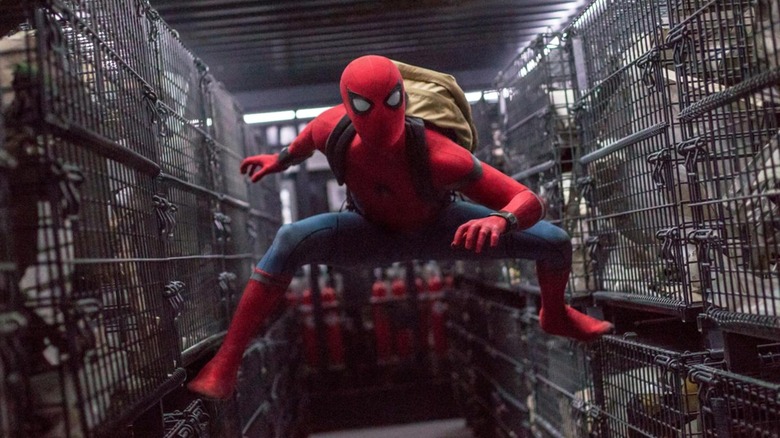 Marvel and Sony
It's the wildest and most wonderful time of the year for geeks of all kinds, with San Diego Comic-Con already kicking off with some huge announcements. Today provided the first look at "Dungeons & Dragons: Honor Among Thieves," the highly-anticipated D&D movie from Jonathan Goldstein and John Francis Daley ("Horrible Bosses," "Game Night," "Spider-Man: Homecoming"). Based on the ultra-popular role-playing game of the same name, "Dungeons & Dragons: Honor Among Thieves" is an attempt to reboot the film series adaptation of the game, and pulled out all the stops by casting Hollywood A-listers like Chris Pine ("Star Trek," "Wonder Woman"), Michelle Rodriguez ("The Fast and Furious" Saga), Justice Smith (Jurassic World: Fallen Kingdom," "Detective Pikachu"), Regé-Jean Page ("Bridgerton," "Roots"), Sophia Lillis ("It: Chapter One," "I Am Not Okay With This"), Chloe Coleman ("Marry Me," "Avatar: The Way of Water"), and Hugh Grant ("Notting Hill," "Paddington 2").
D&D has remained one of the most popular games for nearly 50 years, currently experiencing a huge resurgence in popularity thanks to its relationship with the core plot of "Stranger Things." Despite the many attempts by Hollywood to bring the vastly expansive world of Dungeons & Dragons to life, few fans have been truly satisfied with the final product. Perhaps this will all change now that the folks behind "Spider-Man: Homecoming" are at the helm. In fact, it was the duo's work on "Spider-Man: Homecoming" that actually helped them get the movie made in the first place.
'I am 1000% in'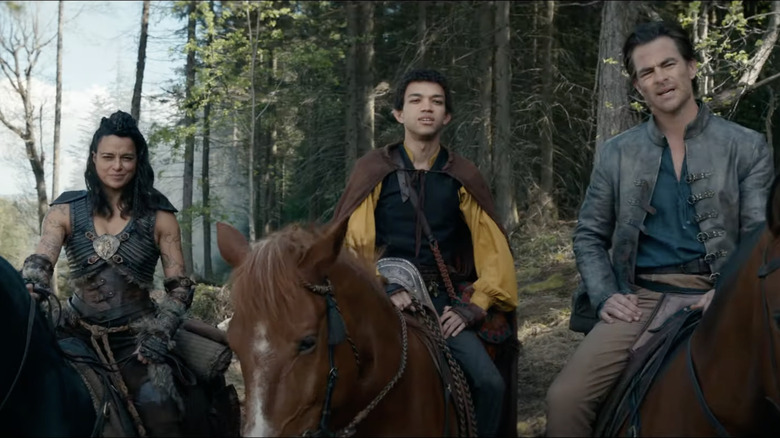 Paramount Pictures
"Dungeons & Dragons: Honor Among Thieves" producer Jeremy Latcham has one hell of a resume. The man was an associate producer for "Iron Man," a co-producer for "Iron Man 2," and an executive producer for "The Avengers," "Guardians of the Galaxy," "Avengers: Age of Ultron," and "Spider-Man: Homecoming." Latcham truly has his pick of projects if he feels like it, and thanks to a good working relationship with Goldstein and Daley on "Spider-Man: Homecoming," he decided to get on board with their D&D movie.
"I had worked with John and Jonathan on a movie that I love called 'Spider-man: Homecoming' that these guys had written, and to me, there's this sense of heart and humor and spectacle and this ability to balance tone and that is what makes these kinds of movies work to me–is this tonal balance between thrilling and exciting and heartfelt and you wanna cry," he told a packed audience at Comic-Con, adding: 
"I knew that they could do all of that ...and when the studios called me and were like, 'We want to make a D&D movie and launch something totally new and it's with Jonathan and John,' I was like "Alright, I am 1000% in,' and it's been a journey since that phone call and nonstop work for two years." 
As the saying goes, it's less about what you know and more about who you know, and fortunately for Goldstein and Daley, they knew the right guy to help bring the film to life.
"Dungeons & Dragons: Honor Among Thieves" arrives on March 3, 2023.