Bridgerton Season 3: Everything We Know So Far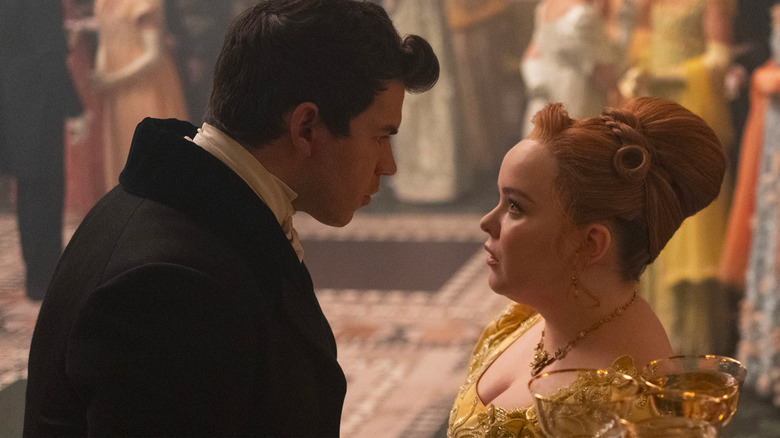 Netflix
The second season of "Brigerton," satisfying as it was, left an understandable void in the hearts of many a Regency romance fan. Granted, we all knew the series was poised to continue — and soon— and we haven't had to wait all that long at all for developments in the forthcoming series. But now "Bridgerton" fans have an even bigger scoop about the love story to come, which will finally deliver the friends-to-lovers realness that we've been waiting to unfold between Penelope Featherington (Nicola Coughlan) and Colin Bridgerton (Luke Newton).
Netflix first announced that "Bridgerton" season 3 would focus on the fourth book in the Julia Quinn series, "Romancing Mister Bridgerton," in May 2022. This shifts the story plan away from the original order of the books, which focused on the second eldest Bridgerton, Benedict (Luke Thompson) after Anthony (Jonathan Bailey). "Bridgerton" is taking a few liberties this season, but it makes sense considering Penelope and Colin's push and pull for the past two years. There's only so much "will they, won't they?" tension to go around before the series starts treading the same ground, so it's probably high time to capitalize on it while it's still fresh.
What will Bridgerton season 3 be about?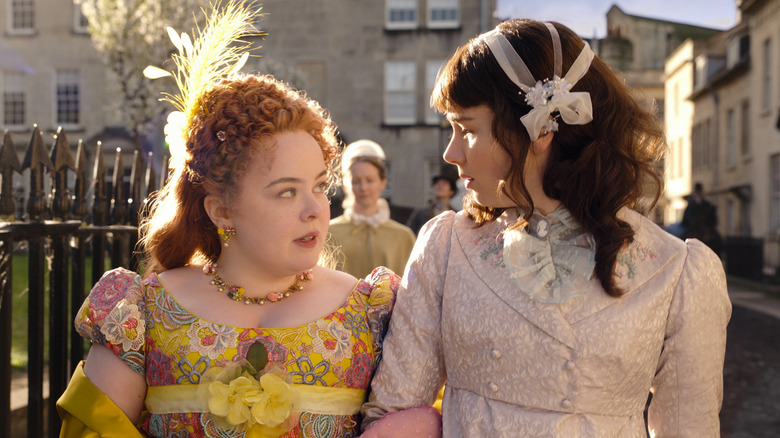 Netflix
When we last saw Penelope and Colin in the season 2 finale, Penelope seemed ready to give up on her childhood crush for good. Colin had, after all, been talking about her behind her back. According to the official season 3 synopsis, Penelope is turning over a new leaf and seeking a bit of independence — but naturally, there will be complications:
Penelope Featherington (Nicola Coughlan) has finally given up on her long-held crush on Colin Bridgerton (Luke Newton) after hearing his disparaging words about her last season. She has, however, decided it's time to take a husband, preferably one who will provide her with enough independence to continue her double life as Lady Whistledown, far away from her mother and sisters. But lacking in confidence, Penelope's attempts on the marriage mart fail spectacularly.

Meanwhile, Colin has returned from his summer travels with a new look and a serious sense of swagger. But he's disheartened to realize that Penelope, the one person who always appreciated him as he was, is giving him the cold shoulder. Eager to win back her friendship, Colin offers to mentor Penelope in the ways of confidence to help her find a husband this season. But when his lessons start working a little too well, Colin must grapple with whether his feelings for Penelope are truly just friendly.
Penelope will also try to mend her fractured relationship with another Bridgerton, Colin's younger sister Eloise (Claudia Jessie). Eloise's quest to uncover the identity of Lady Whistledown finally came to an end in season 2, but a bit of Whistledown gossip nearly ruined Eloise's reputation, and it undoubtedly stings all the more now knowing it was Penelope sharing her secrets. In season 3, Eloise will have found "a new friend in an unlikely place," and Penelope's struggle to balance her double life will only get more intense as her popularity grows.
What we know about the Bridgerton cast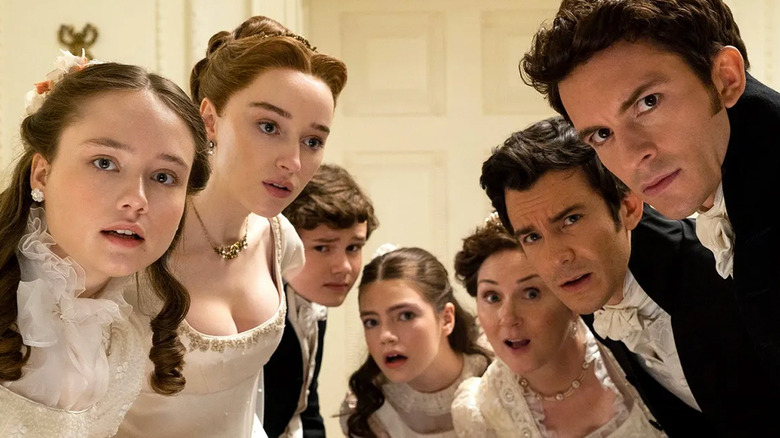 Netflix
From the looks of Netflix's season 3 announcement, the new season has already kicked off filming — and most every major cast member is set to return. The only actors missing from the streamer's announcement are Phoebe Dynevor (Daphne Basset, née Bridgerton) and Simone Ashley (Kate Bridgerton, née Sharma), but it's incredibly likely that both will appear in season 3 at some point. Ashley confirmed that she'd be returning to the series in March 2022, telling Deadline that "Kate and Anthony are just getting started."
There will also be a new face in the Bridgerton family this time around, with "Anatomy of a Scandal" actor Hannah Dodd cast as Francesca Bridgerton. She steps in for Ruby Stokes, who portrayed Francesca in the series' first two seasons, but is pivoting to neighboring Netflix series "Lockwood & Co."
"Bridgerton" will also introduce a trio of leading men to the Ton. The streamer announced that Daniel Francis ("Stay Close"), Sam Phillips ("The Crown"), and James Phoon ("Wreck") are the latest additions to the series. Francis is Marcus Anderson, a charming man that will turn the heads of "certain matriarchs" in town, and gain "ire" from others. Phillips will appear as one Lord Debling: His wealth and title definitely make him a promising prospect this season, but his "unusual interests" might not be for the faint of heart. Rounding out the new cast is Phoon's Harry Dankworth, who may not be the sharpest of the bunch, but has the "serious good looks" to make up for any intellectual shortcomings.
There's no telling whether these three men could all be potential suitors for Penelope, or merely new series regulars. But with a story that's been three seasons in the making, I wouldn't put anything past these writers.