Here's Why Multiple Major Cast Members Aren't Coming Back For Sex Education Season 4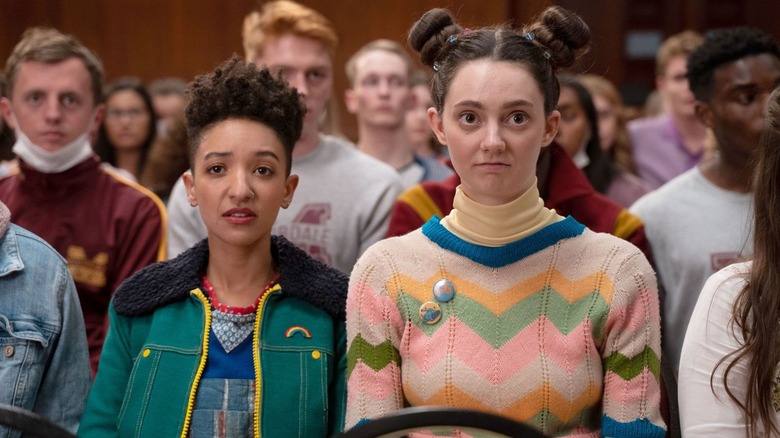 Netflix
Netflix's "Sex Education" is going through a creative reset. It's been three seasons, and the gang has been in high school throughout, dealing with typical high-schooler problems for a while now. But in the upcoming fourth season, it looks like things will change quite a bit. The series has had an ensemble cast so far, as it trailed the sexual misadventures and the conflicts experienced by students of the conservative Moordale High School. Now that the school itself has been shut down, several of its students will not be returning. "Sex Education" season 4 wants to bring in a mix of faces — old and new — so some of our fan-favorites will not make it to the next chapter.
Previously, Patricia Allison (Ola) announced (via an appearance on Capital XTRA) that she wouldn't be returning for the fourth season of the Netflix series. Now, her onscreen girlfriend, the alien-loving, fanfic-obsessed Lily Iglehart (aka actress Tanya Reynolds) has joined the list of characters leaving Moordale behind.
Patricia Allison and Tanya Reynolds were both series regulars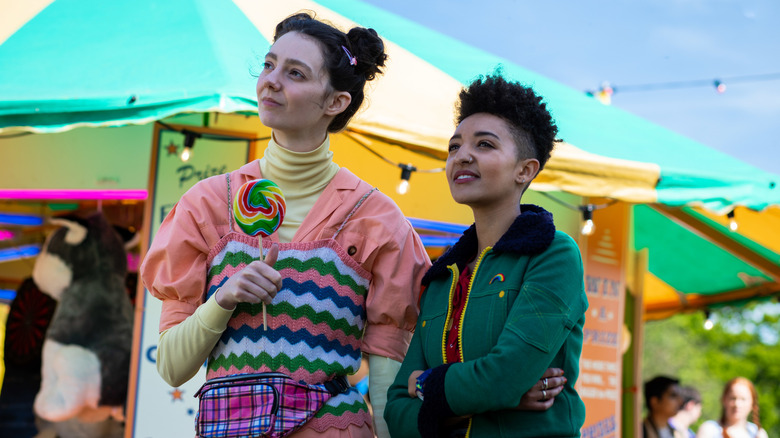 Netflix
Tanya Reynolds' Lily has appeared in "Sex Education" since the show's beginning — the character and her journey have been pivotal to the series. Depicted as a fantasy-loving teen who often lives in her head, Lily was seen enjoying writing alien comics in the erotica genre. Her gloriously imaginative mind eventually paved the way for the controversial (and rather horny) "The Trial of Glenoxi" play featured at the end of season 3. Remember the vagina hats and penis trees? The messy debacle that caused the school to shut down, literally? They were all born first in the terrifying mind of Lily as she put together the "erotic voyage to the planet of Verona" to tell the story of star-crossed lovers in space.
While we're all going to miss Lily's bold, outspoken disposition, Reynolds is hopeful about the show moving on without her. Judging from her statement, the actor wants fans to look forward to the new faces appearing in season 4. She shared with RadioTimes (via The Hollywood Reporter):
"It's just the natural progression of these shows — when you have such big ensemble casts and so many characters, I think you have to let a few older characters go to make way for newer ones, which is absolutely the right thing, the way it should happen."
It's not over yet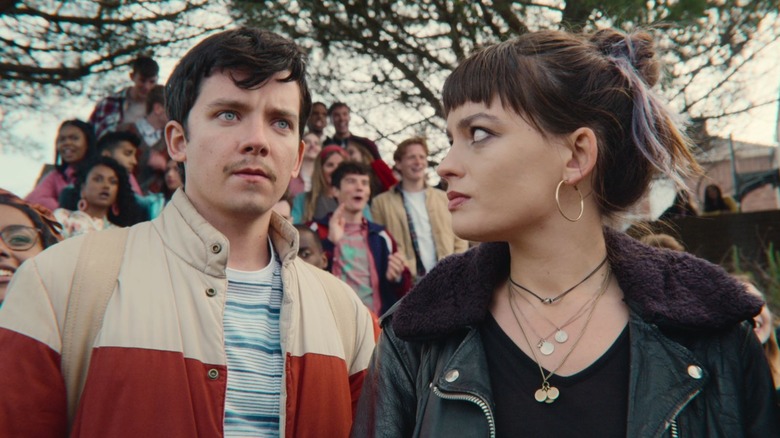 Netflix
As the show progresses in its story, we'll have to bid goodbye to some of its most enjoyable characters — Lily and Ola especially. During the Capital XTRA appearance, Patricia Allison revealed she was moving on from her three-season "Sex Education" stint for other projects. We've loved seeing her as Ola, and can't wait to see what she does next!
"I absolutely have loved being on 'Sex Education' so, so much and playing Ola. But unfortunately, I won't be joining the team for season four. ... I'm going to be doing some other little things."
Netflix hasn't announced the roster of actors returning for season 4 yet, but considering that explosive season 3 finale, we can expect to see more of Otis (Asa Butterfield) and his sex therapist mum Jean (Gillian Anderson), Emma Mackey (Maeve), Connor Swindells (Adam), and everyone's favorite, Eric, (Ncuti Gatwa), who by the way, is the BBC's new Doctor! 
We're sad to see some of our favorite faces leave, but also excited about the possibilities it can bring. Bring it on, season 4!