Get To Know The New Doctor Who Star By Watching This Netflix Teen Comedy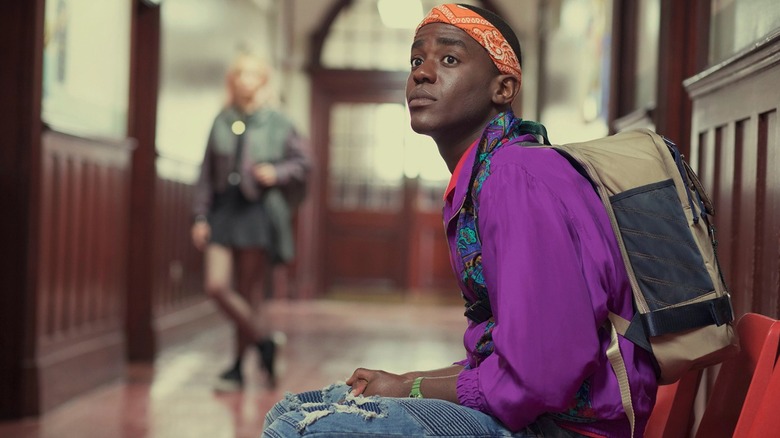 Netflix
"Doctor Who" fans met the Fourteenth Doctor over the weekend when actor Ncuti Gatwa was announced as the latest to take up the mantle of the long-running sci-fi series. Gatwa will be the sixth Doctor of the show's modern era, and is the first Black actor to take on the role of the time-traveling hero (at least within the show's official timeline). With just one major lead role under his belt, he's also among the least instantly recognizable actors to play the role that's previously been embodied by David Tennant, Peter Capaldi, and others. Yet anyone who's seen that singular performance, in Netflix's excellent teen comedy "Sex Education," knows he's the perfect man for the job.
Ncuti plays Eric Effiong in the high school-set coming-of-age series, which has aired three seasons to date. He's the best friend of the show's main character, amateur teen sex therapist Otis (Asa Butterfield), but he's never relegated to a sidekick role. Instead, Eric is the show's most lovable character. He's vibrant and stylish, always quick with a joke or a burn, and when the pressure is on, he's much more likely than Otis to keep his cool. But as Eric, Gatwa also taps into more raw emotion than any other character on the show.
His character is the show's breakout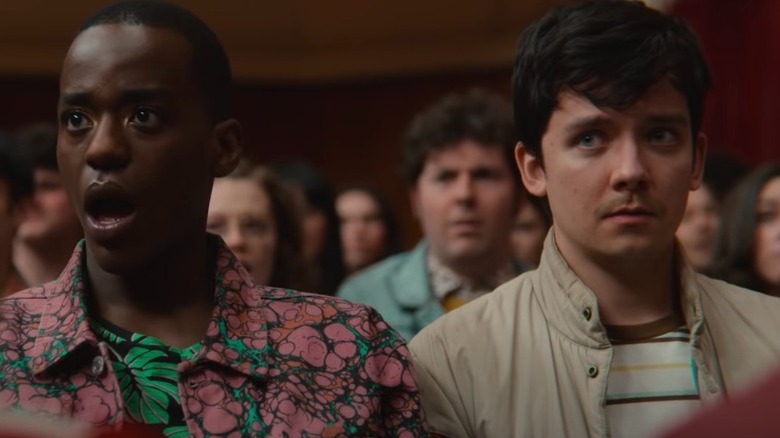 Netflix
"Sex Education" is a fantastic show — an emotionally sincere, sex positive comedy about how there's no such thing as normal and everyone deserves to let their freak flag fly. It's anchored by performances from industry veterans like Gillian Anderson and talented up-and-comers like Emma Mackey and Aimee Lou Wood, but nobody comes alive in its spotlight quite like Gatwa. The series gives Eric some of its toughest and most nuanced plots. He's a flamboyant gay boy who's attending a strict secondary school and growing up in a devoutly religious Ghanaian-Nigerian family, and the show confronts every realistic difficulty someone in that situation might face. Gatwa tackles all of them gamely and with nuance.
Eric isn't a tragic character, though. In fact, as the series goes on, he's blossomed more than almost anyone else in the show's ensemble. In three seasons, he's found love, spoken up for himself, and explored his identity in new ways, all while supporting his pal Otis through a series of eye-rollingly bad mistakes. The series' writers seem to understand that Gatwa is the show's breakout, and as they write more and more emotionally complex plots for him, he rises to the occasion and makes it look effortless.
By the most recent season, it's clear that Gatwa is both the funniest and most heartfelt part of the series — two qualities that will serve him perfectly when it comes to the whimsy and big emotions of "Doctor Who." He's especially good at flipping the switch from one to the other, as in the first season, when his plans to go full camp for a traditional showing of "Hedwig and the Angry Inch" turn into an intense encounter with homophobic strangers. In the third season, Eric takes a trip to Nigeria, where his family asks him to keep a low profile for his own safety but he ends up finding an unexpected sense of community nonetheless. In these fraught situations, Gatwa keeps the audience right there with him, hoping for Eric's anxious side-eyed look to turn into that great, beaming smile again.
Eric proves Gatwa is Doctor material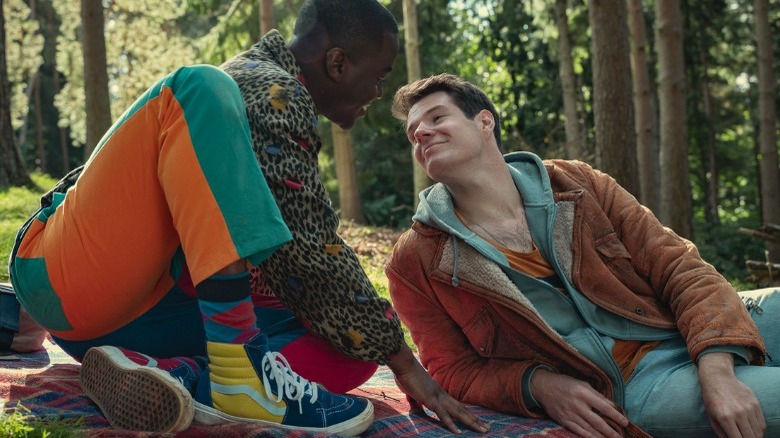 Netflix
His constant push and pull between authenticity and the expectations of others makes Eric one of the show's most relatable characters, and Gatwa wears the dilemma plainly on his face in the show's most poignant scenes. His sometimes sadness-tinged performance feels like another facet of "Sex Education" that doubles as a perfect audition for "Doctor Who," as the latter show can careen into heartbreaking territory when viewers least expect it.
"Sex Education" rocks for a lot of reasons. In a sea of seemingly endless teen-centric Netflix Originals, it's the streamer's most indelible offering. The show is funny, sweet, purposefully cringe-inducing, and genuinely educational for people of all ages. Gatwa has already earned both a Critics Choice and BAFTA nomination for his role, and with a fourth season renewal already announced, there's a chance he may be pulling double duty as both The Doctor and a hip high schooler for a while. If that is the case, it'll be exciting to see, as the shows complement one another more than one might realize.
Of course, "Doctor Who" is typically a bit more family friendly than "Sex Education," but both see the world through an ethos of curiosity, collaboration, and fighting for a better future against all odds. Whether the Doctor is defeating the Daleks with the help of a trusty companion or the students of Moordale High are putting on an alien erotica-inspired school play, both shows prove time and again that we get by with a little help from our friends. For fans of "Sex Education," Gatwa, a star-in-the-making who's poised to shine in the new "Doctor Who," already feels like one of those friends.
"Sex Education" seasons 1-3 are available on Netflix.