Mork & Mindy's Creators Picked Robin Williams Up Off The Street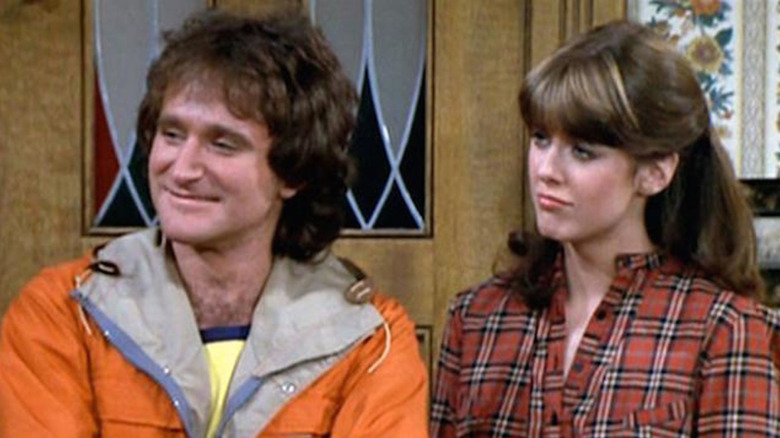 CBS Television Distribution
Before "Mork & Mindy" would become a hit television sitcom for CBS, it took root in a guest spot on "Happy Days," inspired by a question from the showrunner's young son (who, no doubt, had "Star Wars" on the brain in 1977): Why can't we put a spaceman on the show? Julliard student Robin Williams, who had previously performed outdoors to passers-by before auditioning for "Happy Days," wowed audiences so much with his alien antics that a spinoff quickly got rolling.
Williams wasn't the first choice for the manic Orkan. Contenders for the role of Mork included actor and comedian John Byner, whose dead-on impressions graced guest spots on "The Ed Sullivan Show" (mimicking the host), "Get Smart" (aping President LBJ), and "Hawaii Five-O." "Mork & Mindy" creator Garry Marshall's memoir, "My Happy Days in Hollywood," recalled the "wild look in his eyes" that he felt made Byer a suitable goofy alien. A deal was made with the actor to star in the show before disaster struck: Days away from shooting, Byner wanted out. Now the project was back to the beginning — an alien show without its alien. Other names came and went, among them neurotic comedian Richard Lewis and frequent David Letterman guest Jeff Altman. When then-unknown Robin Williams' name came up from William Morris Agency agent Alan Lezman, Marshall reportedly asked, "You want me to build a major network sitcom around a man who passes the hat for tips?" One of Marshall's sisters, casting director Ronny Hallin, replied, "It's a very full hat."
Say 'Nanu nanu' to your favorite martian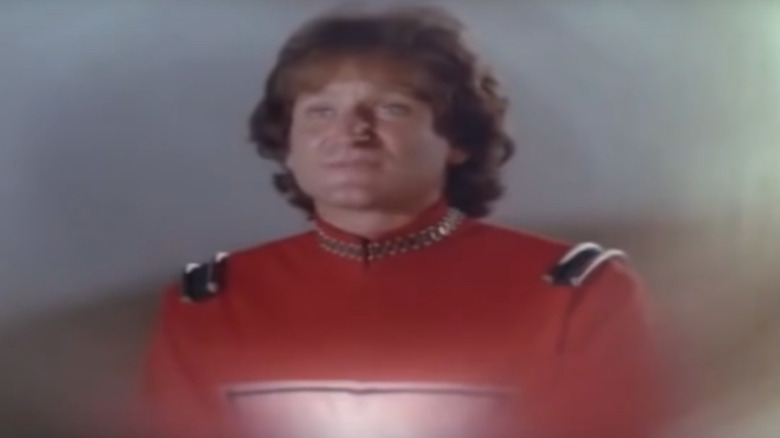 CBS Television Distribution
Garry Marshall, whose feature directorial legacy over five decades includes comedies "Overboard," "Beaches," and "Pretty Woman," among others, remembered his shock at having an agent so eager to get eyes on Williams, writing, "It is not often you get an agent begging." Williams' talent became impossible to ignore when Ronny Hallin saw the comedian's act and thought he was something special. Marshall recalled:
The next week I walked into my office and the street performer was sitting on my couch upside-down on his head. When he saw me, he stood straight up, and started pretending to drink a glass of water with his finger. That is how I first met Robin Williams. Ronny was right. Lezman was right. He was special.

Could I tell he was talented from the beginning? Yes. Did I know if he could carry an entire sitcom? No. But I knew I could build a show around him because he had the kind of talent that Danny Kaye and Jerry Lewis had. He would be the hip, modern, and zany centerpiece of the show, and we would surround him with calm, talented actors whom he could riff off of.
The ultimate test would be the now-classic fifth-season "Happy Days" episode titled "My Favorite Orkan," airing in February 1978, when the Bee Gees were dominating the Billboard charts with "Stayin' Alive." Robin's Mork, from planet Ork, tries to bring Richie Cunningham (Ron Howard) back home as a "normal" human specimen, only to be foiled by Fonzie (Henry Winkler). Beeping and booping with a seemingly eternal inner battery, Williams' depiction of Mork mesmerized everyone in his orbit, from costar to studio audience and behind the camera.  The consensus was clear: Get this man a spinoff. The rest is TV history.