Yes, Sony And Venom 2 Helped Pave The Way For Top Gun: Maverick's Success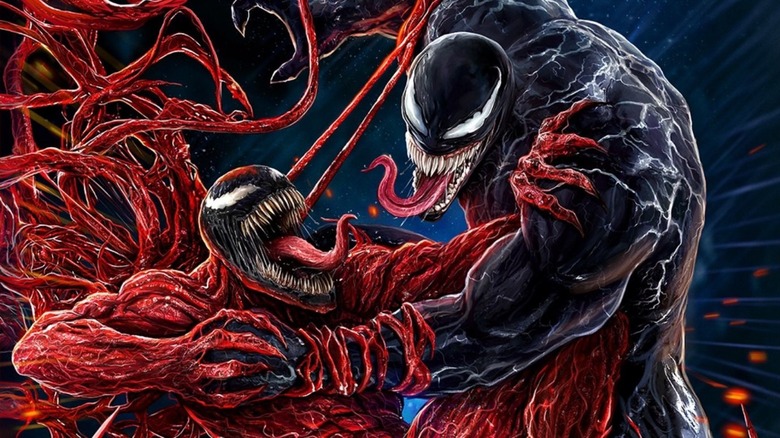 Sony Pictures
"Top Gun: Maverick" has become one of the biggest surprises of 2022 in the movie world. Not that anyone expected a Tom Cruise-led sequel to an '80s classic to flop or anything, but the film has obliterated expectations, recently crossing the $1.2 billion mark at the global box office. It is likely to finish its run as the top-grossing film in the calendar year. That is majorly impressive no matter how you slice it. But are Sony and movies like "Venom: Let There Be Carnage," in a roundabout way, in part to thank for that success?
This might sound a bit crazy on the surface but it is indeed something that is being discussed. Recently, Sony Pictures Motion Picture Group co-presidents Sanford Panitch and Josh Greenstein spoke with Vulture about the studio's recent success, particularly during 2021 with films like "Venom: Let There Be Carnage," "Ghostbusters: Afterlife," and "Spider-Man: No Way Home." Greenstein, for his part, explained that they were taking gambles by releasing big movies last year.
"When we first started releasing movies last October, there were really no other big movies. Everyone had pushed their big movies to this year, to this summer. We took a big gamble putting 'Venom' in theaters. Then we doubled down with 'Ghostbusters.' Then our biggest bet was when every other tentpole had fled, we tripled down with 'Spider-Man' — our biggest, most important piece of IP."
But it was Panitch who took it a step further with his eyebrow-raising take.
"There's so much press about 'Top Gun' right now. It's like, 'The movie business is back! In a weird way, I would say 'Top Gun' is benefitting from us taking our shot. 'Venom' is the start of that story that allows 'Top Gun' to do the kind of business it did. These things don't happen overnight. It's a seeding."
The lack of commitment to theatrical in 2021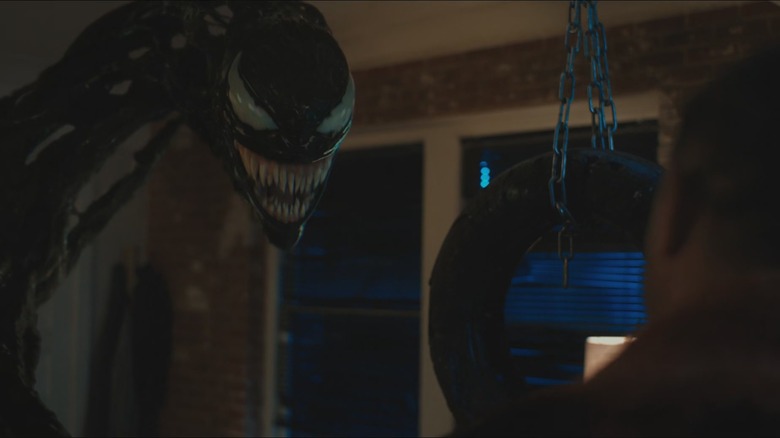 Sony Pictures
Now, before getting into the finer points of the argument that Greenstein and Panitch are trying to make here, we should clarify a couple of things. For one, some big movies did take the plunge before October of 2021, with "Godzilla vs. Kong," "F9," "Shang-Chi and the Legend of the Ten Rings," and "Free Guy" ranking as just a few examples. That having been said, several of them were released on streaming as well, such as "Godzilla vs. Kong," which added a safety net to the equation for Warner Bros. So Greenstein's point of "no big movies" before October of last year is a bit off-base.
Setting that aside, the larger point being made by two of Sony's top executives is actually a little difficult to argue with. Warner Bros. released all of its films in 2021 both on HBO Max and in theaters on the same day. They weren't ready to fully commit to keeping theaters alive and they wanted one foot in both camps. Disney even did something similar with the likes of "Black Widow" and "Raya and the Last Dragon," charging $30 for them on Disney+ Premier Access alongside their theatrical releases. The point is, the biggest studios in town were nervously dancing around going all-in on theatrical in 2021.
Sony, meanwhile, did take its biggest franchises to theaters exclusively last year and, after a downright devastating year and change for that side of the business, those films brought moviegoers out en masse. Looking over the 2021 box office, "Venom: Let there Be Carnage" grossed $506 million, "Ghostbusters: Afterlife" earned $197 million, and "Spider-Man: No Way Home" blew the doors off at the end of the year with a gigantic $260 million opening on its way to $1.9 billion worldwide.
Sony has a point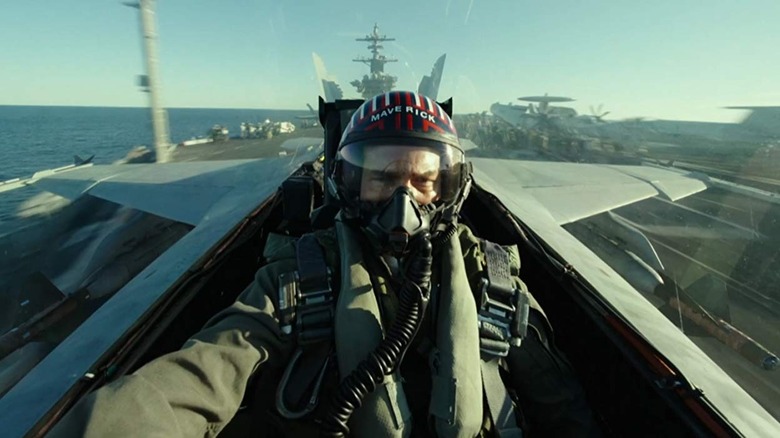 Paramount Pictures
The fact of the matter is that Sony committing fully to theatrical releases in the back half of 2021 helped to get movie theaters back on their feet when they desperately needed it. Studios can't truly survive without robust box office returns even in the streaming era, which is why so many big movies were delayed for so long when the pandemic started. The success of "Top Gun: Maverick" proves that those delays were the right decision for these studios and that attempting to pivot to a streaming release would have been the wrong way to go.
But Paramount — a studio that is having an absolutely killer year with other hits like "Sonic the Hedgehog 2," "Jackass Forever," "Scream," and "The Lost City" — maybe wouldn't have had the chance for a year like this if theaters didn't have a robust slate to get meat in seats last year. Sony walked so that Paramount could run, is another way to put it. In that same vein, while the releases certainly left something to be desired, it could be argued that Disney's release of "The New Mutants" and Warner Bros.' release of "Tenet" in late 2020 helped keep the lights on for theaters as well.
In short, Sony does have a point to make here. "Top Gun: Maverick" may be an example of the box office still being just as viable as it ever was for big movies and it's an impressive achievement, no two ways about that. But Sony does deserve some credit for taking the plunge with some added uncertainty and risk for the greater good of the industry. So yeah, in a way Paramount should be tipping its cap to "Venom."