Tales From The Box Office: How Godzilla Vs. Kong Battled The Pandemic (And Won)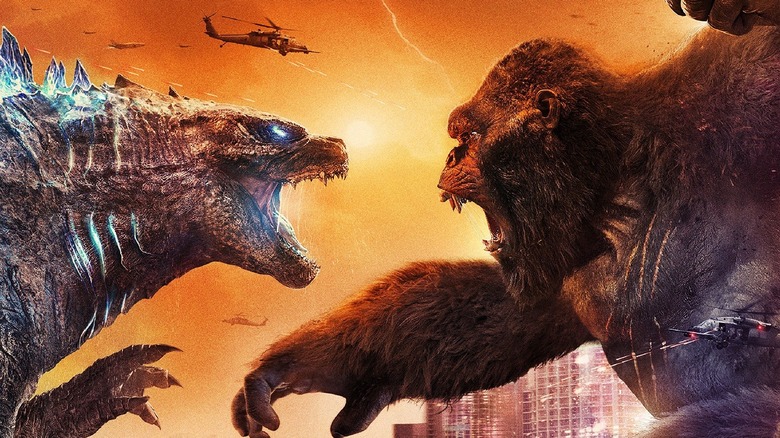 Warner Bros.
(Welcome to Tales from the Box Office, our column that examines box office miracles, disasters, and everything in between, as well as what we can learn from them.)
2020 feels both like an eternity ago and just yesterday all at the same time. Yet here we are in 2022, facing down another uncertain year in pandemic land, particularly as it relates to big movies and how they're going to fare at the box office. Are more films going to be delayed? Are we going to see more hybrid releases? Are movies going to be doomed to flop due to circumstances beyond the studio's control? For now we have more questions than answers, but in this week's edition of the column, we're going to look at one movie from 2021, "Godzilla vs. Kong" — how it managed to successfully weather the pandemic, and what lessons it may be able to provide as Hollywood navigates the still-choppy waters of the future.
"Godzilla vs. Kong" was not only the fourth entry in the so-called MonsterVerse franchise, picking up in the aftermath of "Godzilla: King of the Monsters," but was arguably the first must-see blockbuster of 2021 and, save for "Tenet," the first must-see theatrical blockbuster to come around in quite some time. Yet it arrived at a time when vaccines were just making their way out into the world, and studios were still trying to figure out the best way to release big movies. Warner Bros. (and this is important) opted to release its entire 2021 slate both in theaters and on HBO Max on the same day in the U.S., hedging its bets while bolstering its streaming-focused future. Whether that helped or hurt is something we'll discuss but, in the end, "Godzilla vs. Kong" wound up being the studio's most successful release of the year, which is downright amazing and, in some ways, a straight-up miracle.
The Movie: Godzilla vs. Kong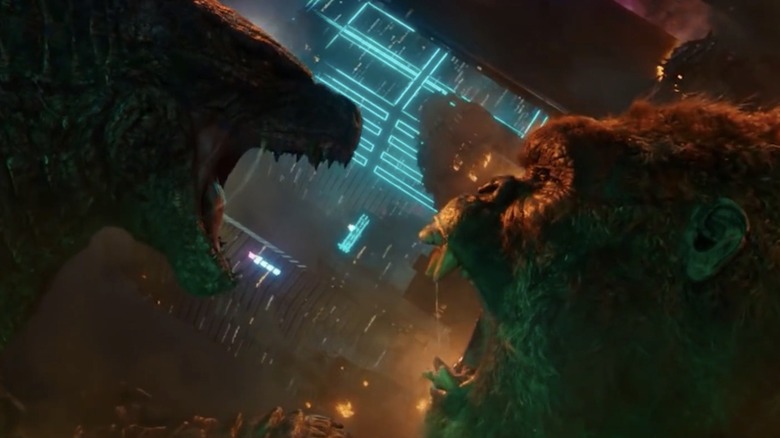 Warner Bros.
The MonsterVerse as we know it was born in 2015 when Legendary Pictures moved "Kong: Skull Island" from Universal Pictures to Warner Bros., the studio that had just re-launched a successful version of "Godzilla" in 2014. It was soon confirmed that the plan was to bring the two legendary monsters together in "Godzilla vs. Kong." Jordan Vogt-Roberts directed "Skull Island," introducing us to this new version of King Kong, while Michael Dougherty was working on "King of the Monsters." 
Legendary made the unique decision to have a new director at the helm for each entry in this franchise to date. To that end, Adam Wingard – coming off of 2016's "Black Witch," as well as genre hits "You're Next" and "The Guest" — was tapped to direct "Godzilla vs. Kong" in 2017. Wingard threw himself head-first into the project, watching every single film in both monsters' respective canon to prepare. But one of the biggest things that Wingard did was to declare, relatively early on, that there would be a definitive winner. This would ultimately become prevalent in the marketing with the tagline "one will fall." Speaking to EW back in 2017, the filmmaker had this to say:
"The original film was very fun, but you feel a little let down that the movie doesn't take a definitive stance. People are still debating now who won in that original movie, you know. So, I do want people to walk away from this film feeling like, 'Okay, there is a winner.'"
Warner Bros. and Legendary also took the somewhat unconventional approach to have a full writers' room working on the movie, with Terry Rossio, Dougherty, and Zach Shields credited, in the end, with cooking up the story, while Eric Pearson and Max Borenstein were credited for the screenplay. That is a whole bunch of cooks in the kitchen.
Filming kicked off in November 2018 with a gigantic cast full of talent, including Millie Bobby Brown, Rebecca Hall, Alexander Skarsgård, Brian Tyree Henry, Eiza González, Zhang Ziyi, and Demián Bichir, among others. While the human cast would ultimately take a backseat to the two most popular monsters in cinematic history going toe-to-toe, loading up with star power can't hurt. And it didn't hurt, as it turns out, even if the film was delayed several times by the pandemic that, when production first began, nobody saw coming.
The Financial Journey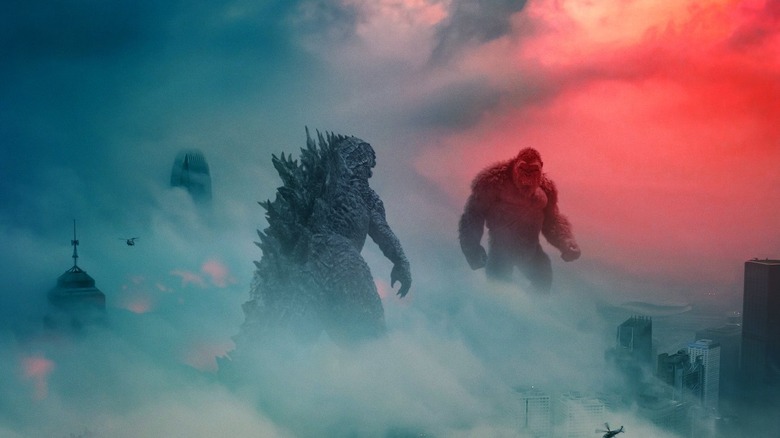 Warner Bros.
"Godzilla vs. Kong" began its rollout internationally on March 24, 2021, before making its way stateside on March 31. The only blockbusters that had seen the light of day since early 2020 were Christopher Nolan's "Tenet" (which did not fare well even with next to no competition), "The New Mutants" (which was straight-up dumped by Disney), and "Wonder Woman 1984" (which became more of a streaming play). It was hard to know if a blockbuster with a $160 million budget (give or take) could actually make what it needed to make at the box office, even as consumer confidence was slowly beginning to return, particularly as it related to movie theaters.
As luck would have it, even people in the U.S. could stream the film easily from the comfort of home on HBO Max, moviegoers wanted to see this on the big screen, damn it! "Godzilla vs. Kong" opened to a then-pandemic-record $31.6 million domestically. While it suffered a reasonably steep drop-off of just over 56% in weekend two, taking in $13.8 million, the movie had enough legs, even with the streaming release surely cutting into the ticket sales (more on that later) to reach $100.5 million domestically. That was a huge feat and, it's hard to remember now, but it felt like something that had become impossible in the pandemic-stricken year that preceded the movie's rollout.
But the key here was the international turnout. Wingard's crowd-pleasing, neon-soaked, monster-centric brawl earned $367.3 million overseas. That put its grand total at $467.8 million which, rather amazingly, was even more than "King of the Monsters" made in 2019 ($383 million), and that movie didn't have a global crisis to contend with (though it also wasn't as well reviewed, which certainly didn't help that movie's cause).
The most important piece of this puzzle was China. For years, China has become one of the most crucial moviegoing markets in the world, with Hollywood relying on those ticket sales for major blockbusters. Yet, since the pandemic, the country's censors have been far more restrictive in terms of how many movies (and which movies) from other countries get to play there. Fortunately for Warner Bros., "Godzilla vs. Kong" did secure a place at the Chinese box office, where it did gangbusters business. All told, the monster flick earned an eye-popping $188.7 million in China, including a super healthy $69.2 million opening. Were it not for that, we'd be talking about this movie in a radically different light.
The Lessons Contained Within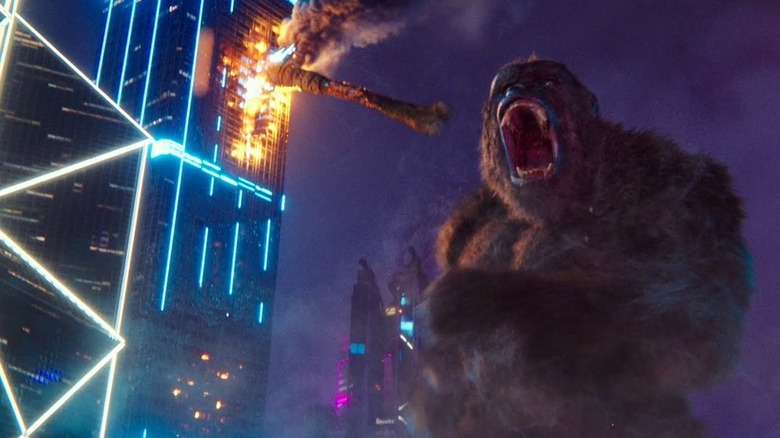 Warner Bros.
Talking about the success, purely from a positive standpoint, the first and most basic lesson here is that Warner Bros. and Legendary gave Wingard the space to craft a fun version of this movie that people wanted to see. While the human elements are still wacky and ridiculous, much as they were in "King of the Monsters," it all gelled a lot better in the end, giving "Godzilla vs. Kong" a better critical reception and better word of mouth. While that doesn't always help smaller movies any more, it can go a long way in getting more meat in seats for blockbuster cinema still.
Now, there is also a bit of a cautionary tale hiding in the grass here too. Sure, the raw number looks good, especially when Warner Bros. can say "also, look what it did for our bottom line on HBO Max" in terms of subscribers and whatnot. However, for many films, in the short run, that isn't going to cut it. As we've seen time and time again, the evidence largely suggests that these hybrid releases heavily cut into box office earnings. Not just because it's available at home for people to watch for free, but because excellent copies are available to pirate very easily, adding to the piracy issue globally. It hurts an individual movie's earnings and muddies the waters for hit/flop.
Aside from that, as we discussed earlier, China had become so important to big blockbuster movies. Studios, in many cases, downright depended on it. But the country just isn't showing as many American movies anymore, and studios need to account for that. If we take China out of the equation, "Godzilla vs. Kong" makes a mere $279 million, failing to break even (when accounting for marketing) and we're talking about how "Dune" was the studio's biggest movie of the year, as it made nearly $400 million worldwide while making just $39 million of that in China.
The fact of the matter is, most movies are going to have to find a path to success without counting on China, and that needs to be accounted for every step of the way. If a movie gets released there, great! But that can really only be icing on the cake, as we can see how relying on those ticket sales could be downright disastrous. As moviegoers, it benefits us all if more movies succeed and it is incredibly important that studios don't double down on overly risky thinking as things continue to evolve. Every movie is a risk, but make them in a calculated way that doesn't essentially come down to a big gamble that may not pan out.