Foster's Home For Imaginary Friends: Everything We Know About The Upcoming Reboot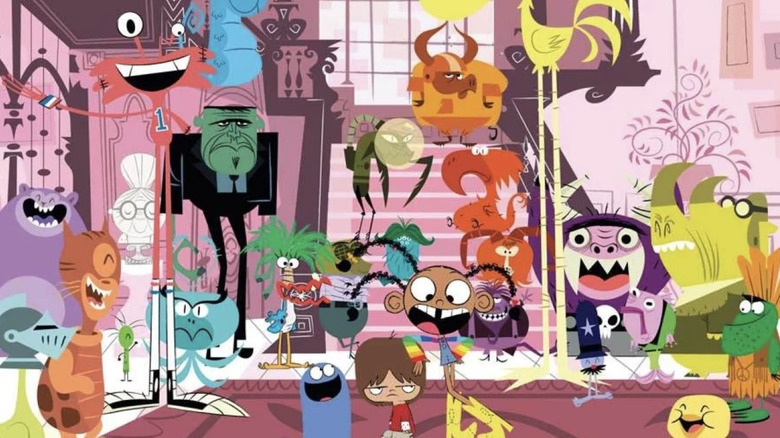 Cartoon Network
The Cartoon Network series "Foster's Home For Imaginary Friends" lasted six seasons on the network, but many fans (myself included) still believe the show ended way too soon. Created by Craig McCraken and running from 2004-2009, "Foster's Home" delivered a magical world where imaginary friends are not only real but a necessary part of life. The show centered on eight-year-old Mac (Sean Marquette) who brings his imaginary friend Bloo (Keith Ferguson) to live at Madame Foster's Home for Imaginary Friends after his mom declares that he's too old for an imaginary friend. While Foster's is typically a boarding house for imaginary friends until they're adopted by another child or reunited with their own, Mac makes a deal with Madame Foster (Candi Milo), her rabbit imaginary friend Mr. Herriman (Tom Kane), and her granddaughter and caretaker Frankie (Grey DeLisle) that as long as Mac visits Bloo every day, he won't be adopted out to another kid.
The show was a delightful exploration of imagination and friendship, with a colorful cast of imaginary characters like Wilt (Phil LaMarr) the asymmetrical red basketball player, Eduardo (Tom Kenny), a Latin-American protection monster, Coco (Candi Milo), a palm tree/airplane/bird that lays plastic easter eggs filled with treats, Duchess (Grey DeLisle), a diva with a Cubist drawn face, and Cheese (Candi Milo), the most annoying imaginary friend you could ever dream of loving. The show snagged six Emmys during its run and is considered to be one of the finest shows to ever air on Cartoon Network. 
Now, nearly 15 years later, Foster's is coming back! Here's everything we know so far.
What to expect from the new Foster's Home for Imaginary Friends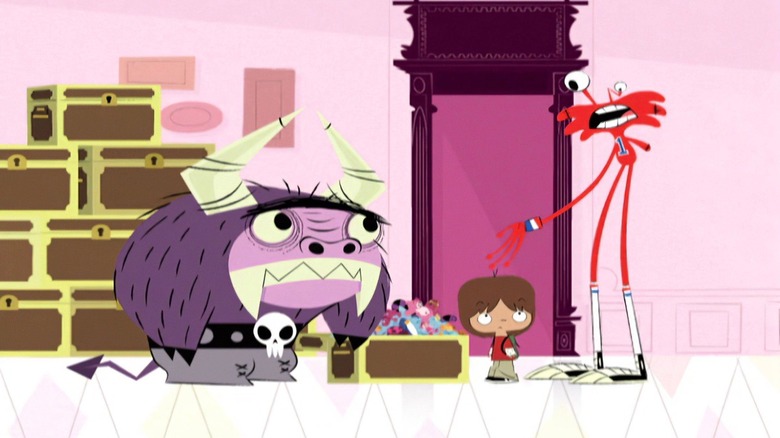 Cartoon Network
"Foster's Home for Imaginary Friends" is coming back as an original animated series geared toward preschool-aged viewers, and as such, will bring an entirely new cast of preschool-aged imaginary friends. While unconfirmed, it's likely that there will be references if not cameos from our beloved favorites, but the beauty of "Foster's Home" is that it's a show that never has to end. As long as there are children, there will always be imaginary friends being created and in need of a loving home. 
The official press release for the reboot said, "don't let their young age fool you, this new lot is just as silly and playful as the original bunch." Many of the kids that were shown on the original run of "Foster's Home" were older elementary school-aged kids, so it'll be an exciting new spectrum of even wilder imaginations as preschoolers haven't been bogged down by "what's cool" just yet.
Sam Register, President of Cartoon Network Studios, Warner Bros. Animation, and Hanna-Barbera Studios Europe said in the press release, "The Hanna-Barbera homecoming of Craig [McCracken] was an opportunity we could not pass up." He continued, "Along with his unparalleled sense of fun and imagination, he's bringing two of his greatest works in 'The Powerpuff Girls' and 'Foster's Home for Imaginary Friends,' and we are so excited for these characters to be a part of the new legacy taking shape at the studio."
Who's behind the new Foster's Home for Imaginary Friends?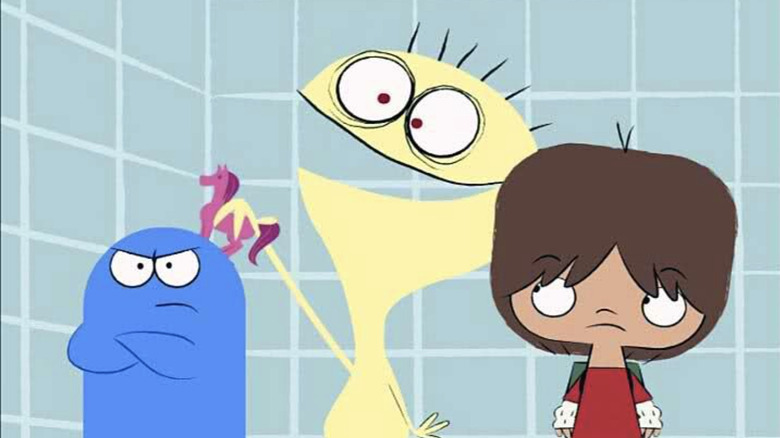 Cartoon Network
The new "Foster's Home for Imaginary Friends" series comes from Hanna-Barbera Studios Europe (HBSE) who have already begun development work on both "Foster's Home" and a reboot of "The Powerpuff Girls." McCracken is returning for both, continuing his three-decade-plus legacy with Hanna-Barbera Cartoons. Sarah Fell, the VP of Original Kids and Family Animation at Hanna-Barbera Studios Europe will oversee the development of both projects at the studio.
If you're impatient for "Foster's Home for Imaginary Friends," know that the studio is hard at work on "The Heroic Quest of the Valiant Prince Ivandoe," the highly anticipated "The Amazing World of Gumball: The Movie!" and "The Amazing World of Gumball: The Series" for HBO Max and Cartoon Network. The latter are both operating under working titles, so they may change before they hit the air. The studio is also working on a stop-motion animated reboot of "Wacky Races" featuring Dick Dastardly and Muttley, who were recently re-introduced to younger audiences with "Scoob!"