The Office LEGO Set Is Coming In October With (Almost) All The People Person's Paper People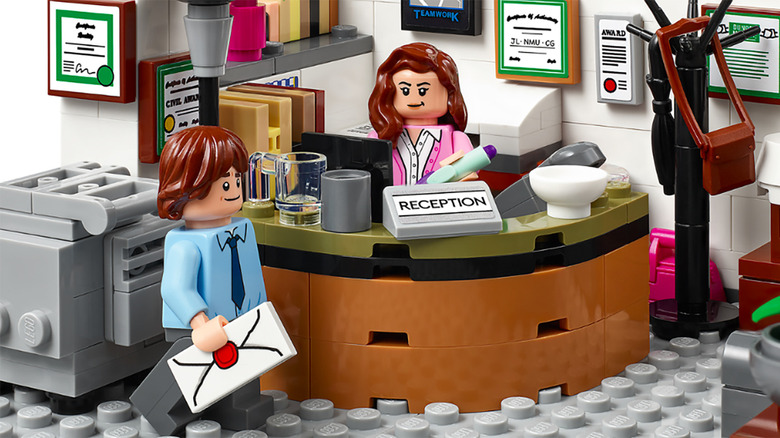 LEGO
"An office is for not dying. An office is a place to live life to the fullest, to the max, to ... an office is a place where dreams come true." – Michael Scott
Now your office dreams really can come true with "The Office" LEGO set coming to shelves this fall. The building brick company approved a playset inspired by the beloved comedy series through their LEGO Ideas portal last year, and now it's becoming a reality. Not only does the LEGO set perfectly recreate the Dunder Mifflin bullpen, but it also includes Michael's office and the frequently visited conference room. But perhaps the best part of all is the huge assembly of minifigures featuring all of your favorite employees. 
Get a look at "The Office" LEGO set below and find out how you can pre-order it. 
'Oh my God, it's happening! Everybody stay calm'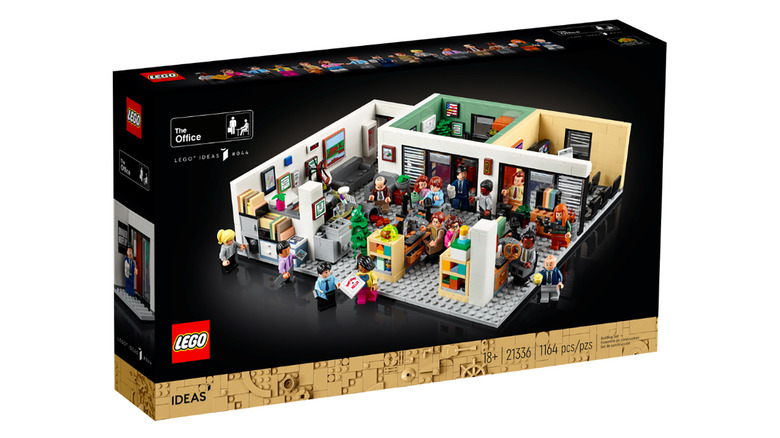 LEGO
"The Office" LEGO set is quite an impressive recreation of the show's cubicle-filled set. Even cooler is that you can pull out Michael's office for a little mini display that you could even situate on your own desk. On top of the Dunder Mifflin office itself, the LEGO set comes filled with tons of little details and Easter eggs for the fans to enjoy from many of the best episodes. What would the LEGO set be without Jim's teapot, letter, and engagement ring for Pam, Michael's screenplay for "Threat Level Midnight," Dwight's hidden weapons, Kevin's spilled pot of chili, and a stapler in gelatin to make Dwight lose his mind? Stanley has a pretzel, Meredith has a bat, and yes, Michael has both a Dundie trophy and a "World's Best Boss" mug.
Just take a look at some of the close-up details of "The Office" LEGO set:
Here's Jim and Pam either waving at each other or acknowledging the success of another prank on Dwight with one of their cute little salutes. 
Then we have Kevin completely ruining his famous chili. Everyone may have gotten to know each other in the pot, but now it's all over the carpet. Yuck.
Here's a shot from Michael's office, where Pam can be seen handing off a Post-It with a little hot dog cartoon on it. That's one of those important notes that Pam pretends to give Michael so it looks like he's a very important businessman. Note the Golden Ticket sitting on his file cabinet, too!
Finally, in the conference room, Jim is delivering the bad news to Michael that his hopes of making millions selling calling cards is just a pyramid scheme. Michael is clearly disappointed with this development and he has some calls to make.
An American workplace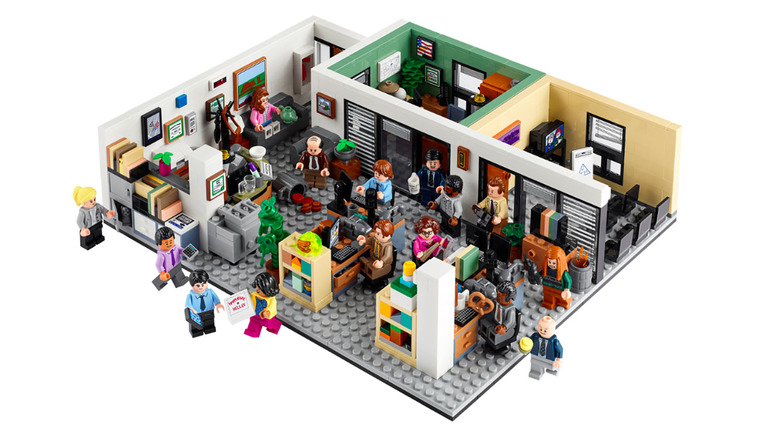 LEGO
"The Office" LEGO set has almost everything you could ask for. It's a bit of a bummer that they couldn't include the break room. Plus, we don't get the annex either, so if you're planning on recreating some of the worst exchanges between Michael and Toby, then you're out of luck. Maybe they can create little add-ons down the road so you can have a larger playset.
But the good news is that all of the minifigures you'd want are included. There are no less than 15 minifigures in this set, including Michael Scott, Dwight Schrute, Jim Halpert, Pam Beesly, Ryan Howard, Angela Martin, Oscar Martinez, Kevin Malone, Stanley Hudson, Kelly Kapoor, Phyllis Lapin Vance, Meredith Palmer, Creed Bratton, Toby Flenderson, and Darryl Philbin. Apologies to Robert California, Gabe, Plop, and some of the other cast members from the later seasons of the show. 
However, I will admit that it's a little disappointing that Andy Bernard and Erin Hannon didn't get included. But I suppose LEGO wanted to keep the vibe of the earlier seasons of "The Office" and didn't want to complicate things with characters from the Stamford branch.
You can pre-order "The Office" LEGO Set at The LEGO Shop online for $119.99 or at Walmart right now for just a penny more at $120, and it will ship in October.
Dunder Mifflin, a great place to work!