Ms. Marvel's Superpowers Origin Was Kept Under Tight Wraps, And Then It Made Everyone Giddy On Set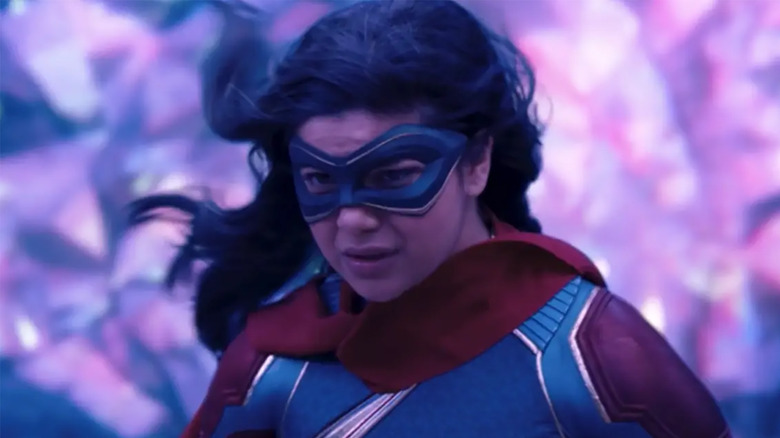 Marvel Studios
You know the drill: beware of spoilers for the season finale of "Ms. Marvel."
You know what never gets old? Watching up-and-coming actors land the role of a lifetime and excel with high-profile appearances in popular movies or shows, such as those taking place in the Marvel Cinematic Universe. Tom Holland became a household name practically overnight thanks to his charismatic turn in "Captain America: Civil War" (although real ones already knew about his potential from "In the Heart of the Sea," "The Lost City of Z," and even a voice role in "Locke"). And now we have another rising star in our midst.
Not a moment too soon, Iman Vellani is well on her way to accomplishing the same after her impressive performance as Kamala Khan in all six episodes of the MCU's Disney+ series "Ms. Marvel." And if her talent didn't already speak for itself, the young actor's refreshingly bold and unfiltered comments — such as when she publicly (and jokingly) disputed with Kevin Feige over whether the MCU ought to be considered the Earth-616 universe or not — further endeared herself to fans.
With that in mind, naturally, Vellani had the most heartwarming reaction to the big reveal at the very end of the season finale of "Ms. Marvel," which dropped the M-bomb on the universe with the first acknowledgement of mutants in the MCU, thanks to the hard work of Kamala's friend Bruno (Matt Lintz) doing the honors. But it should come as no surprise that this massive development was kept hush-hush throughout production. In fact, out of the entire cast, only Vellani herself was privy to these plans beforehand.
'This is the biggest deal in the world'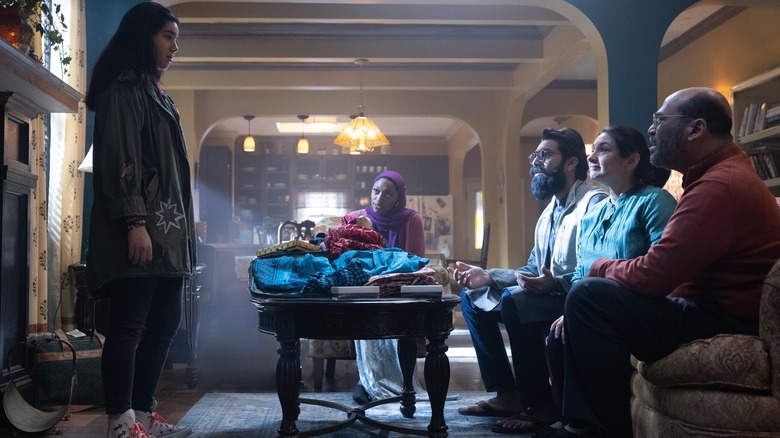 Marvel Studios
Sooner or later, any young superhero with a secret identity will have to contend with the dichotomy of either keeping it to themselves and living a double life, or letting their closest friends and family in on the secret. Iman Vellani pretty much lived this out in real life, first with her top-secret casting to begin with, and finally with the reveal that Kamala's powers are derived from her status as the MCU's first known mutant. For better or worse, every significant spoiler is kept under lock and key over at Marvel. This major development at the end of "Ms. Marvel" easily qualifies as such. In an interview with Marvel.com, the cast and crew finally spoke up about the experience. Vellani explained:
"They sent me, and only me, the draft [of the final episode], and I immediately freaked out. I emailed Kevin Feige in all caps. I was like, 'Are you doing this like for real? Are you sure? I'm so honored!' I was like yelling at him through an email. I was freaking out. This is the biggest deal in the world, and the fact that it's happening in our show is crazy."
Yup, that means that even the spokesperson for this reveal, Matt Lintz's Bruno, had no idea this was coming, either. As he recalled, "I remember I was having a conversation about it and [the directors] were like, 'Yeah, you say this crazy thing.' They wouldn't even tell me what it was! I was like, 'What's the deal here?' They were very secretive about that whole thing."
Keeping the secret under wraps is one thing, however. Actually performing it was quite another.
'It was really, really, really difficult'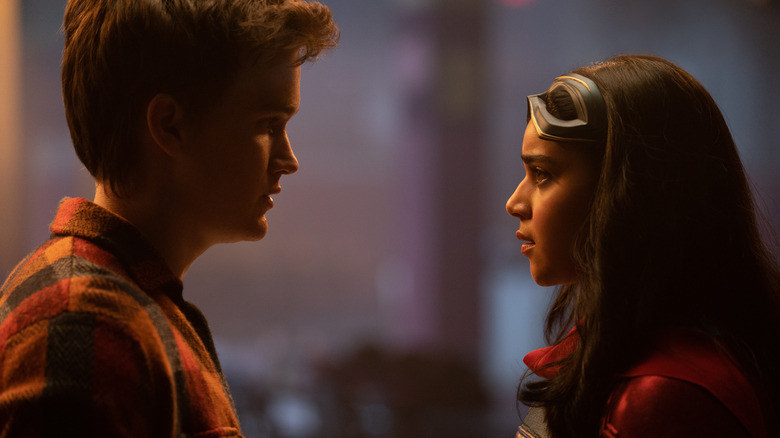 Marvel Studios
It sounds like the behind-the-scenes gag reels for "Ms. Marvel" should turn out to be an absolute riot. When it came time to actually act out the big concluding scene in front of the cameras, neither of the lead co-stars were able to keep it together out of sheer excitement. A massive Marvel nerd herself, Iman Vellani surely understood the implications of her character's MCU adaptation being turned into a mutant, something that changes up the hero's origin from Marvel Comics, where Ms. Marvel is traditionally depicted as an Inhuman in the source material. That awareness, by her own account, left her a little giddy. Vellani recalled:
"It took a really long time to film that scene because any time Matt would say that word I'd start giggling. I think we got the one take. The one you see in the episode is one of two that we got where I was mildly serious. It was really, really, really difficult. I think we have so many outtakes of me just breaking because I was so excited and giddy over this."
Matt Lintz corroborated the story, "Iman was laughing. She was laughing almost every second. It was hilarious because she just was like, 'This is so cool.' She couldn't believe that I was saying this to her. Obviously, it's so big for her character. We were going through the scene and she kept laughing. It was making me laugh." That atmosphere extended even to the background crew, many of whom joined in during the filming of the scene. 
Hopefully, some behind-the-scenes footage of this moment will eventually be made available to the public. Until then, "Ms. Marvel" can be watched in its entirety on Disney+ streaming.