It Didn't Take Any Convincing To Get Paget Brewster Onto Community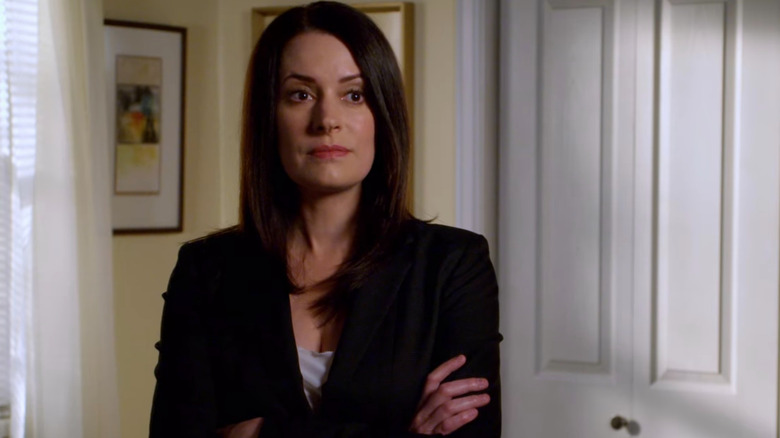 Sony Pictures Television
The sixth and final season of "Community" was a weird one. The show had been canceled by NBC and found a new home on the now defunct Yahoo! Screen. Donald Glover, Yvette Nicole Brown, and Chevy Chase, three of the original main cast members, had left the show. Dan Harmon, the fired and then rehired showrunner, was tasked with reconfiguring the relationship dynamics of the remaining cast while never letting up on the humor and meta-textual commentary the series had become beloved for. He also decided to introduce two brand new characters to the series.
Two always reliable, dynamite character actors came in and created characters that fit perfectly within the world of "Community." The biggest name of the two would be Keith David playing Greendale's head of I.T., Elroy Patashnik. David is an actor with such a tremendous screen presence (plus that voice!) who has seamlessly woven between every genre and medium for decades. While a very fun character, it does take a few episodes before he shows up, and he does always feel a bit on the outside looking in. The other major casting, however, firmly establishes herself with the principal cast immediately and by her own words was, "A humble outsider who came in and nailed it."
Paget Brewster as Frankie Dart, a school administration consultant brought in to help revitalize Greendale, does just that with the series. By the time she enters the show, "Community" ran the risk of becoming stale, which any show six seasons in could face. Instantaneously, Paget Brewster brings an entirely new energy that provided a revelatory change of pace for the show, playing a major part in making its final season such a surprisingly terrific send-off. Luckily for us, she couldn't have pounced on the opportunity fast enough.
'I just wanted to be involved in any way'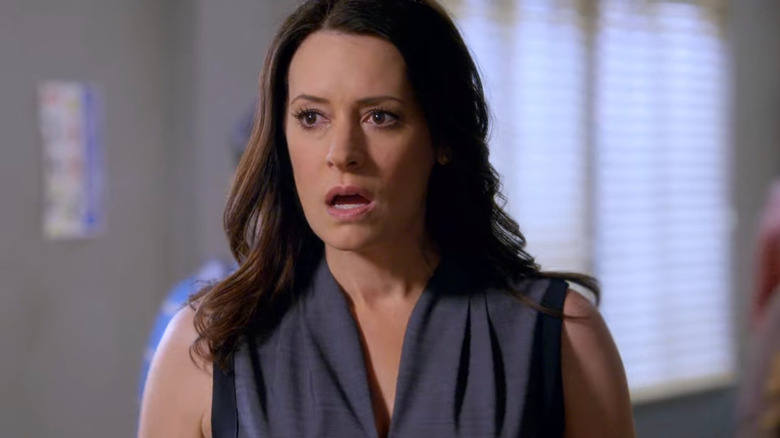 Sony Pictures Television
While most people probably know her from her many years on "Criminal Minds," Paget Brewster has long been a fixture of the comedy scene, willing to take part in anything that sounds like a good time. Most notably, she was a regular of the "Thrilling Adventure Hour" stage show and podcast, an homage to live radio serials, where she and Paul F. Tompkins played a pair of married paranormal investigators modeled off the witty alcoholics at the center of "The Thin Man" film series. "Community" was not the first time she worked with Dan Harmon, having appeared in an episode of the Channel 101 series "Time Belt" all the way back in 2003. In a way, it's almost surprising hadn't already been a member of the cast of "Community." In an interview with TV Insider, she described how she jumped at the chance to be apart of the show:
"I was thrilled. I got a call saying, 'Hey do you want to join "Community" for Season 6?' And I said yes, even though I didn't know who I was playing or what was happening. I told them if they wanted me, I was in. Whatever they want, I'll do ... I just wanted to be involved in any way."
She knew Harmon and Rob Schrab, who directed the majority of the final season, and could trust them to deliver material worth showing up for every day. "Community" was notorious for its excruciatingly long hours, and if what is on the page doesn't get your juices flowing, that will be a punishing experience. Paget Brewster comes in armed with that knowledge and delivers a performance that makes you sad we never got multiple seasons to see.
Not the only character she played on Community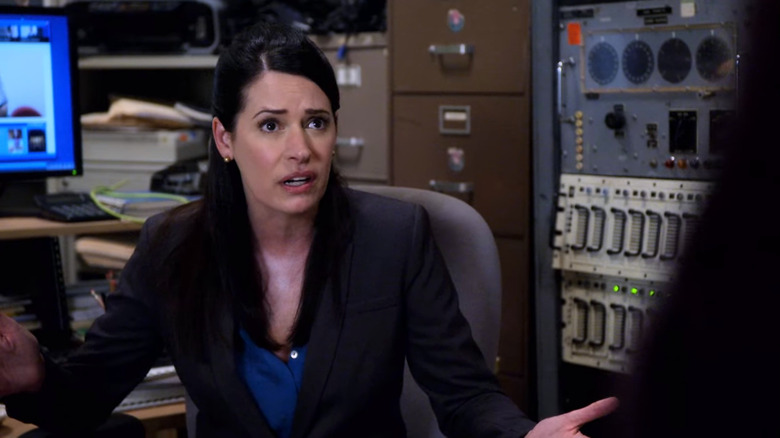 Sony Pictures Television
Season 6 wasn't Paget Brewster's first time on "Community." Brewster, being the game person she is, came in to be apart of the guest-star-filled season 5 episode "Analysis of Cork-Based Networking." The episode follows Alison Brie's Annie and Jonathan Banks' Buzz Hickey maneuvering the bureaucracy of Greendale for a bulletin board. Along with Brewster, who plays the head of I.T. (presumably Keith David's Elroy replaces her), they also meet Kumail Nanjiani, Robert Patrick, and Nathan Fillion. While not connected to this storyline, it also sees the return of Brie Larson as Abed's ex-girlfriend Rachel. Even with all those names, Paget Brewster clearly pops the most.
When she was asked to come back, she didn't know if she'd be playing the same character, but she did know she thoroughly enjoyed coming in for that episode, which also made her a fan of the show:
"I had a great time when I guested last year. But I hadn't seen the show before that. I started watching 'Community' after I guest starred and went, 'Oh gosh, I wish I had known all of this before I was there!' So when the call came again, I was up to speed. But I'm still watching and rewatching because there's so much nuance in every episode. There's so much stuff going on that you don't realize or catch the first time."
I could not be more thrilled Paget Brewster so readily agreed to be apart of "Community." Season 6 may be largely unseen because of the Yahoo! Screen of it all, but the final season contains some really wonderful stuff. And Brewster is no small part of my love for it.