Yvette Nicole Brown Said Working On Community Was A Lot Like College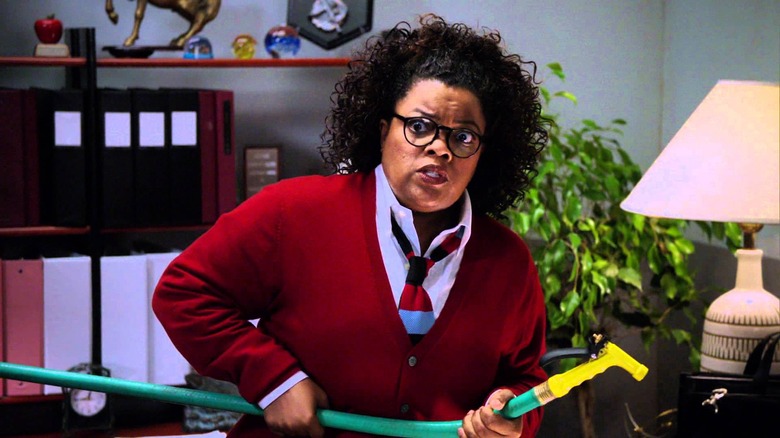 NBC
We may receive a commission on purchases made from links.
One of the best things about college is the opportunity to explore and experiment with your identity. Whether you're fresh out of high school or going back to school well into adulthood, college is a place where people figure themselves out and learn more than just advanced algebra and the perils of forgetting to wear shower shoes in the dorms. On the NBC series "Community," each of the members of the study group discovered new things about themselves in their time at Greendale Community College, and it turns out that the college experience extended to the cast, too. 
In an oral history of the series at Independent, series star Yvette Nicole Brown revealed that filming "Community" was in itself a lot like a college experience. Each episode provided ample opportunities to explore not only their characters, but a whole bunch of different genre conventions. Co-star Alison Brie summed it up perfectly, calling the series "so much more than a network comedy." 
For six seasons (and hopefully a movie), the study group made us laugh, cry, and learn a lot, all while playing with and subverting just about every single genre trope on the planet. Creator Dan Harmon loves playing with genre tropes and would go on to skewer them even more thoroughly in his next series, "Rick & Morty," but "Community" was kind of his own TV creating college, too.
A half-hour sitcom that transcended genres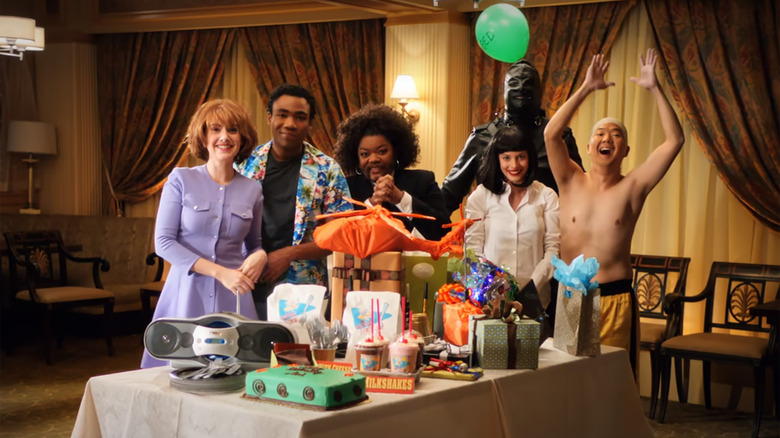 NBC
Academy Award-winning screenwriter Jim Rash, who played Dean Craig Pelton on the series, said that every week was "almost a different show" because of the many genre-twisting elements. "Community" got progressively weirder as the seasons went on, and some of the most beloved episodes are ones that throw sitcom conventions out of the window. Episodes like the spaghetti-western riff "A Fistful of Paintballs" or the multiverse-spawning "Remedial Chaos Theory" allowed the series to step into a heightened, ridiculous reality that made the series truly stand out. Abed (Danny Pudi) is obsessed with television and its tropes and regularly points out the absurdity of it all in a perfect meta-commentary on both entertainment and the series, too, so some episodes are really weird. It turns out that fans of the show weren't the only ones who appreciated the series' willingness to get weird, though, as Brown explained: 
"It felt like college, and every week was like getting a brand new syllabus. For some episodes, we'd get together and watch whatever movie it was based on. We watched 'Goodfellas' in Danny's house because we were doing the 'Chicken Fingers' episode and I'd never seen it. Who signs up to do a 30 minute comedy and gets to be in an action film, a romantic comedy, a film noir or a horror film? It was ridiculous how blessed we were. People have said it was like a live action cartoon because you didn't know where these people were going. Are they on a spaceship? In a mafia film? In 'Pulp Fiction'? It was amazing."
In the episode "Contemporary American Poultry," Abed starts treating the school's chicken finger supply the way the mobsters in "Goodfellas" treat their illegal operations. It's a great spoof with a lot of fun little details, and knowing that the cast got together to watch "Goodfellas" before making the episode makes it all the richer. There are "Community" episodes for just about every kind of genre fan: westerns, mafia movies, science fiction, horror, high fantasy, and even Saturday morning cartoons are all represented. The best part of this college experience is that there's no tuition, and you can catch all six seasons on Netflix, Hulu, and Prime Video.