Orphan: First Kill Trailer: Esther's Back, Baby!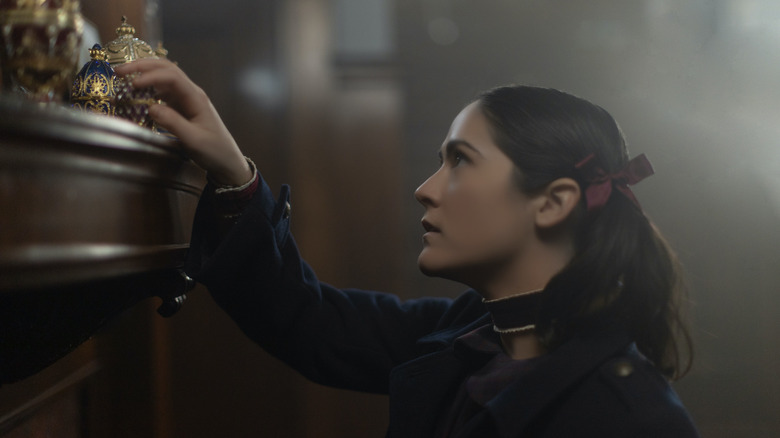 Paramount
Get ready to tell all your friends about a killer orphan movie like it's 2009 again: the brand new trailer for "Orphan: First Kill" is here.
If you're a certain type of horror fan, this is probably a day you've been anticipating since the "Orphan" prequel film was first announced in 2020. If you're not, you may only now be remembering the delightfully twisted horror flick that was the talk of, I can only assume from my own experiences, every high school in America when it dropped in the late aughts. "Orphan" had everything, from a brutal nun-killing scene, to a pretty messed up Peter Sarsgaard moment, to Vera Farmiga saying, "I'm not your f***ing mommy!"
Most of all, though, "Orphan" had the kind of bonkers watercooler twist most horror movies dream about. The film's third act reveal is that Esther (Isabelle Fuhrman), the killer kid a couple unwittingly adopted at the beginning of the movie, is actually an adult serial killer with a hormonal condition that allows her to pass as a small child. Now, "Orphan: First Kill" will finally explore the early days of Esther AKA Leena's life. Check it out below:
When Leena became Esther
"Orphan: First Kill" looks like it'll be a thrilling new entry in the pre-existing saga for many reasons, including the fact that, as with other horror villains like Chucky from "Child's Play" or Gabriel from "Malignant," everything Esther does is kind of funny and can be considered camp. Therefore, the movie will probably be great even if it's bad. Make sense?
Yet "Orphan: First Kill" has what might be a recipe for a genuinely good horror prequel on its hands. Isabelle Fuhrman will be reprising the role of Esther/Leena, and the actress recently demonstrated her talent for tackling intense roles in the award-winning psychological drama "The Novice." Julia Stiles is also starring in the new film, marking her first foray into horror since 2014's "Out of the Dark."
As the title suggests, the movie will follow Leena as she becomes Esther and kills for the first time. According to a synopsis of the film, the young woman travels from Estonia to America to live with a wealthy Connecticut family, cuddling up to them by impersonating their missing daughter.
The film comes from a script by "Scream" TV show writer David Coggeshall, who also penned the screenplay for the highly in-demand upcoming Netflix movie "Demon House." "The Boy" and "The Devil Inside" filmmaker William Brent Bell is taking over directorial duties from original "Orphan" filmmaker Jaume Collet-Serra.
"Orphan: First Kill" will hit theaters, digital, and Paramount+ on August 19, 2022. 
Esther's terrifying saga continues in this thrilling prequel to the original and shocking horror hit, Orphan. After orchestrating a brilliant escape from an Estonian psychiatric facility, Esther travels to America by impersonating the missing daughter of a wealthy family. Yet, an unexpected twist arises that pits her against a mother who will protect her family from the murderous "child" at any cost.