Why Jordan Peele Shifted His Storytelling Style With Nope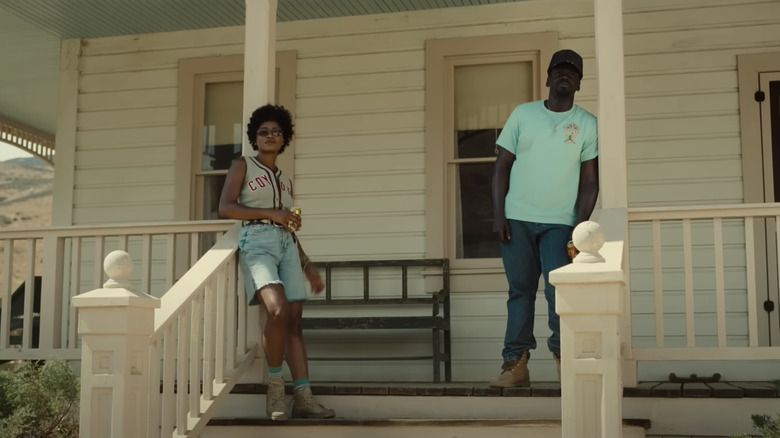 Universal Pictures
Jordan Peele may have broken onto the scene with his gifted comedic abilities, but in just five short years, Peele has also solidified himself as a contemporary master of horror. His debut feature "Get Out" was not only a brilliant enough movie to earn an Academy Award for Best Original Screenplay, it also completely changed the landscape of the horror genre and proved what so many had always known: That there was a massive market for Black horror storytelling. Of course, many were worried that Peele would be a one-hit-wonder, but he put those concerns to bed with the haunting doppelgänger horror flick, "Us." Not just directing horror, Jordan Peele has also been fostering a lot of horror projects in a producing capacity, like with his reboot of "The Twilight Zone," the HBO series "Lovecraft Country," and Nia DaCosta's "Candyman.
It doesn't seem premature to give Peele his flowers in what is objectively a very short amount of time, because there's no timeline on success. In a stunning conversation between "Get Out" and "Nope" star Daniel Kaluuya and Peele for Essence Magazine, Kaluuya tells Peele directly how important his work has been. "I feel like you have expanded horror already, and now you're doing it again — giving it scale and epicness," the actor tells him. He also expressed his gratitude to Peele for allowing him to be in his movies, and being put in the center of the types of films he grew up loving. Peele responded by acknowledging the great responsibility that comes with his new reputation, and explained that the storytelling change seen in "Nope" is a direct reflection of that responsibility.
'The movie had to be about Black joy as well'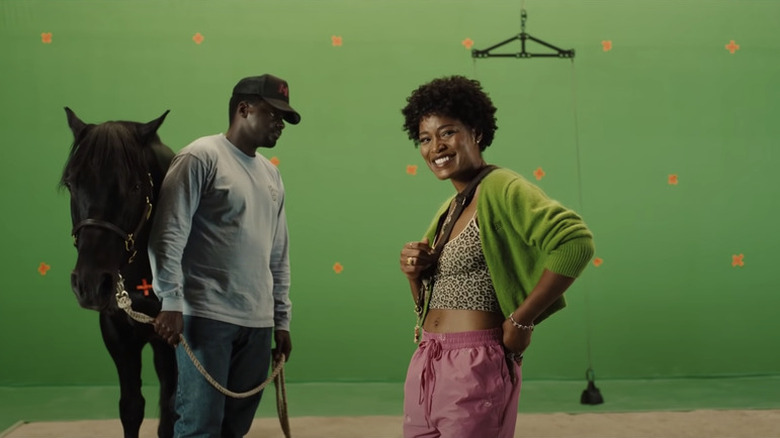 Universal Pictures
"It's so tricky being considered in the vanguard of Black horror, because obviously Black horror is so very real, and it's hard to do it in a way that's not re-traumatizing and sad," Peele said to Kaluuya. "I was going into my third horror film starring Black leads, and somewhere in the process I realized that the movie had to be about Black joy as well, in order to fit what the world needs at this moment." That joy is shown through Kaluuya and co-star Keke Palmer's characters OJ and Emerald Haywood, Black sibling ranchers that also provide their services as horse trainers to Hollywood. "That is part of why there's sort of a spectrum of tonality of genre in here, because I wanted to give the horror, but I also wanted to give our characters agency and adventure and hope and joy and fun that they deserve," Peele declared.
In both "Get Out" and "Us" there are definite moments of Black joy scattered throughout, but with horror always the front and center priority, that joy had something sinister simmering beneath. Chris's loving moments with his girlfriend in "Get Out" are tarnished by her family's true motivations, and the family dynamics of "Us" feel different once we realize the truth behind Adelaide and Red. "Nope" is different, because the moments of Black joy that exist have no strings attached — no asterisk. There's Black joy on screen because there's Black joy in their lives ... and yes, also UFOs, but that's a different story.
"Nope" hits theaters on July 22, 2022.