Nope Featurette: Meet OJ & Emerald Haywood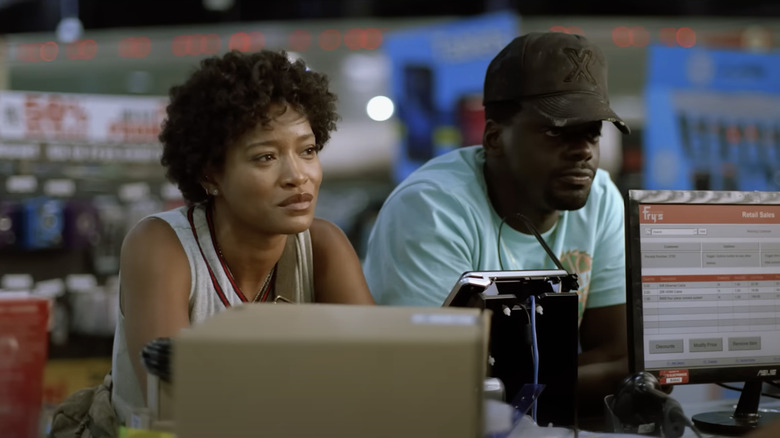 Universal Pictures
The highly-anticipated third directorial effort from Jordan Peele, "Nope," is creeping closer with every passing day. After completely changing the horror landscape with his Academy Award winning film "Get Out," Peele again terrified audiences with the doppelganger nightmare, "Us." Now, Peele is trying his hand at a bonafide sci-fi horror film with "Nope," and bringing UFOs into the fold.
As with all of his films, Peele has been tight-lipped on what exactly we can expect from "Nope," and despite knowing there are UFOs and alien-like creatures invading the Haywood family ranch, anyone's guess is as good as gold when trying to figure out what it all means. The film stars Daniel Kaluuya, Keke Palmer, Steven Yeun, Barbie Ferreira, Brandon Perea, Keith David, and Michael Wincott, with Kaluuya and Palmer playing siblings Otis aka "OJ" and Emerald Haywood.
In a new featurette from Universal Pictures, Peele, Kaluuya, and Palmer break down the siblings' relationship, and how it relates to "Nope" in the grand scheme of things. "The first time I heard about 'Nope,' Jordan called me and said 'I'm doing a film,'" Kaluuya recalls. The "Get Out" star laughs a bit to himself before following up with, "Oh yeah? What's it about?" Kaluuya nabbed a Best Actor nomination at the Academy Awards for "Get Out," so their reunion is absolutely something worth celebrating. "This movie is about many things, but at its core, it's about a brother and sister," Peele says. Well, let's meet the siblings, shall we?
OJ and Em
It was clear from the first trailer drop that Emerald Haywood was the bigger personality between the siblings, but this featurette does an excellent job at explaining why her brother OJ comes off as a bit of a grump in comparison. As it turns out, while OJ's family has a long history of being the only Black-owned horse trainers in Hollywood, OJ has never left the family business. He's been putting in the work and taking care of the ranch as their father ages, while Emerald has swooped in with a hell of a lot of charisma but no knowledge or direction to actually back it up. Peele describes Kaluuya as his all time favorite actor and says that he forced him to "unlock further things in the character." As for Keke? "She has this spark, she just crushes," Peele says.
Regardless of their history, OJ and Em are still siblings at the end of the day, and when "s*** hits the fan," as Palmer puts it, the two have each other's back. "It's about their ability to go from not connecting to acknowledging they have always seen each other," Peele says. It's almost sweet to hear him describe the siblings' relationship, as if this isn't also a movie where a UFO rains blood on a ranch house and unleashes some other wacky alien hijinks.
"Nope" arrives in theaters on July 22, 2022.