Here Are All Of The Cast And Crew Family Members Featured In Thor: Love And Thunder (That We Know About)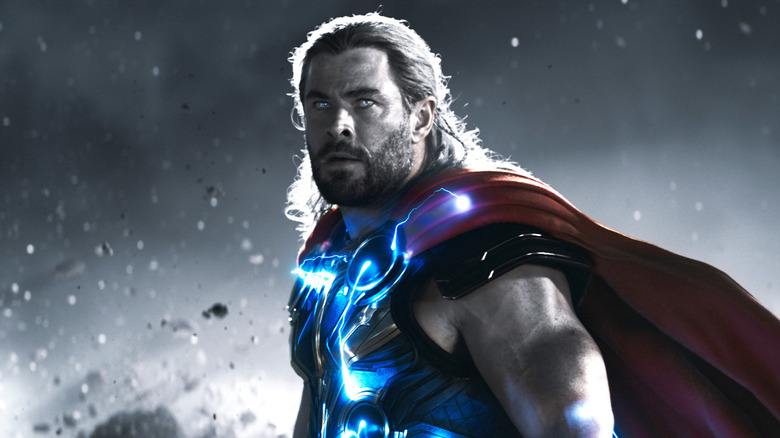 Marvel Studios
Taika Waititi's "Thor: Love and Thunder" is a bit of a mess. It's a film that tries to synthesize elements from all three previous "Thor" movies, including Thor's romance with the human scientist Jane Foster, while also serving as a followup to "Avengers: Endgame" and re-imagining Jason Aaron's run on "The Mighty Thor" comic books for the Marvel Cinematic Universe. At the same time, it wants to raise the bar for tech by utilizing ILM's StageCraft and Satellite Lab's PlateLight to create its cosmic settings. The result is an MCU film that lacks the cohesive vision, in terms of both its narrative and aesthetics, that Waititi brought to his 2017 blockbuster hit, "Thor: Ragnarok."
Yet, for all its missteps, it's hard not to admire "Love and Thunder" for its emotional ambition. This is the first movie to bring Thor and Jane's love story to the forefront in the MCU while giving it a poignant twist as it explores mid-life ennui and regret over lost time. It's also a film that carries over the thematic motifs about family and community from Waititi's low-budget New Zealand dramedies "Boy" and "Hunt for the Wilderpeople," granting the children of New Asgard a vital role to play after they are kidnapped by Gorr the God Butcher as part of his plan to destroy all gods. In fact, "Love and Thunder" is just as much about family off-camera as it is on-screen, with several members of the cast and crew's families showing up at some point.
Spoilers for "Thor: Love and Thunder" ahead.
All in the family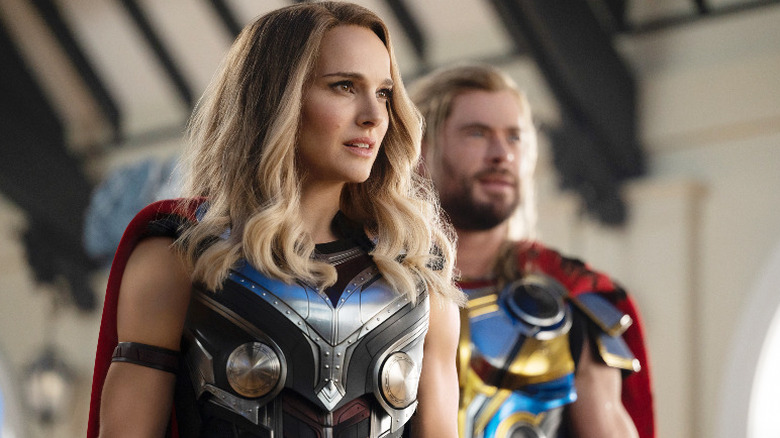 Marvel Studios
Chris Hemsworth returns for "Thor: Love and Thunder," playing the "Thunder" half. However, in a twist, it turns out the film's title has a double meaning. "Love" not only refers to the romance between Thor and Jane (Natalie Portman) but also Gorr's (Christian Bale) daughter, who is adopted by Thor after her father's death. The God of Thunder and Love have a very believable chemistry in their few scenes, and for valid reason: Entertainment Weekly has confirmed she's played by Hemsworth's actual daughter, India, in the movie.
Far from the only member of her family to make a cameo, India is joined by Hemsworth's twin sons Tristan and Sasha, one of whom plays young Thor in an early flashback. EW also reports that Portman and Bale's respective children have roles in the film, as does one of Waititi's young daughters and "Fast & Furious" alum Elsa Pataky, who is married to Hemsworth in real-life. Pataky can be briefly seen as the "wolf woman" making out with Thor in a montage about the God of Thunder's romantic history. (Those with good memories may recall Pataky previously doubled for Portman for Thor and Jane's post-credits kiss in "Thor: The Dark World.")
Speaking to Marvel.com, Waititi said it "was not always the plan" to have so much of the cast and crew's family in the film, but he's happy it worked out the way it did. More than that, he's grateful he got to spend more time with his kids while shooting the movie:
"It's amazing. I really love the idea that my kids can look back on this moment and be like, oh wow, we were there. There's a record of it."
"Thor: Love and Thunder" is currently playing in theaters.