The Daily Stream: Boy Is A Creative, Beautiful, Bittersweet Coming-Of-Age Story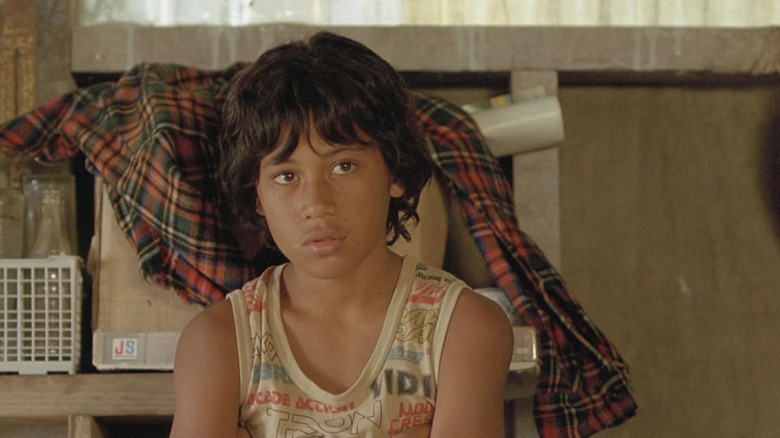 Kino Lorber
(Welcome to The Daily Stream, an ongoing series in which the /Film team shares what they've been watching, why it's worth checking out, and where you can stream it.)
The Movie: "Boy"
Where You Can Stream It: Kanopy, Hoopla, SundanceNow, Showtime
The Pitch: In 1980s New Zealand, an 11-year-old Maori kid nicknamed Boy (James Rolleston), lives in a small town where his auntie holds half the jobs. Boy's life with his Gran and brother Rocky (Te Aho Eketone-Whitu) is tinged with sadness and strife, but the sweet kid has an active imagination (and undying love for Michael Jackson) that keeps him positive. While mostly-silent Rocky is plagued by the knowledge that his birth killed their mother, an event that he thinks gave him superpowers, bullied Boy makes up magnificent backstories for their absentee father.
Soon enough, Boy and Rocky meet their dad Alamein (Taika Waititi), and it becomes clear that he wasn't off deep sea diving, playing rugby, or breaking out of jail with a spoon like Boy had imagined. But Alamein leans into the myths Boy has created for him, asking Boy to call him Shogun and telling his sons he's returned to hunt for buried treasure. As the film unfolds, it develops into a bittersweet–yet still funny–coming-of-age story that hinges around one of life's toughest lessons: realizing your parents aren't heroes, but just people.
Why it's essential viewing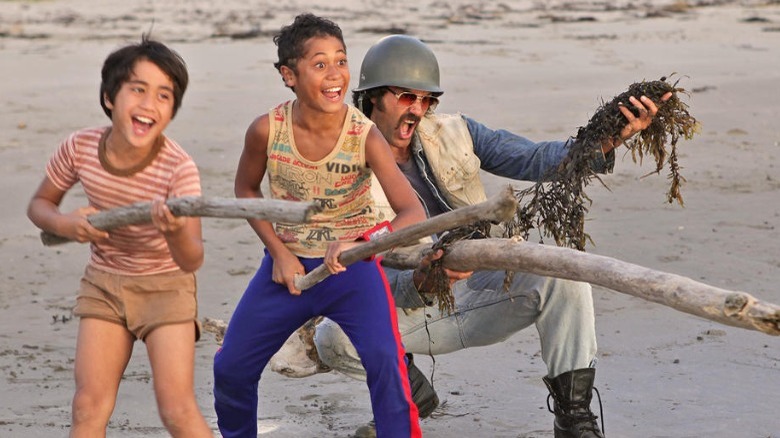 Kino Lorber
"Boy" is Waititi's most emotionally unguarded work, and it may also be his best. Here, the writer-director nestles themes that appear in his other films–like strained father-son relationships, or growing up in a tough situation–in the fluffy cloud of one child's imaginary thought bubble. The problem with bubbles, though, is that they're made to burst: When Boy realizes that his father isn't the towering legendary figure he'd created in his mind, the film's MJ-inspired dance sequences and chipper soundtrack give way to a resounding heartbreak. Yet Waititi handles this loss of innocence with a surprising gentleness, holding loosely onto both the kiddish initial joy of the film's protagonist and the inevitable quiet pain of growing up.
"Boy" is also filled with clever filmmaking choices that keep its more well-worn narrative beats from ever feeling too familiar. Despite its low budget, the movie pulls off effective montages and fantastical invented scenes, impressively blending a more formal, visually organized style with its naturalistic elements. It's also a story grounded in a clear love of New Zealand and Maori culture, and the setting lends Boy's story a rare and special sense of place. To top it off, "Boy" is at times extremely funny, with its bored and juvenile cast of characters often delivering hilarious lines in the most low-key way possible.
Though not an autobiography, the movie is pretty clearly based in part on Waititi's own life, filmed in his grandmother's real home and drawing on his experiences growing up in the country. His character also bears more than a passing physical resemblance to his own father, but Waititi's performance isn't weighted down by the gravity of that role — instead, Alamein is kinetic and ridiculous, balancing his deadbeat tendencies and idiotic missteps with just enough charm to keep Boy thinking he's a good guy, even as Rocky remains wary. As Boy, Rolleston is open and bright-eyed in his debut performance, easily embodying the film's big heart.
It's exceedingly tough to capture the strange bedfellows of childhood trauma and childhood nostalgia on screen in a way that feels true to life, but magic-filled, empathetic "Boy" makes it look easy.