Day Shift Trailer: Jamie Foxx And Snoop Dogg Hunt Some Vampires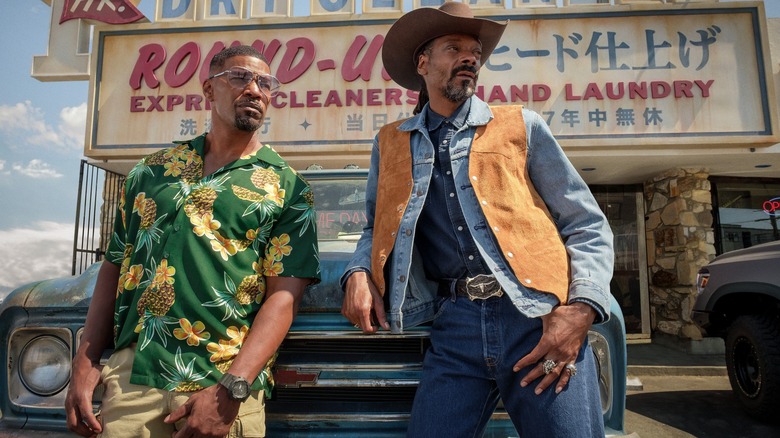 Netflix
Sometimes, you can just tell when a movie was greenlit on the strength of its elevator pitch alone. Other times, it can be difficult to decide whether a script's premise is either brilliant or just completely unhinged. What makes me wax poetic about these sorts of concerns that remain way above my paygrade? I can sum it up in just a single sentence: Jamie Foxx and Snoop Dogg team up to hunt vampires in Los Angeles, from some of the folks behind "John Wick." Need I say more?
This fever dream of a concept makes up the core of "Day Shift," the upcoming Netflix movie directed by stunt performer-turned-filmmaker J.J. Perry and produced by Chad Stahelski. The film follows an unassuming, working-class dad attempting to make ends meet for his family as a pool cleaner by day. By night, well, Foxx's protagonist moonlights as a true-blue vampire hunter, storming into residential areas in the greater Los Angeles area and double-tapping any and all bloodsucking threats in sight.
The streaming service released a brand new trailer for the action-comedy today, which you can check out for yourself in all its hilarious, decapitation-heavy glory. 
Day Shift trailer
If there's a better or more effective way to market a new film than "From the guys who taught John Wick how to kick ass," then I've yet to personally come across it. And that's before Snoop Dogg starts dropping one-liners like, "Cut necks and cash your checks."
The "Day Shift" trailer doesn't even try to pretend like this movie has anything on its mind other than vampire-hunting nonsense, which genre fans will no doubt have to respect. The movie is directed by J.J. Perry (a stunt guru on "John Wick," "The Fate of the Furious," "The Falcon and the Winter Soldier," and many more) in his feature film debut and written by the team of Shay Hatten ("John Wick: Chapter 3 – Parabellum," "Army of the Dead," "Army of Thieves") and Tyler Tice.
Both Jamie Foxx and Snoop Dogg will undoubtedly receive the lion's share (see what I did there?) of attention, but the cast also includes Dave Franco, Karla Souza, Meagan Good, Natasha Liu Bordizzo, Oliver Masucci, Steve Howey, Scott Adkins, and Zion Broadnax.
"Day Shift" will debut on Netflix August 12, 2022.
Jamie Foxx stars as a hard working blue collar dad who just wants to provide a good life for his quick-witted daughter, but his mundane San Fernando Valley pool cleaning job is a front for his real source of income, hunting and killing vampires as part of an international Union of vampire hunters.