Mondo Continues Limited Timed Edition Trend With New She-Ra Figure [Exclusive]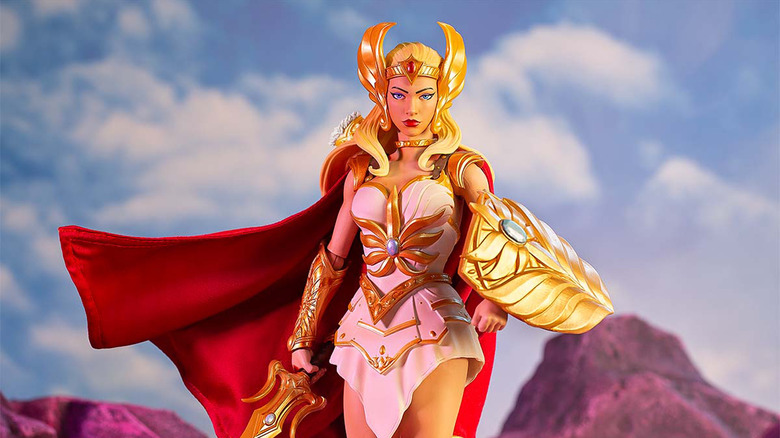 Mondo
Following up on last month's reveal of Mondo's deluxe He-Man 1/6 scale figure, the pop culture collectible company has provided us with another exclusive first look at their next timed edition release in the Masters of the Universe line: The Princess of Power herself, She-Ra! The first female figure in their MOTU 1/6th Scale Figure collection, She-Ra will feature the iconic character in all her glory, with accessories that are both a callback and a look forward.
Featuring over 20 points of articulation and a fabric cape, the Mondo exclusive She-Ra 1/6th scale collectible promises to be the most powerful figure you'll find from here to Etheria. At approximately 12" inches tall and weighing four pounds, the PVC toy will be available for 48 hours only beginning at 12 p.m. CT this coming Tuesday, July 12, 2022. It will retail for $250 dollars, with free shipping in the United States and select European countries only through Mondo's official website. Check out more of our exclusive look below, including the bonus figure of Kowl!
She-Ra 1/6th Scale Figure Reveal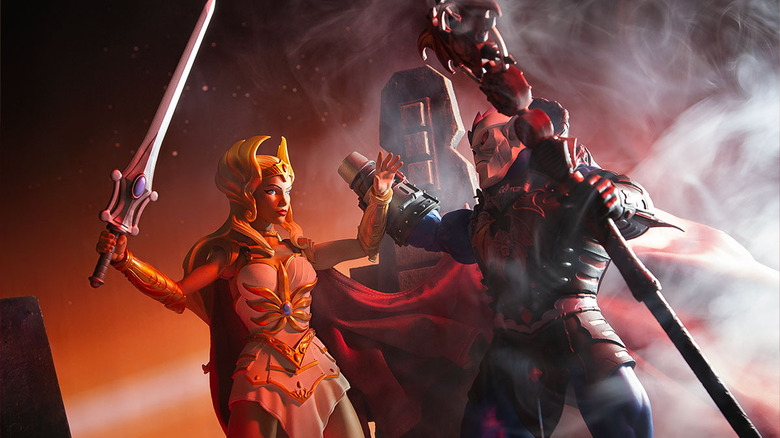 Mondo
The character of She-Ra first hit toy shelves in 1984 as a means to tap more of the female audience that He-Man and the Masters of the Universe characters may have eschewed up until then. The title character's alter ego is Princess Adora, the long-lost twin sister of Prince Adam/He-Man, and her arch nemesis is the villainous Hordak, who already received his own 1/6 scale figure from Mondo.
The Filmation animated series "She-Ra: Princess of Power," a spin-off of "He-Man," began airing in 1985 until 1986. A reboot series titled "She-Ra and the Princesses of Power" ran on Netflix from 2018 to 2020, and a live-action show based on the character is currently in the works at Amazon.
What the She-Ra figure includes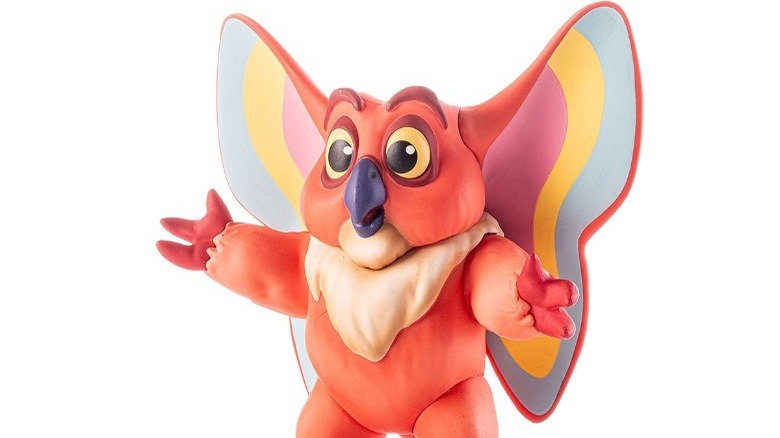 Mondo
Here is the official statement from Mondo creative director Hector Arce:
Finally arriving to our ever expanding Masters of the Universe 1/6th line is the Princess of Power herself, She-Ra! Appearing for the first time in the 1984 mini comic, "The Story of She-Ra", She-Ra soon became a national pop culture icon and a positive symbol for female representation in cartoons, toys and comics. Being such a larger-than-life character, we here at Mondo knew the responsibility we had in representing her in all our awesome glory, and having her be the first female character in our 1/6th MOTU line seemed like the most fitting for a character of her stature. Almost an entire two years in the making, we painstakingly obsessed over every detail, making sure we were both being truthful to the original character's look and design, while updating with a more modern spin. It all starts with concept art ... and one of the best and most knowledgeable on all things Masters is Emiliano Santalucia: his take on the character was both fresh and a nod to the original design.

We then updated his concept to include She-Ra's Classic Tiara and belt. Once our concept was approved, we moved on to sculpting, where we spent a large amount of time making sure everything looked just right. We entrusted the skills of Tommy Hodges, obsessing over every detail, articulation points and accessories until we landed in a good spot. Mara Ancheta provided her amazing paint skills for the prototype, and we reached out to Tom Rozejowski to paint her portrait. The end result is something we are all really proud of! Finally, we reached out to the amazing Raul Berrero to handle the photography and he (yet again) crushed it with the imagery. Here's a look at some of those awesome shots: She-Ra is an incredible character in the MOTU Universe. She has touched the lives of many boys and girls, men and women throughout her existence in the pop culture sphere. We couldn't be more proud to finally have her represented in this line of figures. Thank you all for your support ... you have the power
She-Ra 1/6th scale figure includes:
She-Ra Figure
Tiara
Battle Tiara
Classic Tiara
Classic Belt
Hair Bangs
Standard Hair
Sheath Opening Hair
Power Sword
Power Sword Sheath
Classic Power Sword
Shield
Battle Axe Comb
Kowl Figure
3 Pairs of Interchangeable Hands
Fabric Cape