Mondo Reveals New He-Man Action Figure In A Limited Timed Edition [Exclusive]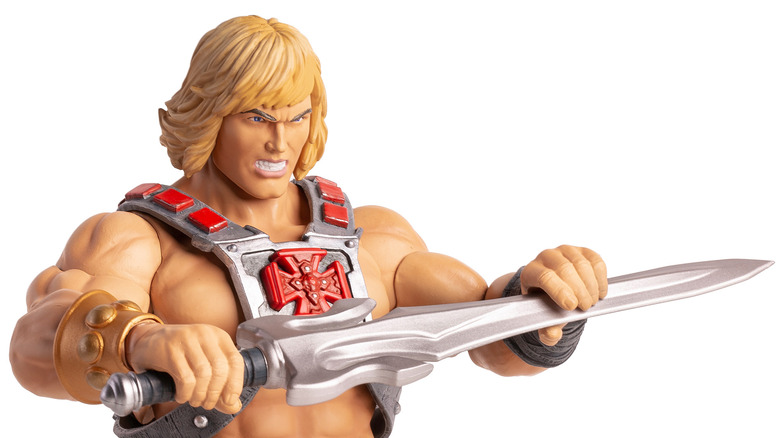 Mondo
After this week's incredible announcement that Alamo Drafthouse's collectibles company Mondo has sold to Funko, the folks at Mondo have provided us with an exclusive announcement and first look at the newest figure in their "Masters of the Universe" line: He-Man! Although He-Man was the first figure in the line over six years ago, it has long since sold out and been in high demand from collectors. What's a MOTU collection without He-Man? 
To answer that call, Mondo has created a new deluxe He-Man 1/6 scale figure (with a brand-new portrait) which will be available only at their official site as an exclusive 24-hour timed edition for $260. The pre-order goes live on June 21, 2022, and the figure is expected to ship in February 2023 to most locations worldwide. 
Here's a look at all the accessories that come with the Mondo Exclusive:
He-Man Figure
Neutral Portrait
Angry Portrait
Classic Portrait
Classic Chest Armor
Battle Chest Armor
Swappable standard and battle-damaged "H" on battle armor
Power Sword
Classic Shield
Battle Axe
Ankle Knife
Ankle Knife Sheath
5 interchangeable hands
Thunder Punch Chest Armor
Thunder Punch "Electric" Punch interchangeable hand
Thunder Punch Power Sword
Thunder Punch Shield
Thunder Punch Gems
Check out more photos below along with our exclusive interview with Mondo creative director Hector Arce about this incredible new release!
Talking with Mondo creative director Hector Arce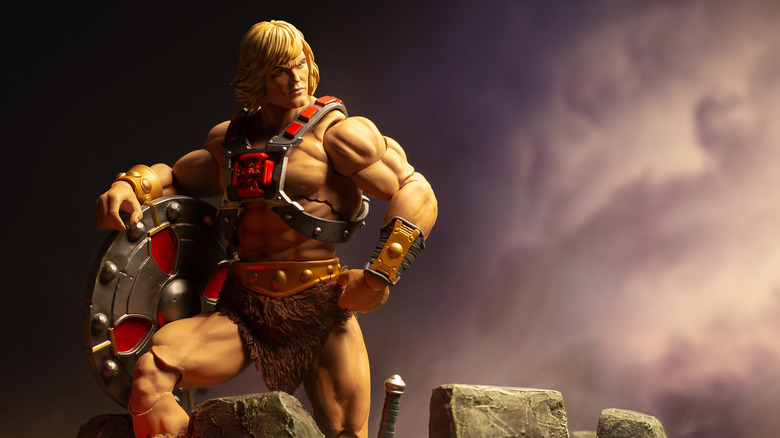 Mondo
As someone who's been following this line for years, that sold-out He-Man figure has to be the biggest hole in my own collection. How much fan demand did you hear on your end to do a reissue?
Hector Arce: I feel your pain! It was a hole in my collection for a good while as well. Our goal with this new He-Man wasn't to reissue per say, but rather bring the character back in a new and fresh way. The goal was to essentially make this a brand new He-Man figure, new head sculpts, accessories, and so on. It's meant to be a celebration of some of his various appearances throughout his toy and comic history. And of course, can you really call a MOTU collection complete without a He-Man in it? We definitely wanted to give those folks who missed out on the original a way to add a He-Man to their collection, while still respecting the original release and looking towards the future.
What made you decide to go with a new sculpt and all these new accessories as opposed to just doing a "second printing" of the original?
We love what the original figure did for the line, I mean, it started it all right? It's been several years since that release and we've done a handful of other characters. Over the last couple years, we have seen some serious excitement for this line and felt it was the right time to bring He-Man back. We always strive to push the envelope at Mondo, and just reissuing the original felt very uninspired. We knew we wanted He-man to come back to this line so we dug up our old toys and started to brainstorm. I knew instantly that the battle armor accessory was a must, we also wanted to provide a new head sculpt and more swappable options. We revamped his original chest armor a bit to call back to the original 80's Mattel figure. Thunder punch was my next personal favorite of the He-Man figures from my childhood so it pretty much all came from that: our favorite versions of He-Man when we were kids! The rest just flowed from there.
Hector Arce on the future of Mondo's MOTU line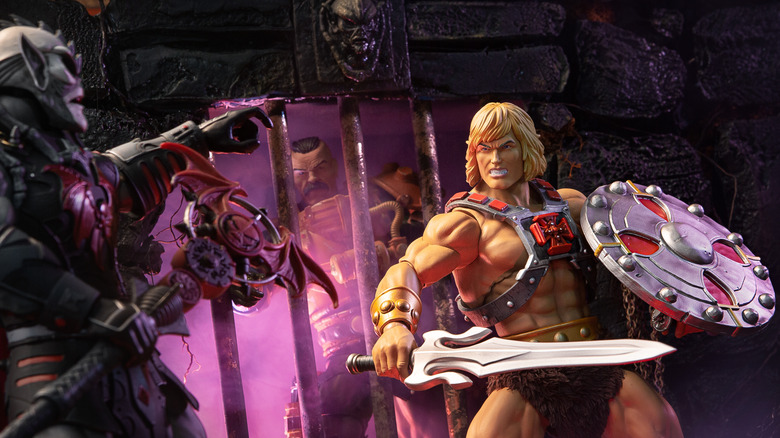 Mondo
Are there other past figures from the line you're hoping to revamp?
If the original He-Man release is a hole in many folks' collections, I would imagine the original Skeletor release is too. You can expect Skeletor to get a similar "Deluxe" treatment in the near future.
What's next in the pipeline for the Masters of the Universe crew?
We have a lot of plans! She-Ra is very close to being fully revealed and going up for pre-order. We have a really cool figure planned as an SDCC exclusive pre-order as well. In fact, much more will be revealed at SDCC this summer so keep an eye out for that.
I'm sure you get asked this a lot, but do you hope to expand into vehicles, characters with a different base-body (Battlecat, Orko), or even -as we see in some of the tableau photos you've issued- Castle Grayskull?
Yes! I would love to expand into 1/6th, coffee table sized vehicles! As for different-base bodies – for sure! As you may know, we announced a 1/6th scale Battlecat during last summer's PowerCon, and will be showing off the painted and articulated prototype at SDCC. Of course, you can't have He-Man's fearsome feline and not Skeletors, right? So keep an eye out for that as well! We are going to be branching out with body types for sure, Beastman comes to mind as a character that would need an entire new base body. I personally love Clawful, that's all I'm saying. As for the amazing Castle Grayskull in our photos, that was created by our extremely talented photographer Raúl Barrero. He's amazing! At the moment we don't plan on releasing a, what would be 4-5 foot Castle Grayskull, but if this line continues to grow I wouldn't completely take it off the table.
It was just announced that Mondo was purchased by Funko. It's still early days on that, but is the hope to stay the course on the MOTU line and possibly even expand into bold new directions under the new ownership?
I'm happy to say that all will stay the course, we are going to keep pursuing our passions here at Mondo, now with the support of Funko. We have a lot of MOTU releases planned for the 2nd half of this year and already have most of the 2023 releases planned out and in progress! We are really excited about our upcoming Mondo MOTU releases and can't wait for everyone to see what we have in store.