What We Do In The Shadows Relies On Its Writers' 'Stupidest' Ideas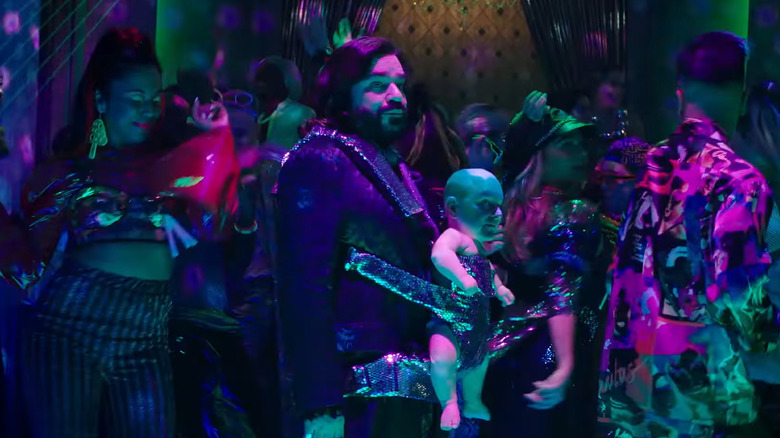 FX
Knowing FX's "What We Do in the Shadows" will go on to see another full moon fills me with so much joy. The creative team behind the series has excelled at not only adapting Taika Waititi and Jemaine Clement's 2014 feature film of the same name for the small screen, but allowing us to spend time with the absolutely ridiculous characters and bloodsucking mayhem they find themselves thrown into. I can't see any other way you could spin a show that features a vampire himbo (Kayvan Novak), a furiously horny bloodsucker couple (Matt Berry and Natasia Demetriou), a sardonic energy vampire (Mark Proksch), and a descendant of Van Helsing (Harvey Guillén) as your lead characters.
Each season has done a spectacular job at finding new ways for the household to get into all sorts of weird affairs. Laszlo has had to give his own ghost a tug in order to move on. Colin Robinson ends up facing a literal internet troll in person. Nadja's closest companion is a doll possessed by the soul of her previous self. One of my favorites happens to be Nandor rejecting his vampiric self in favor of a wellness center built on the foundation of a cult run by Summer Cree. With the fourth season upon us, it appears as if the writers room is game for more wild ideas, if executive producer Stefani Robinson has anything to say about it.
Emotional stories come out of the writers room while making things updog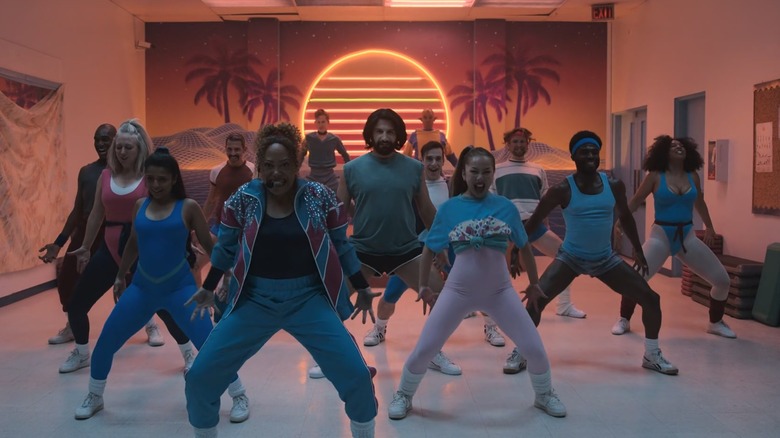 While promoting the show's upcoming fourth season, Stefani Robinson had told GoldDerby how the chaos of the "What We Do in the Shadows" writers room often leads to some of their best ideas:
"We are very adamant that people just throw up the stupidest, silliest ideas that they can possibly think of. Many of our great episodes come from ideas that feel just very sort of flippant in the writers room, maybe at the time, and don't have a lot of thought story-wise ... It can be as dumb as vampires need to go to the dentist because they chipped a fang, something that really doesn't feel like it has much meat at all. And then really sort of force ourselves to take those sillier premises and make it actually feel more emotional and have more of legs in terms of a story."
Look no further than the header image of Colin Robinson in the baby carrier. The previous season took one of the most enigmatic (and dangerous) characters in the show, one who can multiply himself without blinking, and seemingly killed him off. It was sad to see Colin Robinson go because I love Proksch's dry delivery, but then Laszlo accidentally caves in his face, which leads to the reveal that he's not really dead, but has transformed into a literal demon spawn in the other room. It's one of the most unsettling things I've seen in the series, and we're talking about a show that features sewer vampires, a ringside decapitation, and Colin Robinson on his best day. I hope this show never changes.
Season 4 of "What We Do in the Shadows" is set to premiere on FX on July 12, 2022.